The United Nations International Day of Persons with Disabilities is annually held on December 3 to focus on issues that affect people with disabilities worldwide. At VisionAware, our peer advisors share how having a disability is more about what we can do with a so called 'disability' when we focus on all our talents and abilities. Celebrating this special day, we share the Abilities we are most grateful for.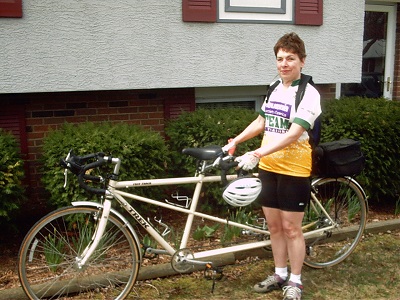 Living with ABILITY
By Mary Hiland
The word "disabled" does a great disservice to those of us who have vision loss. It sounds like we're broken, like a disabled car. While we may be able to recite a long list of things we can't do, such as drive, read print with our eyes, make eye contact, etc., there are many gifts we can be grateful for, that still remain as part of who we are.
Talents as Abilities
My abilities, like many active people who are blind, include dancing, cycling, skiing, jogging, and swimming. But you don't have to be a super athlete with mysterious talents in overcoming blindness in these sports. Consider some simple everyday tasks, functions, and yes, talents that you might be overlooking.
Everyday Abilities
Although I had to struggle with mastering the computer, I write every single day. I write letters. I make lists. I read emails. I write for 2 blogs. Writing is a talent I did not have to give up with my vision loss.
Sing-Ability
I love singing. I sing with my church choir. It takes a lot more work for me to do that than my sighted friends, because I have to transcribe the words of the anthems into braille and learn the music by rote, but it's a talent I didn't have to give up.
Dance-Ability
I studied dance when I was young and hoped to be a ballerina someday, but with the onset of retinitis pigmentosa, that dream was not going to become reality. But I didn't have to give up dancing. I enrolled in private ballroom dance lessons, so I could use that talent with the help of a dance partner.
Enjoy-Ability
I belong to a book club, because I have the ability to enjoy, comprehend and discuss a variety of books, which I listen to via talking books from The National Library Service for the Blind.
Live-Ability
Over the years, I have developed organizational skills for my personal life. Arranging for rides, making appointments, and budgeting my time are all abilities that allow me to live independently.
Walk-Ability
I walk every day. I have a very athletic guide dog who helps me keep a good brisk pace, and because she needs the exercise too, we go out even in the cold and the rain. The two conditions that keep me indoors are wind and ice. I could tell you that then I use a treadmill, but the truth is, those are the days I curl up with a good book.
Doing for Others
I admit, there have been times when I wondered how I could help others, when I am not able to do the routine volunteer jobs. But lately, in addition to writing for this site, I regularly give blood. This is about the easiest way you can save somebody's life.
Ability First
When people I meet along my life's path exclaim that they think I'm amazing for having these abilities, they often say, "I can't even do that, and I can see." That really pushes my hot button! What makes them think that being able to see is a prerequisite for living a full life? As a visually impaired person, I have more abilities than disabilities. It's just that blindness is the big one, and the biggest disability of all is to get people to see beyond it.
Stay tuned for the second post in this short series on the A for ability.