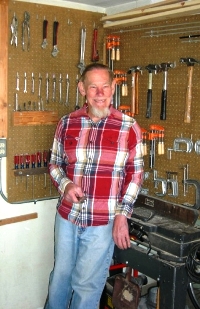 Editor's note: We reached out to Gil Johnson to write this article as a gift for readers who are fathers and sons. Gil is a life-long woodworker and is blind from glaucoma. In his own words, "When I was 10 or 11 years old, I began to acquire my own power and hand woodworking tools (after receiving training in woodworking at the Minnesota State Academy for the Blind) and experimented in designing and building various projects in the basement at home. When I was 16 or so, I built a nine-drawer desk out of birch wood, which we use to this day."
by Gil Johnson, author of Gil's Guide to Home Repairs, Gil's Guide to Woodworking, and Parenting or Grandparenting with Vision Loss. Gil also chronicled his adventures with acquiring Harley, his new dog guide in a series on the VisionAware blog.
The smell of sawdust from a freshly cut board; the sound of a sharp tool shaping wood; the touch and feel of a completed and individually designed and crafted, one-of-a-kind wood project; the satisfaction of repairing a malfunctioning item in the home—these are the challenges and rewards of working with your hands.
Reminiscing Times With My Father In Our Basement Workshop
As we again celebrate Fathers Day, I began to reminisce about the times I spent with my father in our basement workshop. My dad, who was a master plumber, was not what one would think of as a master carpenter. But the time we spent together is with me still. Not only did I have his companionship, I began learning the basics of using hand tools. Perhaps even a bigger gift was realizing that I could design and create something.
Acquiring the skill and confidence to design and build a piece of furniture, install a shelf, make a game board, repair a leaky faucet, or re-roof a building takes perseverance, accepting failures and occasional mishaps. But the reward for those who stick with it is a sense of accomplishment and self-pride that is matchless. This is the foundation I got from my dad.
Passing These Gifts On to My Children and Grandchilren
Later when I became a father, I wanted to pass these gifts on to my daughters. Although neither of my daughters have a fully equipped workshop, each did spend some time with me. One of my daughters and I together built a platform bed with storage drawers underneath which she and her husband used for many years. She and I reshingled the roof on my workshop and adjoining carport. My sons-in-law and I have also worked together on various projects such as repair things around their homes and building a set of bunk beds for their kids.
My grandsons and I have also spent some time in my workshop designing and building an auxiliary table for a room and other such objects. All three of the grandsons, for whom my wife and I are guardians, have learned to repair bikes and skateboards using tools—and occasional advice from me. I delight in playing chess with my grandsons and others on a chessboard that I built when I was in high school. Or, playing cribbage on boards that my daughters and I made together.
The Joy of Working with My Hands
I have had the joy, privilege, and occasional disappointments of working with my hands with wood, metal, electrical wiring, concrete, plumbing, and thousands of simple and complex home repair projects for more than 50 years. I still possess all of my fingers (along with a few scars and deadened nerve endings). I can look around my home and touch the desks, book cases, dressers, night stands, and other items that I designed and created. This is very satisfying to me and a source of pride for my family.
Although acquiring the tools I have in my shop has cost some money, almost every hobby has associated costs. I know that I have saved money by not needing to hire repair persons because I was able to fix something myself. Some of the furniture I built costs less (not counting the time I spent doing it) and is of better quality than would generally be available in most retail stores.
The Primary Reason is Personal Satisfaction
But this is not the primary reason I work with my hands. The personal satisfaction I receive goes well beyond any monetary measures.
The fact that I have done this as a totally blind person for most of my life has caused me to devise some, but not many, alternative techniques. Figuring out how to accomplish something that usually requires vision is part of the challenge and contributes to a sense of satisfaction.
Do I think that every person who is blind or has low vision, or is fully sighted should take up this hobby? Absolutely not! Nor would I say that everyone should take up water skiing, marathons, fly fishing, or any of the many hobbies that people are engaged in. I would only wish and hope that every person, blind or not, could find a pastime that has provided as much satisfaction, pride, and self-confidence as working with wood and other materials has for me.
Passing On Your Own Gifts
So for the fathers or grandfathers who have read this, whether you have perfect vision or a limitation in seeing, or have a child who is visually impaired, think about the gift you can pass on to your children or grandchildren and the quality time you can spend together.
More on Gil