What I Do for a Living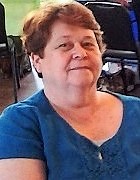 Editor's note: This week we are celebrating Vision Rehabilitation Therapist week. Join us in celebrating this honored and valued profession
I am a vision rehabilitation therapist (VRT) and often I am asked exactly what I do for a living. The question is not as easy to answer as it may first appear. The answer, like the profession itself, has as many answers as there are VRTs. This profession draws people from a variety of cultures, ages, ethnicities and beliefs. Some have little personal experience with vision loss but for others it is personal and extensive. What we all have in common is the desire to help those experiencing vision loss become confident, independent people. So, how is this done? Come with me for a week and see. I serve a southern population that is both urban and rural. Most VRTs see persons with widely different needs. Sometimes it may be an older person trying to enjoy retirement, and other times a working age person relearning the skills to go back to a job. This week we have both. (Note: the names listed below are fictional to ensure privacy.)
Monday-Working with Single Mom
The week begins with Ms. Ann, a 97 year old widow still living alone. She wants to continue in her home. Also today I will work with Mr. Ron, a retired gentleman in his 80's with Alzheimer's disease and is a resident of a nursing home. But meet Leah. She is in her late 30's, a single mother who is legally blind from an accident. She wants to continue to raise her children independently. To help her we have been working on shopping. Leah was taught several methods to make lists and prefers the folded paper technique. She proudly unfolds the paper showing me the list that was her homework and then recounts the shopping trip with a friend. Leah was able to find everything on her list with the help of her friend. I asked how she did checking prices with her magnifier. She said that she had found several sale items and was very happy. marking and labeling these items was the lesson and Leah had been asked to consider how she wanted to accomplish this task. With children in the house she wanted a system that was not dependent on location; children have a hard time putting things back. Leah decided that using a tag on a rubber band would give her many options. She worked out a system that used color and large print. So she found colored index cards that she could cut in thirds, punching a hole in one end. Leah decided that one or two letters would give enough information. The items from the shopping trip were marked and Leah was asked to mark other items in her pantry for the next lesson.
Tuesday-Classroom Day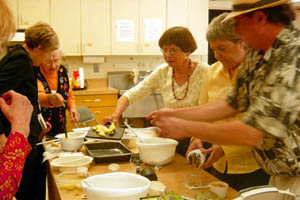 I am in a unique position as my week includes working with people in their homes and in a classroom. Tuesday is my classroom day. I am teaching an adaptive kitchen skills class to an 8-member group. This group has many different skill levels and vision levels. Today we are preparing an Omelet in a bag. This lesson will include the skills needed to chop the peppers, onions, and mushrooms. The class is taught to use a knife safely with position and control emphasized. Contrast is shown with the cutting board when cutting the mushrooms. For the onions and peppers I taught the class to use a chopper. After the sausage is cooked, they decide to sauté the vegetables in the pan. This provides an opportunity for a lesson on stove top safety. The Omelets are assembled; giving the class practice in cracking the eggs. They are taught to use a small bowl so they can check for egg shells. This is not a timed dish so we don't have to see if it is done. While they are eating, the lesson is reviewed and additional practice is assigned.
Wednesday-Daily Living Skills at Home
We are seeing two people who live in a more rural area today. They are about an hour from my office. John is retired and wants to keep his garden. Our other person is Miranda, a 17 year old high school student. During summer break we are going to work on daily living skills in the home. Even though Miranda wears a uniform to school, she worries about how she will pick out clothing. Today we are marking clothing. One of the ways to help mark items is with small safety pins. We decide the position of the pins to tell black from brown. Miranda finds the tags in several items. We also look at how to tell some of the items by the cut or decoration of a blouse or dress.
Thursday-Identifying Money and Kitchen Safety
We are back in town today. Ms. Cathy is still working part-time and working on skills to maintain her job. But our first stop is Ms. Lynn. She is 45 years old and recovering from a stroke. This has caused memory loss and the lesson often needs to be reinforced. Ms. Lynn asked how to identify paper money. We found bills in different denominations and explored the options. Ms. Lynn liked using the back of the bills to locate the numbers and then folding the bill for tactile identification. Returning to her kitchen was one thing Ms. Lynn wants to do. We worked on remaining safe in the kitchen especially when opening the oven. Ms. Lynn will practice this using an empty pan and a cold oven. She was then handed several folded bills to identify and was able to do so. Another small victory!
Friday-Office and Paperwork Day
This is my office day. There is time now to write progress notes, review files, consult with colleagues and plan next week.
Week Comes to a Close
Now the week is done. I hope you have a better idea of what a VRT does. This isn't everything we do just some of the individuals that made this week interesting. Our plans and our lessons are designed for the person we are working to help. The life of a VRT is many things but it is never boring. Have you worked with a VRT before? What types of things did you learn to help with your independence? Share your thoughts in the comment section below.