Anniversary of the ADA: What is the Law and How Does It Apply to Those with Vision Loss.
July 26 will mark the 24th anniversary of the Americans with Disabilities Act. The ADA was created to bring about "equality of opportunity, full participation in society, independent living and economic self-sufficiency for individuals with disabilities." For too long people with disabilities have struggled with full inclusion into mainstream society and the ADA was passed to even the playing field and provide more opportunity and access.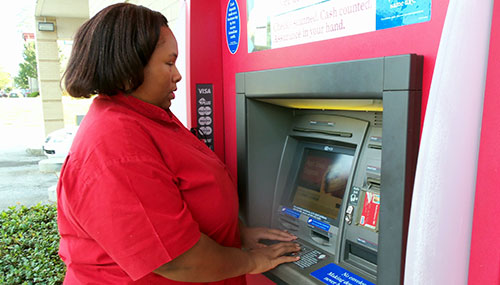 The ADA concentrates its efforts in five major areas: employment, transportation, state and local government, public accommodations and telecommunications. So now that you know a bit more about the ADA; let's take a little quiz and see how it applies to those with vision loss.
Does a bank have to offer accessible ATMs?
Answer: Yes,if a bank provides both interior and exterior ATMs, each such installation is considered a separate location. Accessible ATMs, including those with speech and those that are within reach of people who use wheelchairs, must provide all the functions provided to customers at that location at all times. For example, it is unacceptable for the accessible ATM only to provide cash withdrawals while inaccessible ATMs also sell theater tickets.
Question: If a person who is blind wants to vote in a governmental election; but does not receive assistance at the polling location, is that covered under the ADA?
Answer: Yes. State and local governments must provide assistance to a blind person, whether it is to provide an absentee ballot, read voting information and/or provide an accessible voting machine.
Question: If a person who is blind boards a public bus or train and the stops are not called out is that covered under the ADA?
Answer: Yes. All public transportation systems are required to call out major stops along the route for those that are blind and visually-impaired.
Question: If a person who is visually impaired is working and the company upgrades their computer system but does not provide the accommodation for the person who is visually impaired to use the new system is that covered under the ADA?
Answer: Yes. A company is required to provide an accommodation to their employees who are visually impaired when a new system is installed. That could be additional training on the new system or upgrading their assistive technology to access that new system.
Question: If a person with a dog guide is being denied entry into restaurants, offices, hotels or other places of business because of their dog guide would that be covered under the ADA?
Answer: Yes. Public places are required to allow a guide dog or service animal to enter their establishment. They can't ask for documentation or use allergies or fear of dogs as a rationalization for lack of access.
Question: Are there specific standards for lighting and glare in buildings for people with low vision?
Answer: Not at this time. Guidelines are currently being developed to provide guidance for architects and designers.
How Did You Do?
So, how did you do on this quiz? Whether you are an expert or a novice take some time during this anniversary to educate, empower and enlighten yourself on this important and powerful piece of legislation.
More Information about the ADA on VisionAware
Check out the ADA and your rights.
Enjoy peer advisor Empish Thomas's blog post My Navigational Dance in the Bathroom.
Read Judy Scott's first hand account of the signing of the ADA.
Check out Steph McCoy's post ADA-The Path to Inclusion.
Additional Resources
Editor's note: the original blog post was published on the Center for the Visually Impaired's SightSeeing Blog in July 2012. The material has been updated to reflect changes that have occurred since the original publication.