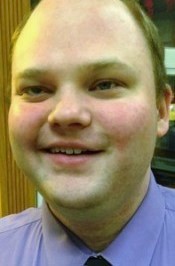 Guest blogger Scott Davert, M.A., VRT, is an AppleVis Editorial Team Member and the Coordinator of the New York Deaf-Blind Equipment Distribution Program, administered by the Helen Keller National Center for Deaf-Blind Youths and Adults.
The Program provides no-cost communication and technology training to persons with significant combined vision and hearing loss who meet federal income guidelines. Equipment can include smartphones, tablets, computers, screen readers, braille readers, and adaptive software.
In past reviews, Scott has compiled his personal picks for book-reading apps and iDevice apps that are user-friendly and accessible to braille, and also speech, users.
Says Scott, "As a power user of braille devices on iOS, it's very liberating to me, as a deaf-blind person, to be able to take full advantage of the technology we have in our society today. Just a decade ago, my access to resources was much more limited if braille was my only means of accessing the world. Today, with the help of technology, I can be just as well-informed about what's going on around me as my sighted and hearing counterparts."
This week, Scott is reviewing the new iOS 10 release from Apple, with an emphasis on accessibility features for individuals who are blind, have low vision, and/or are deaf-blind. iOS is Apple's mobile operating system, or OS. Originally developed for the iPhone, it has since been extended to support other Apple devices, such as the iPod touch and iPad. In June 2010, Apple rebranded the iPhone OS as simply iOS.
In Part 1 of his review, Scott discusses the new SiriKit, automatic image descriptions, voicemail transcription, VoiceOver enhancements, auditory validation, and a number of other accessibility enhancements. In Part 2, Scott discusses additional accessibility enhancements, including braille, low vision, and hearing/TTY updates.
About the iOS 10 Release
Another fall is upon us, which means football season has started, temperatures are starting to drop, and a new version of iOS is coming out. Another seemingly established tradition is that another article from me, discussing the new accessibility features, is in order. Just like the past several years, there are many changes to iOS that are mainstream and will be welcome changes. Some of the new features include a revamped Music app; a new Home app; new 3D Touch functionality in Apple apps; and much more.
Many articles will be covering these changes, but the aim of this piece is to cover accessibility changes that are specific to blind, low vision, and deaf-blind users. Please note that this review is not intended as a comprehensive guide to iOS; rather, it is designed to document the changes in iOS 10.
Jumping Through Messages Means Action!
The way in which message threads in the Mail app are displayed has changed. Instead of having each message in its own window in Portrait view, now all of the messages in a thread show on the same screen. A new Rotor option called "Messages" allows you to jump quickly from message to message to help VoiceOver users more efficiently navigate among messages with this change. This Rotor option will simply show up when you have the option to organize by threads enabled. Braille users should be aware of a bug, which you can find listed below in the "Braille" section of this review.
Speaking of Mail, the way in which previews are shown has changed. Previously, VoiceOver would simply read the previews of messages. As of iOS 10, you now have to perform a three-finger single tap to get VoiceOver to read the preview.
Braille
3D Braille!
With iOS 10, you can now press space with dots 3-5-6 on a braille display to perform a 3D Touch action. This comes in handy when you want to launch a menu for an app, but have your iPhone stored in your pocket.
Note that if you are running a device that is not capable of 3D Touch, this command will not work. If 3D Touch is disabled, this command will perform a double tap and hold gesture.
You Can Work with This
Contracted braille users may have noticed that this heading contains only those words that are contractions. This is in recognition of the fact that Braille Screen Input users will now receive spoken feedback when they type using contracted braille. This was not possible in either iOS 8 or iOS 9, where only uncontracted braille feedback was given.
Yes, I Remember Who It's From!
With the release of every new software comes bugs, or what the technology community affectionately refers to as "unwanted features." For braille users who use the Mail app, there is certainly one unwanted feature present. Whenever you organize messages by thread, the number of the message you are currently reading is displayed on each line, along with the name of the sender. This includes the header information as well as the body of the email. If you disable "Organize by Thread," you will only see information about who the message is from. For example, if I have my messages organized by thread, and the first line of the message says "Hello Jim," braille users will see the following: "Message 1 of 1 Scott Davert Hello Jim." All of the information preceding the word "hello" will be shown on each line of the message.
I have started using Outlook for iOS to circumvent the reading of email messages. However, there is a bug that prevents the proper editing of emails I am writing, so I have decided to read my email in one app, and reply in the default Mail app. It works quite well with braille, though there seems to be no efficient way to navigate among messages when sorted by thread with Outlook. I hope Apple will fix this bug soon, so that I don't have to use two apps to manage my email.
A Bug Squashed!
In iOS 9, speech users of VoiceOver did not lose the ability to know which Wifi connection they were currently connected to. Braille users, however, only saw the signal strength followed by "SSID" instead of the actual name of the network. This has been resolved in iOS 10.
Low Vision
While I have taken the information presented in this section from the feedback of several low vision testers, I cannot attest to its accuracy. I am sure that any errors are on my part, and would strongly encourage users with low vision to check out iOS 10 on another device before installing it on their own to ensure the new operating system will work for them.
More Magnification
Among the enhancements to iOS 10 for low vision users is the addition of a magnifier. Find it under Settings > General > Accessibility > Magnifier. As the name implies, you can use your device's camera to magnify items in your environment. It also joins the features you can turn on and off with the Accessibility Shortcut (triple-clicking the Home button), though I'm not able to turn it on with Siri.
The software behind the Magnifier seems to resemble that of the Photos app; as such, auto-stabilization appears to be only as good as in the Photos app, and the same is true of autofocus. This could have interesting implications for the new dual cameras found on the back of the new iPhone 7 Plus, as all of these features could be affected by having dual lenses.
There is also an auto brightness function which can automatically adjust contrast and brightness according to lighting conditions. It's also possible to use any sort of filtering or other visual settings you have applied to iOS, which opens up a lot of possibilities. My conclusion from all of this information is that the new Magnifier feature is going to be a welcome one, but will not replace a dedicated video magnifier.
More Mixing of the Old and New
A new menu under the "Vision" heading is the Display Accommodations menu. This contains several options, but also new features. Invert Colors and Grayscale have been moved here, but otherwise appear to be unchanged. New in iOS 10 are a new series of color filters; these filters are designed to assist individuals who are color blind in differentiating text on the screen. It's also possible to adjust the intensity and hue of the filter to further accommodate this need.
An older option, Reduce White Point, was moved from the Increase Contrast menu and placed under Display Accommodations. In iOS 9, you could turn this on or off, but now White Point is an adjustable item which gives you more control over just how much it is reduced.
Covering More Highlights
When "Speak Selection" is turned on, there are new options for highlighting content when it is spoken. In older versions of iOS, this could only be turned off or on. It now has several ways in which you can specify what is spoken. You can choose to highlight words, sentences, or both words and sentences. You can also choose if you'd rather have the highlight style be with the text underlined or with the background color.
I Need Further Feedback
Once you navigate to Settings > General > Accessibility > Speech, you will find a new icon called "Typing Feedback." Within this menu, you can get feedback on what you type independent of VoiceOver. You can have each character, word, and auto-text. While auto-text has been an option previously, the other two are new. Also added to this menu is the ability to have predictions spoken if this feature is enabled. If you tap and hold on the prediction, it will be spoken aloud.
The Pronunciation Dictionary I covered in great detail in the VoiceOver section of Part 1 applies to the "Speak Screen" functionality as well. Any entries that you add to one location will also apply to the other.
Hearing
TTY Comes To the iPhone!
iOS 10 brings a new set of features to the iPhone for users of TTY. What this means is that the user cannot only call from TTY to TTY, but can also use Relay services, such as 711. Find the settings for this under Settings > General > Accessibility > Hearing > TTY. You can learn more about TTY services at AboutTTY.com.
TTY on the iPhone has two components: Software and Hardware. The Software TTY option allows the user to utilize the TTY software built into iOS 10. The Hardware function allows the user to connect a TTY they may already have and to use the iPhone to make TTY and text relay calls. Note that a TTY adapter is required to connect the iPhone to an external TTY.
It's worth noting that the iPhone 7 does not have a built-in 3.5 mm headphone jack, which is required to use the external TTY functionality; it's unclear at the time of writing whether the included lightning adapter will then allow for the same type of connectivity with an external TTY.
Looking at the Software option, you have the ability to (a) set up a number to call access relay services, (b) send text as you type it or send as one larger block of text, and (c) set up your iPhone so that it always answers with TTY, regardless of whether the person calling you also has a TTY. However, if you select this option and receive a voice call, it will not be forwarded to the relay number configured in the appropriate settings. If the TTY Software option is turned on, but not the feature to always answer calls as TTY, there appears to be no way to accept a TTY call – at least with VoiceOver.
Making a TTY call could be easier. To make a call, after turning the TTY Software Option on, launch the Phone app and dial the number. Tap Call when you are ready, and a pop-up will appear asking if you would like to place a voice, TTY, or relay call. After selecting TTY or relay, the call will then go through, with the keypad and time elapsed on the call shown.
To begin using the TTY functionality, it's necessary to hide the keypad, then select the TTY button to begin the conversation. It would seem to make more sense to begin the TTY call immediately, instead of making the person hide the keypad first and then select TTY, but maybe there is a reason for this that I'm not aware of.
Once the call is connected via TTY or relay, as a visual user familiar with TTY, the text experience is much the same, as far as I can tell, as long as you have the option to send the text immediately enabled. If disabled, you will receive messages in larger chunks, but they will still continue to appear in the same block of text until the other person in the conversation types something. There is also a set of abbreviations at the bottom of the screen which may be helpful for new TTY users.
When working with a braille display, I turned off the option to send immediately, since I was working with an eighteen-cell braille display. As noted above, when you receive multiple messages using this format, they will appear immediately after the last message. For example, if I type "Good afternoon" and then send it, followed by "How's the weather in Charlotte today?", if the other party on the line has not typed anything, the two messages will appear on the same line, even though they were sent at different times.
The problem with this, for a braille user, is that if you are reading along and do not get the cue to go ahead, once you have panned past what has already been written, you will be back in the area where you can type a text. If you need to scroll back to see if further messages have been sent, you first have to scroll past everything you have already read to get to the new content. If you send a short text, such as "OK," the new block of text will appear separate from the old one, since you have sent a short message.
The other issue for braille users specifically is this: While it may be easy to read the text visually while the other person or relay operator is typing, it is not easy for a braille user to follow the conversation. This is because when the other person is typing, you see "top of document" or "bottom of document" shown on the braille display. This makes reading what is being typed an issue, which can decrease the pace of an already slow process of utilizing the phone system. I can tell you from experience that even under the most ideal conditions, business owners and people who are not familiar with the way relay works tend to hang up on relay calls if they are slow.
I have provided the above feedback to Apple with the hope that it will lead to a better user experience for braille users. I commend Apple for taking an old technology (TTY) and modernizing it to make it a solution again.
My Conclusions
Just as in previous iOS releases, whether you should upgrade or not depends on (a) whether the bugs present in the new release will have an impact on you that is more than you can tolerate, and (b) whether you feel the new features are worth the upgrade.
To check out a list of bugs related to VoiceOver and braille, you can go to the AppleVis website.
To download the update over the air, go to Settings > General > Software Update and follow the prompts onscreen. Alternatively, you can update your device through iTunes.
For more information, you can contact Scott at scott.davert@hknc.org.
More Information