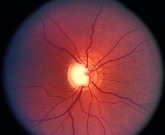 At the American Glaucoma Society 2013 Annual Meeting, lead investigator Carlos Gustavo De Moraes, MD, from New York University Langone Medical Center, presented results of a study indicating that persons with normal-tension glaucoma may have an increased risk for vision loss if they are also receiving aggressive hypertension (i.e., high blood pressure) treatment. According to Dr. De Moraes, 32% of the 85 study subjects had both systemic hypertension and normal-tension glaucoma.
What is Normal-Tension Glaucoma?
The term "glaucoma" describes a group of eye diseases that damage the optic nerve. It is one of the leading causes of vision loss and blindness.
Normal-tension glaucoma, also called low-tension glaucoma, is a type of glaucoma in which individuals with the disease experience optic nerve damage and subsequent vision loss, despite having normal intraocular (i.e., within the eye) pressure.
Most eye care professionals define the range of normal intraocular pressure (IOP) as between 10 and 21 mm Hg (i.e., millimeters of mercury, which is a pressure measurement). Most persons with glaucoma have an IOP measurement of greater than 21 mm Hg; persons with normal-tension glaucoma, however, have an IOP measurement within the normal range.
Here is more information about normal-tension glaucoma from WebMD:
By definition, people with normal-tension glaucoma have open, normal-appearing angles. In fact, the features of normal-tension glaucoma are similar to primary open-angle glaucoma (POAG), the most common form of glaucoma.

Although the occurrence of normal-tension glaucoma varies worldwide, it is very prevalent in Japan. In the United States, up to 15-25% of people with open-angle glaucoma experience normal-tension glaucoma. Normal-tension glaucoma is more common in women than in men, and in adults aged 60+.

Although its cause is not completely understood, normal-tension glaucoma is generally believed to occur either because of an unusually fragile optic nerve that can be damaged despite a normal pressure inside the eye, or because of reduced blood flow to the optic nerve.

Medical treatment is aimed at lowering the pressure inside the eye. IOP-lowering medications, which come in the form of medicated eye drops, are used to reduce the pressure by at least 30%.
About the Hypertension/Glaucoma Research
Medscape Today News provides a summary of the research:
"Our research calls into question the saying that 'the lower the blood pressure the better' and suggests that overtreatment of systemic hypertension can lead to vision loss in normal-tension glaucoma," lead investigator Carlos De Moraes, MD, reported.

In addition to treatment for hypertension, the researchers found that the amount and duration of decreases in nocturnal blood pressure were a predictor for progression.

Studies have previously suggested that nocturnal hypotension (i.e., decreased or lowered blood pressure) is more common among patients with normal-tension glaucoma and sustained progressive visual field loss.

In this new study, patients with normal-tension glaucoma who also had documented visual field defects underwent ophthalmologic examinations at six-month intervals and had their blood pressure monitored every 30 minutes for 48 hours during the day and night.

Results indicated that treated hypertensive normal-tension glaucoma patients who had long and sustained blood pressure dips at night were at increased risk for progression compared with those with normal systemic blood pressure.

The use of beta blockers had no protective effect against progression of visual field loss among patients in the study, Dr. De Moraes pointed out.

"We need to accurately identify patients at highest risk for progression in normal-tension glaucoma," Dr. De Moraes said. "Assessing these patients, particularly if they have systemic hypertension, requires a team approach with cooperation between cardiologists and ophthalmologists."
Additional Information
VisionAware will continue to provide updates for ongoing glaucoma research as they become available. You can read more information on VisionAware.org about administering glaucoma medication at Tips for Taking Glaucoma Eye Drops and A Promising New Method for Administering Glaucoma Medication on the VisionAware blog.
World Glaucoma Week
During World Glaucoma Week (March 10-16, 2013), visit VisionAware.org to learn more about Risk Factors for Glaucoma, Detecting Glaucoma, Managing Your Glaucoma, and Locating Helpful Glaucoma Resources.