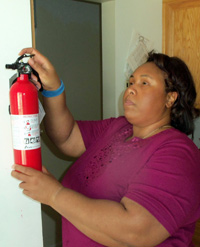 Are You Prepared for an Emergency?
The month of September is observed as National Emergency Preparedness Month. As a person with vision loss are you prepared for an emergency? Do you know what things to do to handle an emergency?
Several years ago I had to say no to both of those questions. I would tell myself to put things in place but I allowed procrastination to get in the way. It was not until Hurricane Katrina hit in the fall of 2005 that I sobered up and really began to get more serious about preparing myself for an emergency.
I was not personally harmed by the devastation of the hurricane. On the contrary, I was working at an independent living center here in Atlanta and we were getting calls from people with disabilities that relocated and needed emergency assistance. As I listened to call after call for help, I had to take a closer look at my own situation and ask myself some hard questions. Why was I not prepared and what was I doing about it? So, I threw off the laziness and made emergency preparedness a priority in my life.
Emergency Contact List
One of the first things I did was create an emergency contact list. This list includes family, friends, and medical information such as my insurance company and how to contact my primary care physician. I have that list posted on the cork board in my kitchen. I also sent a copy to the friends and family on the list so that if an emergency happened they could contact each other for help. Since I live in Atlanta and my family is in another state, my family is not directly connected to the friends in my life and vice versa. About once a year I check the list for any changes such as cell phone numbers, or home and email addresses.
Have Extra Water, Batteries, and Matches
Another simple thing I did to prepare for an emergency was keeping extra drinking water on hand. I have several gallons of water in my home just in case there is a water main break and I can't quickly get to the grocery to purchase water. As a matter of fact, just this past week, there was a major water main break not too far from where I live and a boil water alert was issued.
As a child my parents had always taught me things to do in case of an emergency. One was to have extra matches, candles, and batteries on hand. I have those quickly available in a drawer in my kitchen. I keep the batteries for flashlights. But I learned the hard way some time ago to not place the batteries in the flashlight or they could corrode and not work when you need them. So, now I place them near the flashlight and can grab when needed.
Fire Extinguishers
When I purchased my home 10 years ago, one of the first things I did was go to a home improvement store and buy two fire extinguishers. I have one in the kitchen and the other is upstairs near the laundry room. According to the National Fire Protection Association, it is best to have a fire extinguisher on each level of your home, in the kitchen, the garage and near exit doors. You never know when you might need to put out a small fire and you will lose precious time running around the house to get an extinguisher. Two things to remember, though—be sure to check the agent class. They come in A, B, C or a combination. I purchased one for all fires so I don't have to worry about if the extinguisher will work properly or not. If you have questions about this, talk to one of the sales clerks at a home improvement store or your local fire department.
Also, keep track of the agent levels in the extinguisher. Unfortunately, there is not a way for a totally blind person to do this because of how the indicator is labeled on the side of the container. You will have to get a sighted person to check the levels for you. Over time, the agent strength level decreases and the worst thing is to have a fire, grab your extinguisher, aim and spray and nothing comes out!
Storing Important Documents
Leading back to my time working with Katrina evacuees, a thing I noticed from that experience in particular was the lack of access to important documents such as social security cards and birth records. These documents can be hard to replace if they are lost or damaged during an emergency or natural disaster. So, I purchased a security box at a local office supply store that is both water proof and fire safe. In the security box I keep my birth records, passport, insurance information, previous tax returns and other important sensitive documents. Another thing that some of my friends do is scan these documents on the computer and save copies on a secure Internet storage site like Dropbox. I use Dropbox all the time as a backup for my computer files, bank/financial records as well as my writing work. Dropbox and similar sites are password protected and can be accessed anywhere there is an Internet connection and on smartphones. All you have to do is go to the Dropbox website, create your user name and password, and copy files from your hard drive by using either Internet Explorer or My Computer.
Writing a Medical Directive
Now that I have these things in place, a new task that I am working on is an advance medical directive. This document states what to do medically if I become unable to direct my own care. It has who to contact to make medical decisions on my behalf and whether I want to be resuscitated or not. This is something I have never done before, but something that I need to take seriously because the wrong medical care could be administered without my knowledge or approval.
You can write your own document, indicate the persons that will be responsible for your medical care, sign and date and keep extra copies for yourself and others. To see a sample document, download this PDF file from Georgia Equality.
Smart911 Program
Another new thing I want to investigate is a free Smart911 Program that allows you to create an online profile of your emergency contacts and medical information. When you contact 9-1-1 for an emergency your number will pop up and connect the operator to your profile that can provide important information to first responders and medical personnel. You can learn more about it by reading a blog posted by Catharine Farrell, their Community Marketing Specialist at my agency's website.
The things that I have listed above to prepare for an emergency are not exhaustive. But they are a great start and I will continue to add more things as I go along. Also, you may want to read a first-person account of someone with vision loss who has lived through an dire emergency situation, and VisionAware's Emergency Preparedness article.
Do any of the tips resonate with you? What things are you doing to prepare for an emergency?