By Rebecca Sheffield, Ph.D, Senior Policy Researcher, AFB and Alberta Orr, MSW, gerontologist and faculty, Hunter College.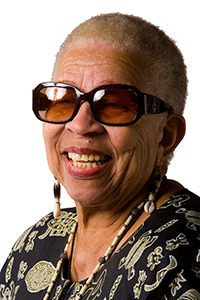 The 2015 White House Conference on Aging (WHCOA) will mark the 50th anniversary of Medicare, Medicaid, and the Older Americans Act, as well as the 80th anniversary of Social Security. The White House Conference on Aging has been held once a decade, beginning in 1961, and is designed to help chart the course of aging policy. The 2015 WHCOA is an opportunity to look ahead to the issues that will help shape the landscape for older Americans for the next decade. Key issues to be the focus of the Conference are:
Retirement security. Financial security in retirement provides essential peace of mind for older Americans but requires attention during our working lives to ensure that we are well prepared for retirement.
Long-term services and supports. Older Americans overwhelmingly prefer to remain independent in the community as they age. They need supports to do so, including a caregiving network and well-supported workforce.
Healthy aging. This topic will be all the more important as baby boomers age. As medical advances progress, the opportunities for older Americans to maintain their health and vitality should progress as well.
Elder justice. Seniors can be particularly vulnerable to financial exploitation, abuse, and neglect. The Elder Justice Act was enacted as part of the Affordable Care Act, and we need to realize its vision of protecting seniors from scam artists and others seeking to take advantage of them.
These are all critical issues for older people with vision loss. We have several opportunities to provide feedback to the planning of the WHCOA to express the concerns of and for older people who are blind or visually impaired related to these key priorities.
Three Major Ways to Have Input
WHCOA Launches Series of Regional Forums to Engage Public
The forums are co-sponsored by AARP and are designed to engage with older Americans, their families, caregivers, leaders in the aging field, and others on the key issues affecting older Americans. While the Tampa forum took place on February 19, the remainder of the meetings are scheduled as follows:
Phoenix, AZ on March 31
Seattle, WA on April 2
Cleveland, OH on April 27
Boston, MA on May 28
The 2015 White House Conference on Aging will be held in Washington, DC later this year. According to Nora Super, Executive Director of the WHCOA, "These forums allow us the opportunity to listen and learn from older adults and stakeholders as we continue to sharpen the vision of this year's Conference and to directly engage with individuals across the country about these important issues…The regional forums will help ensure that as many voices as possible are part of the conversation around the 2015 Conference." Additional information on Conference activities can be found at the conference website.
American Foundation for the Blind Holds National Conversation on Aging an Vision Loss
In preparation for the WHCOA, the American Foundation for the Blind (AFB) held a National Conversation on Aging and Vision Loss on April 9 in Phoenix, Arizona during our AFB Leadership Conference
.
National Survey
If you are unable to attend any of the above-mentioned meetings, we want your feedback. We are inviting input from older persons with vision loss, families, and service providers. We have created an online survey to gather your input.
Through the survey, please share your concerns about issues that affect older adults with vision loss that need to be addressed through state and national policy, in particular relating to the key conference issues outlined previously.
This is an opportunity for the leadership of the White House Conference to hear directly from Americans with vision loss, their families, and their supporters.
If you prefer to call in your comments, please record them at the following number: 480-382-1530. Alternatively, you may print off the survey questions and send them to AFB's Public Policy Center in Washington D.C.:
Rebecca Sheffield, Ph.D.
1660 L Street, NW, Suite 513
Washington, DC 20036
Highlights of Phoenix Meeting and Preliminary Results of the Survey
Read our follow-up blog post to find out about highlights of the National Conversation in Phoenix and preliminary results of the survey.