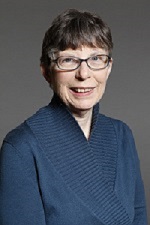 Guest blogger Priscilla (Pris) Rogers, Ph.D. is the Program Manager for VisionAware and co-author of Aging and Vision Loss: A Handbook for Families. Her other works include Self-Advocacy Skills Training for Older Individuals Who Are Visually Impaired and Solutions for Success: A Training Manual for Working with Older People Who Are Visually Impaired. She has an M.A. degree in gerontology and a Ph.D. in special education with an emphasis in vision and aging.
In A Summary of the White House Conference on Aging Issues and Initiatives: Part One, Pris described the major issues and initiatives addressed during the 2015 White House Conference on Aging (WHCOA). In Part Two, she summarized the conference initiatives related to aging and vision loss addressed by the American Foundation for the Blind's Letter to the President. This week, Pris concludes her discussion of the conference initiatives with additional remarks related to aging and vision loss that were also addressed in AFB's Letter to the President
Background and Overview
The White House Conference on Aging (WHCOA) took place on July 13, 2015. It was an historic occasion that occurs once a decade. This year's conference was the first to take place on a national stage with the opportunity for people across the nation – and even the world – to listen in and participate through social media, including a Twitter feed @WHAging that enabled virtual attendees to ask questions and make comments.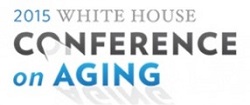 The American Foundation for the Blind's (AFB) Letter to the President articulated major WHCOA issues related to aging and vision loss. AFB and the 70+ agencies that signed on to the letter emphasized the need for a systemic approach to ensure that older Americans who are blind or visually impaired are able to (a) receive the training in independent living they need to carry out everyday tasks, (b) obtain critical technologies to enhance their health, independence and safety, and (c) access appropriate support services, such as transportation.
Editor's note: The initiatives detailed in this post come from Fact Sheet: White House Conference on Aging. These initiatives are related to the themes of the conference and to additional older adult-related concerns. We have included specific AFB responses and remarks to tie the WHCOA initiatives to issues of concern to AFB.
Initiative: Alzheimer's Disease and Related Dementias
The U.S. Department of Health and Human Services (HHS) announced an update on the progress made in the fight against Alzheimer's disease and related dementias through the National Plan to Address Alzheimer's Disease. The update includes priority actions that the government will take over the next year to address these conditions, including developing a training curriculum next year to build a health care workforce with the necessary skills to provide high quality dementia care and ensure timely and accurate detection and diagnosis of dementia.
The HHS Office of Women's Health will develop related training to help family caregivers maximize their own health and address specific care needs of persons with dementia.
The HHS Administration on Community Living is launching a $4 million Brain Health Awareness Campaign to help older adults better understand changes that occur in the brain as people age and reduce the fear of discussing concerns with family members and clinicians.
The Dementia-Friendly America Initiative, led by Collective Action Lab, in partnership with USAgainstAlzheimers, the National Association of Area Agencies on Aging, and Blue Cross Blue Shield of Minnesota, announced plans to support dementia-friendly communities across the country and to expand to 15 additional pilot sites across the country. This work is based on a model implemented in Minnesota through which communities across the state are actively working to increase dementia awareness and implement strategies to help support individuals in the community with dementia and their family caregivers.
Initiative: Supporting Elder Caregiving and Long Term Care Supports
HHS will release a new Fact Sheet on educating family caregivers about insurance coverage through the Affordable Care Act. While caring for a loved one, family caregivers of older adults may reduce work hours or retire early, and many put off their own health care needs. This resource describes some of the unique health needs family caregivers may have and their health care coverage options.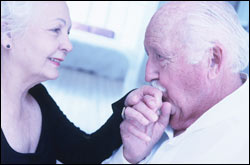 The Office of Personnel Management will issue a handbook on supporting caregiving and the elder care needs of family members in the federal workforce in response to the Presidential memorandum on Enhancing Workplace Flexibilities and Work-Life Program released last year. The handbook explains the workplace flexibility and work-life programs for federal employees supporting the elder care needs of their family members.
The Centers for Medicare and Medicaid Services (CMS) will clarify for States that the development of registries that are used to match older Americans and their families with home care workers is an eligible Medicaid administrative expense.
CMS also will clarify that a State can recognize in its rates the costs associated with a provider attending Medicaid-related training once a provider is enrolled in the Medicaid program.
The U.S. Department of Labor, recognizing that health care constitutes one of the largest and fastest growing sectors of the workforce due, in part, to the aging population's growth, announced a forthcoming catalogue summarizing the range of career pathways programs to support entry into health care careers and the development of a Federal plan targeted for release this fall for continuing to build the evidence about promising health care career pathway programs.
HHS has released an issue brief on long-term care, entitled Long Term Services and Supports for Older Americans: Risks and Financing.
Bank of America announced the introduction of the Bank of America Merrill Lynch Longevity Training Program for human resources and benefit plan professionals. This… program was developed in partnership with the USC Leonard Davis School of Gerontology and focuses on workplace awareness and understanding of the evolving needs of the nation's aging population and their families. Bank of America will soon make this training program available to all of the companies for whom Bank of America Merrill Lynch provides retirement and benefit plan services.
Transamerica Institute will support and disseminate caregiver-related research to understand how the need for caregiving is impacting American workers, especially women, and their employers.
The employer coalition ReACT (Respect a Caregiver's Time), Care.com, and the Massachusetts Institute of Technology are joining forces to generate the tools employers need to effectively support employees who are caregivers. ReACT and Care.com will launch an employer engagement effort to drive broad employer adoption of best practices and effective strategies that support their employees' caregiving responsibilities.
Initiative: Protecting Older Americans from Financial Exploitation and Elder Abuse
The Consumer Financial Protection Bureau (CFPB) will release, by the end of 2015, an advisory to help financial institutions prevent, recognize and report elder financial exploitation.
As part of a $4 million effort, the HHS Administration for Community Living launched a stakeholder engagement project on State Adult Protective Services Guidelines (APS) that will serve as core principles for APS systems throughout the nation and is awarding State grants to test full implementation of a national elder abuse, neglect and exploitation reporting system. HHS also released research briefs on the Elder Abuse Prevention Interventions Pilot Programs, which aim to build a stronger evidence base for elder abuse prevention interventions.
The American Banking Association Foundation has released an interactive community mapping tool that identifies innovative bank programs across the country that adopt intensive banker training to stop fraud and financial exploitation of older Americans, provide robust consumer education, and create effective partnerships with law enforcement and adult protective services.
The U.S. Department of Justice (DOJ) is introducing several initiatives laid out in the Fact Sheet: White House Conference on Aging. These include training, prosecution, and collaboration initiatives such as collaborating with a wide array of federal agencies – including the Federal Bureau of Investigation, the U.S. Postal Service, and the Internal Revenue service – to develop and promote elder abuse and financial exploitation training for their agents. In addition, DOJ will develop tools to help domestic violence advocates, sexual assault programs, and aging services organizations to serve individuals who have experienced elder abuse, including domestic violence, sexual assault, stalking, neglect, and financial exploitation.
This fall, the National Institutes of Health will convene a state-of-the-science workshop on elder abuse with researchers, clinicians, and others to review the science on understanding and preventing abuse; screening tools to identify abuse victims; effective interventions and research in related areas like child abuse and domestic violence that might inform research on elder abuse; and gaps and opportunities in this field of research.
The DOJ's National Institute of Justice and its Elder Justice Initiative will fund a multi-year pilot project to evaluate potential means to avoid and respond to elder mistreatment.
Thomas E. Perez, Secretary of Labor: "Age Is a State of Mind"
Perez, in closing the WHCOA, made this his central message:
Age is a state of mind. It (aging) is made a lot easier when you have financial security… the security of supports in your community,… the quality of your health… Moving forward, this is really about the unfinished business of insuring a more perfect union… All of us are here and all of us must be involved… need to make sure that people don't simply live longer but that they 'thrive' longer. …Aging should preserve and enhance opportunity…The arc in the moral universe is long but it does bend toward justice, it does not bend on its own. Without advocacy we wouldn't have (he lists a number of things such as Medicare)… all too many people who are aging that are in danger of falling into the shadows (of life). America works best when we field the full team. We need your help…You can help bend the arc because it does not bend on its own…Getting things done is a heck of a lot harder than just maintaining the status quo…I am confident we can move the needle on this…because we always have, in this nation's history. The baton is squarely in our hands…We will continue to carry this baton so that everybody can age with dignity…and nobody has to live in the shadows.
For More Information
Information on the WHCOA initiatives has been excerpted from Fact Sheet: The White House Conference on Aging.