As many VisionAware readers know, travel is one of my great passions. Thus, I was very interested to learn more when I was contacted by Traveleyes, a United Kingdom-based tour operator specializing in providing holidays for groups of blind/visually impaired and sighted travelers, journeying together "in a spirit of mutual independence."
The mission of Traveleyes is to enable blind and visually impaired men and women to enjoy independent world travel on their own terms, without necessarily having to travel with family members.
The Traveleyes Founder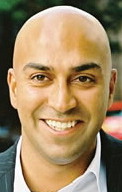 The Founder and Director of Traveleyes is the blind filmmaker, traveler, and entrepreneur Amar Latif (pictured at right). Amar established Traveleyes in response to the limitations he often encountered during his own wide-ranging travel experiences. His need to "go where he wanted to go and do what he wanted to do" independently led Amar to establish the Traveleyes blind/sighted experience.
The Traveleyes Experience
Each trip features equal numbers of blind and sighted travelers. Blind travelers experience a customized, independent travel experience, and sighted travelers are provided with a significant price discount in return for the use of their eyes and their verbal descriptions of sights and surroundings. Destinations for 2012 include Australia, India, Vietnam, Cuba, Italy, Mauritius, Argentina, and Brazil, plus cruises to the Caribbean, the Baltic, and Alaska.
You can visit the Traveleyes website for more information, including testimonials from many satisfied customers. I now have a new travel obsession, thanks to Traveleyes!