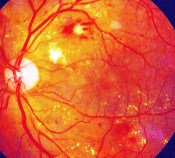 As our readers know, VisionAware is committed to providing current and reliable information about eye and vision research that is relevant to adults and older adults, many of whom experience late-life vision loss resulting in low vision.
During the past several years, gene therapy has gained traction and offers promise for treating (but not yet curing) a range of eye diseases, including retinitis pigmentosa, wet age-related macular degeneration, diabetic eye disease, and Leber congenital amaurosis. Competition in the gene therapy research arena is intense and development costs are extremely high.
And as the science of gene therapy continues to advance, patient-centered ethical questions also begin to arise:
What are the costs of gene therapy?
Who will pay? Are the costs of these treatments reimbursable by many insurance plans?
Will it be a treatment that only wealthy persons can access?
Author Jim Kozubek has addressed these ethical and financial considerations head-on, in a thoughtful, well-written essay/opinion piece in the June 26, 2017 issue of STAT News, titled Who will pay for CRISPR? (a type of gene therapy, explained below).
First, What is CRISPR?
From Meet Author Irv Arons and Learn More About Gene Therapy and Gene Editing for Eye Disease on the VisionAware blog:
Put simply, gene editing is a type of genetic engineering in which DNA (a molecule that contains each person's unique genetic code) is inserted, deleted, or replaced in a defective gene, using tiny "molecular scissors" to cut and fix the broken gene in a cell. CRISPR (or "clustered regularly interspersed short palindromic repeats") is a new gene-editing technology that is used to repair a genetic mutation responsible for retinitis pigmentosa.

In genetic science, CRISPR (pronounced "crisper") genes are known to be essential for adaptive immunity in certain bacteria and microbes, and enable the organism to respond to, and eliminate, invading genetic material.

In gene editing, CRISPR locates the target – which is the mutated gene – and Cas9 (or "CRISPR-associated gene," also called "molecular scissors") snips out the mutation. Then the two DNA ends recombine, minus the mutated (disease-causing) gene.

Gene editing is more recent and differs from gene therapy because it locates and removes or replaces "defective" genes, while gene therapy introduces a "new copy" of a gene, without removing or replacing the existing DNA.
Jim Kozubek on CRISPR Gene Therapy from STAT News
Excerpted from Who will pay for CRISPR?:
The ruckus over the CRISPR gene-editing system hides a dark reality: its high cost may make it unaffordable and questions remain whether most insurance companies will pay for it. As CRISPR begins to move forward in clinical trials, there are some signals about how it may — or may not — be received commercially. Other types of gene therapies carry a price tag that is likely to induce sticker shock. If adopted, these therapies will add striking new cost burdens to our health care system.

"The cost isn't coming down," said Mark Trusheim, director of the Massachusetts Institute of Technology's NEW Drug Development Paradigms, a think tank working on the problem of how we will pay for expensive new drugs. "Companies will say, 'We are developing these medicines, just pay us'; insurers will say, 'We can't afford it.'"

Editas Medicine plans to use CRISPR-Cas9 to treat various diseases, including Leber congenital amaurosis. "Enthusiasm is great for interventions in the eye," New York University bioethicist Arthur Caplan told me. "They permit trying one eye at a time and it is easy to tell if anything positive happens. Safety is much easier to ensure."

But in its annual report, Editas noted "significant uncertainty" on whether payers would cover the treatment. In fact, a handful of insurance companies (VantageBlue from Blue Cross Blue Shield of Rhode Island, Select Health, and VIVA Health) have issued policy documents that exclude gene therapy from coverage, a move that experts say establishes policy against paying for CRISPR-based therapeutics.
Gene Therapy from Spark Therapeutics
From New Research: Gene Therapy Restores Some Vision in Clinical Trials for Leber Congenital Amaurosis (LCA) on the VisionAware blog:
At the 2015 Annual Meeting of the American Academy of Ophthalmology, Albert M. Maguire, MD presented positive results from a Phase 3 clinical trial of a gene therapy treatment for Leber congenital amaurosis (LCA) that produced "substantial restoration of vision in patients who were progressing toward complete blindness."

Dr. Maguire presented his findings after the October 5, 2015 announcement of positive clinical trial results by Spark Therapeutics, Inc. On the basis of these trial results, Spark plans to submit their gene therapy treatment, called SPK-RPE65, to the United States Food and Drug Administration for potential approval.

Spark Therapeutics is a developer of gene therapy products for the treatment of debilitating diseases, including inherited retinal dystrophies, such as LCA. Spark's lead gene therapy candidate is for the treatment of RPE65-related blindness.

Spark was spun out of The Children's Hospital of Philadelphia (CHOP) in October 2013, along with a $50 million capital commitment. In October 2014, Spark opened their new headquarters at the University City Science Center in West Philadelphia. Spark is building on the work of CHOP's Center for Cellular and Molecular Therapeutics (CCMT), established in 2004 as a center for gene therapy translational research and manufacturing.
Jim Kozubek on Spark Therapeutics and Equitable Treatment from STAT News
Excerpted from Who will pay for CRISPR?:
Spark Therapeutics of Philadelphia is vying to bring the first gene therapy to market in the U.S. to treat a rare genetic eye disease called Leber congenital amaurosis 2. Analysts said it could cost a half-million dollars per eye. Spark's treatment is a form of traditional gene therapy, which makes use of viruses to get bits of restorative code into our cells…

The Institute for Clinical and Economic Review released a report in March stating there are 12 to 14 gene therapy candidates that are expected to be among the first for commercial approval. "With payer budgets already stretched, and reining in the costs high on the agenda, both public and private payers will likely balk at the cost of some of these gene-based treatments," the American Journal of Managed Care wrote in a reflection on the report. "Europe has the lead in approved gene therapies, and the first such drug to be approved had a launch price of $1.4 million. Can the US health care system absorb the cumulative impact of such prices, considering that 10 percent of the population has a rare condition linked to a genetic defect?"

Health care is a limited shared resource, and expensive new technologies could add pressures resulting in unequal access, especially to cancer therapies. Given the aggressive drive for money, and without new approaches in thinking, we are headed for disaster.

One of two things will happen: either we will embrace a national health care system with broad access but that severely limits expensive new drugs, gene therapies, and CRISPR-based biologics; or these treatments will be available to only the wealthiest among us who can pay for them, a dystopian vision which is perverse but perhaps more realistic considering the pressures for a return on investment.
I encourage you to read Mr. Kozubek's knowledgeable essay in its entirety. Readers: What are your thoughts on this? We'd like to hear from you!
Additional Information