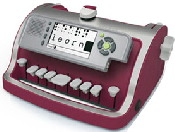 As a longtime proponent of braille literacy, I was pleased to read this joint announcement from Perkins Products and American Printing House for the Blind:
The New Perkins SMART Brailler®
Perkins Products, a division of Perkins School for the Blind, introduces the new Perkins SMART Brailler® – the evolution of the Perkins Brailler® from a low-technology, beloved classic to a high-technology learning and teaching tool. Its built-in video screen, combined with audio feedback, shows and speaks letters and words in real time as they are being brailled.
The SMART Brailler®, developed by Perkins Products in conjunction with the American Printing House for the Blind (APH), opens the door to a new, more intuitive way for individuals, both sighted and blind, to communicate, teach, and learn braille together. Now, teachers in a mainstream classroom can see what their students are brailling. Sighted parents can help their visually impaired children with homework. And students can discover the fun in their own braille education.
SMART Brailler® Features
The SMART Brailler® includes the following features:
A video screen for instantaneous audio and visual feedback, which displays SimBraille [i.e., printed simulated braille] and print
Text-to-speech from Acapela Group so that letters, words and sentences can be read back while brailling
Ability to edit, save, and transfer electronic documents via USB
Headphone jack and volume control
Operates as a mechanical brailler for extended use
Rechargeable and removable battery
The APH version of the SMART Brailler® also includes the Building on Patterns: Primary Braille Literacy Program: Kindergarten Kit software – braille learning exercises that offer easy lessons for anyone who wants to learn braille.
The Perkins Products version of the SMART Brailler®, ordered directly from Perkins Products, does not include Building on Patterns but does include:
The option to use other languages besides English
The ability to download braille learning software for a fee.
Ordering and Availability
You can view an introductory video about the SMART Brailler® on the Perkins website. Shipments of the SMART Brailler® will begin in September 2012 and pre-ordering is available now.