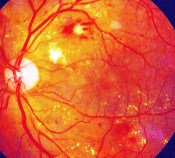 On September 26, 2014, Alimera Sciences, Inc. announced that the United States Food and Drug Administration (FDA) approved Iluvien for the treatment of diabetic macular edema in persons who have been previously treated with a course of corticosteroids and did not have a clinically significant rise in intraocular pressure.
Alimera Sciences, Inc., headquartered in Alpharetta, Georgia, specializes in the research and development of prescription ophthalmic drugs. Alimera expects to begin selling Iluvien in the United States during the first quarter of 2015. Alimera is also testing Iluvien as a possible treatment for dry age-related macular degeneration.
About Iluvien
Iluvien, which is already available in the United Kingdom and Germany, is an injectable implant that provides a sustained-release drug delivery system for the treatment of diabetic macular edema.

The Iluvien implant (pictured at left) is a tiny cylindrical tube that is 3.5mm in length and 0.37mm in diameter. It is designed to provide a low daily dose of fluocinolone acetonide, a corticosteroid. Corticosteroids are known for their anti-inflammatory properties.
Iluvien is inserted into the back of the eye, via injection with a 25-gauge needle, by a retina specialist during an office visit. The needle is very thin, which allows for a self-sealing wound. A single Iluvien implant is designed to provide sustained therapy for approximately 36 months.
About Diabetic Macular Edema
Diabetic macular edema [edema = a swelling or accumulation of fluid] (DME) can occur in people with diabetes when retinal blood vessels begin to leak into the macula, the part of the eye responsible for detailed central vision. These leakages cause the macula to thicken and swell, which, in turn, creates a progressive distortion of central vision.
Although this swelling does not always lead to severe vision loss or blindness, it can cause a significant loss of central, or detail, vision, and is the primary cause of vision loss in people with diabetic retinopathy.
A Brief History of the Development of Iluvien
Iluvien has traveled a long and difficult path to receive FDA approval. During the drug's development period, the FDA rejected Iluvien's applications for FDA approval, citing drug safety concerns and deficiencies at the manufacturing facility.
The Clinical Trial
The FAME Study consisted of two three-year (2007-2010), Phase 3 clinical trials (Trial A and Trial B) to assess the safety and effectiveness of Iluvien in the treatment of diabetic macular edema. The 956 clinical trial participants received either (a) high dose Iluvien, (b) low dose Iluvien, or (c) a control treatment [i.e., "untreated" participants who did not receive Iluvien].
At the two-year mark, the measure for the effectiveness of Iluvien was the difference in the percentage of participants, between the treatment and control groups, whose best-corrected visual acuity improved by 15 or more letters on the Early Treatment Diabetic Retinopathy Study (ETDRS) eye chart.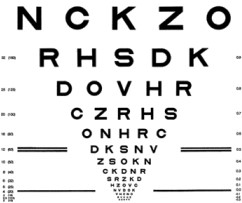 The ETDRS Eye Chart
2010: Initial FDA Application
In September 2010, Alimera's New Drug Application for Iluvien was accepted for filing and granted Priority Review status by the FDA. FDA Priority Review status is granted to therapies that offer major advances in treatment or provide a treatment where no adequate therapy exists. This status accelerates the standard review time from 10 months to six months.
2010: More Data Required
In December 2010, the FDA issued a response letter to Alimera that rejected Alimera's New Drug Application for Iluvien, stating that an additional year's worth of data would be required before it could consider approving Iluvien. The FDA asked for safety and effectiveness data to further assess the benefits and risks of Iluvien and also asked for additional information regarding the manufacturing, packaging, and sterilization of Iluvien.
2011: FDA Application Resubmission
In May 2011, Alimera resubmitted a New Drug Application for Iluvien, addressing the questions raised by the FDA.
2013: FDA Concerns
In October 2013, the FDA identified concerns regarding benefits, risks, and manufacturing issues and stated that the Iluvien application could not be approved in its present form. To address these deficiencies, the FDA suggested a new clinical trial with at least 12 months of follow-up for all enrolled patients in that trial.
2014: Resubmission of FDA Application
In March 2014, Alimera resubmitted its Iluvien application, responding to the questions that were raised in 2013 and providing a safety update, which included commercial experience with Iluvien in Europe.
2014: FDA Approval
On September 26, 2014, Alimera Sciences, Inc. announced that the FDA had approved Iluvien for the treatment of diabetic macular edema.
Possible Iluvien Side Effects
Via the Alimera Sciences, Inc. website:
Eye injections have been associated with endophthalmitis [i.e., an inflammation of the internal parts of the eye], increased intraocular pressure, and retinal detachments. Patients should be monitored following the injection.
Use of corticosteroids may produce posterior subcapsular cataracts, increased intraocular [i.e., within the eye] pressure, glaucoma, and may enhance the establishment of secondary ocular infections due to bacteria, fungi, or viruses.
The implant may migrate into the anterior chamber [i.e., the front portion of the eye] if the posterior lens capsule is not intact.
In controlled studies, the most common adverse reactions reported were cataract development and increases in intraocular pressure.
Additional Information