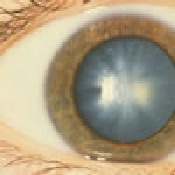 For adults who undergo cataract surgery, implantation of an artificial lens, also called an intraocular [i.e., within the eye] lens, or IOL, has been the standard of care for many years.
However, an ongoing clinical trial, sponsored in part by the National Eye Institute, suggests that for many infants, surgery followed by the use of contact lenses for several years – and an eventual lens implant – may be a better solution.
The research, entitled Comparison of Contact Lens and Intraocular Lens Correction of Monocular Aphakia During Infancy, was published "online first" in the March 6, 2014 issue of JAMA Ophthalmology (formerly Archives of Ophthalmology). JAMA Ophthalmology is an international peer-reviewed journal published monthly by the American Medical Association.
The study is authored by the Infant Aphakia [i.e., an eye without a lens] Treatment Study Group, with lead investigator Scott R. Lambert, MD, from Emory University, as the corresponding author. The purpose of the Infant Aphakia Treatment Study Group is to determine whether infants with a unilateral [i.e., in one eye] congenital cataract are more likely to develop better vision following cataract surgery if they undergo either (a) implantation of an intraocular lens or (b) treatment with a contact lens. The study also compares the occurrence of postoperative complications and the degree of parental stress between the two treatments.
About the Research
From Contacts better than permanent lenses for infants after cataract surgery from the National Institutes of Health:
Some prior research suggested that using an IOL to treat cataract during infancy can improve long-term visual outcomes … IOLs can also spare babies – and their parents – the discomfort of daily contact lens changes and reduce the risk of introducing germs into the eye.

On the other hand, the use of IOLs during infancy also has some drawbacks. Surgeons have difficulty judging the right focusing power of the artificial lens for an infant, because it's a time of rapid eye growth. Also, while IOL implants are typically safe and complication-free for adults, they are more likely to cause postoperative problems for infants.

The Infant Aphakia Treatment Study ultimately enrolled 114 infants who were between 1 to 6 months old at the time of surgery. By random assignment, about half of the infants received an IOL and the other half received contact lenses. The lenses were soft silicon or hard gas-permeable plastic, and designed to fit small eyes.

There were no significant differences in visual acuity between the two groups at age 1, or at age 4 1/2. However, there were more post-surgical complications in the IOL group, which in turn led to more corrective surgeries. The most frequent complication was lens reproliferation – when lens cells left behind after cataract surgery migrate into the pupil and interfere with vision.

By age 5, lens reproliferation was 10 times more common with IOLs, occurring in 23 (40 percent) of infants in that group, compared to two infants (4 percent) in the contact lens group. This complication and others led to the need for one or more additional eye surgeries among 41 (72 percent) of the infants in the IOL group, and 12 (21 percent) in the contact lens group.

By age 5, nine children in the contact lens group developed minor eye infections that cleared up with antibiotic drops, and in one child, a contact lens broke during wear. None of these issues had permanent effects on vision. Three infants in the contact lens group had IOLs implanted before age 5, because their families had difficulty with day-to-day contact lens changing and maintenance.

"We think that for most infants with unilateral cataract, contact lenses are a better option than an IOL," Dr. Lambert said. "However, in some cases, the parents and their physician may decide that contact lens wear proves to be too challenging, and ultimately not in the child's best interests."

Congenital cataract is sometimes hereditary, which means that some parents may have vision problems of their own that would make it difficult to change their kids' contacts. Affordability could also be a challenge for some families. Although health insurance plans generally pay for an IOL, most plans do not pay for contact lenses.
About Intraocular Lenses
Once the natural lens in the eye has been removed, the eye loses its ability to focus light and images clearly on to the retina, the light-sensitive tissue that lines the inside surface of the eye. Before the development of artificial lenses, hard contact lenses or very thick eyeglasses were the only options for correcting vision after cataract surgery.
Artificial intraocular lenses were developed in the early part of the 20th century, and ophthalmologist Harold Ridley, M.D. implanted the first artificial lens in 1949 in London. In 1952, the first artificial lens was implanted in the United States at Wills Eye Hospital in Philadelphia. Since that time, cataract surgery and artificial lenses have continued to evolve and develop.
In most cases, the natural lens is removed and the artificial lens is implanted during the same surgery. The artificial lens is usually placed within the lens capsule, which is the small "sac" or membrane that once enclosed the natural lens and held it in place.
You can read more about the different types of intraocular lenses at What is an Artificial Lens? at VisionAware.org.
More about the Study from JAMA Ophthalmology
From the article abstract:
Design, Setting, and Participants: The Infant Aphakia Treatment Study is a randomized clinical trial with 5 years of follow-up that involved 114 infants with unilateral congenital cataracts at 12 sites. A traveling examiner assessed visual acuity at age 4.5 years.

Results: Significantly more patients in the IOL group had at least 1 adverse event after cataract surgery (contact lens, 56%; IOL, 81%). Glaucoma/glaucoma suspect occurred in 35% of treated eyes in the contact lens group vs. 28% of eyes in the IOL group. Since the initial cataract surgery, significantly more patients in the IOL group have had at least 1 additional intraocular surgery (contact lens, 21%; IOL, 72%).

Conclusions and Relevance: When operating on an infant younger than 7 months of age with a unilateral cataract, we recommend leaving the eye aphakic and focusing the eye with a contact lens. IOL implantation should be reserved for those infants for whom the cost and handling of a contact lens would be so burdensome as to result in significant periods of uncorrected aphakia.
You can learn more about adult cataracts at An Introduction to Cataracts and Cataract Surgery at VisionAware.