Editor's note: February is Low Vision Awareness Month. Peer Advisor Lynda Lambert talks about her experience with vision loss and getting her life back together by seeking immediate professional help and obtaining the necessary low vision services. In this three-part series, she outlines critical steps you should take if you are experiencing vision loss.
My Experience with Vision Loss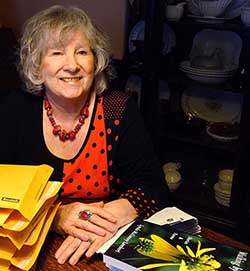 Vision loss can come gradually over a long period of time, or it can be quick and final. Regardless of how it progresses, our first reaction is to think our creative life is over and that we will be a different person because of it. We will encounter new challenges and learn new ways of working and thinking. My sudden sight loss was over a decade ago; I thought I would never be able to write or make art again. I was in shock. In fact, I spent the first five months wondering how I would carry on with my life. Fortunately, I met another blind person who became my mentor, and she gave me advice and information that gave me hope for my future. I will provide my three steps that worked for me. This information can provide a bridge to seeking help and learning how you can continue on with your own creative life goals. I know you, too, can make positive changes so that you can be the creative person you know you are. Are you ready to begin to change your life?
Step 1: Seek Professional Help
Once you have been diagnosed with an eye condition that is causing sight loss, you will need to find out about low vision and visit a low vision specialist. This is the first professional who can help determine what your needs may be. You can ask your eye doctor to recommend a low vision specialist. Typically, your eye doctor will recommend that you go to a low vision specialist and will set up your appointment while you are there. You can use the VisionAware directory to find a low vision specialist in your area.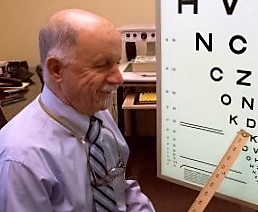 When my regular eye doctor discovered that I had an unusual situation, he immediately called a specialist while I was in his office, and within a day, I was at the specialist's office. In some circumstances, it is urgent, and you may have no time to waste in getting your diagnosis or treatment. That was my case. I was eventually diagnosed with Ischemic Optic Neuropathy. This condition causes rapid sight loss. Quick action on the part of my doctors prevented complete sight loss. I am a person with low vision. I cannot see details or colors, but I have light perception and a small amount of peripheral vision. Perhaps, like me, you can learn to function quite well with the aid of technologies for the blind and devices and equipment designed for people with low vision.
Your visit to a low vision specialist will involve a low vision eye exam to determine just what you see, how you see, and what types of equipment might work to help you. Because I am a visual artist and author, my doctor wanted me to bring in samples of my art and writing so he could determine what my needs are. Can you imagine my surprise when the low vision doctor told me I could make art again? And, I could learn to write again with the aid of low vision equipment and some training. I began to feel like things were looking up for me at this point. I was greatly encouraged by this news.
Step 2: Keep an Open Mind About Your Options
After your visit to the low vision specialist, you will know what options are available to you so that you can regain a life filled with creative possibilities. Remember: loss of sight does not mean loss of vision. You are still the same person who has desires, goals, intentions, and a vision for your future. Keep in mind you are still that same person with the same personality, education, experiences, and hopes. I was still the same person who wanted to make art and display my artwork in gallery exhibitions. I still wanted to write more books and have my work appear in literary journals. Even though my eyesight was limited, I could still see myself being the creative woman I am. I was still bursting with ideas and images I wanted to manifest. But how?
Not long after my friend who is blind connected me with the professionals who were there to help me, I went off to a rehabilitation program where I would be in school, learning how to regain and reimagine my creative life. It was an exciting new adventure, and I entered into this school full of excitement and determination. I became the professor who was now a new student in a new school. I felt like a high school student again.
Check out part two in the series: "Step Three to Regain a Creative Life After Vision Loss: Learn to Use Low Vision Devices and Equipment."
Additional Information
Read more about Lynda Lambert and her art.
Check out this "Roadmap to Living with Vision Loss."
Find out about low vision terms and descriptions.