Once again, Advanced Cell Technology (ACT) is in the news with yet another potential advance in stem cell therapy for macular disease, in this case for the dry form of macular degeneration.
To better understand this latest development, here is background information from my prior blog post about ACT's initial stem cell therapy trial for Stargardt disease:
On Monday, November 22, 2010, the U.S. Food and Drug Administration (FDA) lifted a prior clinical hold on stem cell research to clear Advanced Cell Technology's (ACT) Investigational New Drug (IND) application and initiate a Phase I/II multicenter study, using retinal cells derived from human embryonic stem cells to treat patients with Stargardt disease.

ACT's product is a human embryonic stem cell trained to become a retinal cell. ACT first requested approval from the FDA to conduct the clinical trial approximately one year ago.

This will be the second-ever clinical trial of a therapy involving the use of human embryonic stem cells. One other clinical trial is currently underway, using human embryonic stem cell-based therapy to treat spinal cord injury.
On January 3, 2011, ACT announced that they had received FDA clearance for yet another new clinical trial, this time using embryonic stem cells to treat dry age-related macular degeneration:
Advanced Cell Technology (ACT) announced today that the US Food and Drug Administration has cleared the company's Investigational New Drug application to treat Dry Age-Related Macular Degeneration using retinal pigment epithelial (RPE) cells (i.e., the pigmented layer of the retina) derived from human embryonic stem cells.

ACT is now permitted to initiate a Phase I/II multicenter clinical trial to treat patients with Dry AMD, the most common form of macular degeneration in the world. There are currently no treatments available for this prevalent disease of an aging global population.

The Phase I/II trial is designed to determine the safety and tolerability of the RPE cells following … transplantation into patients with Dry AMD. Twelve patients will be enrolled in the study at multiple clinical sites. Sites currently under consideration are the Jules Stein Eye Institute at UCLA and the Ophthalmology Department at Stanford University School of Medicine. Additional sites may be considered.
In an interview with Bloomberg News, Robert Lanza, MD, Chief Scientific Officer of ACT, explained the process of dry AMD, as well as the company's new proposed therapy:
"Dry AMD is the leading cause of blindness in individuals over the age of 55. As the population ages, the incidence of AMD is expected to double over the next 20 years, further exacerbating this unmet medical need.

Patients with macular degeneration lose sharp central vision as cellular waste builds in the eyes and damages retinal pigment epithelial (RPE) cells. Over time, photoreceptor cells, which translate visual information into signals that reach the brain, also are harmed.

Once you lose the RPE cells you no longer have a healthy environment and you start to lose photoreceptors. By injecting healthy RPE cells into patients, [we] hope to slow the cell loss and the degradation of vision.

Advanced Cell Technology's trial will start by treating a single patient with an injection of 50,000 cells. If no safety problems are seen, two more patients will receive the same dosage. Subsequent patients will get higher doses to find the most effective safe therapy."
More about Dry AMD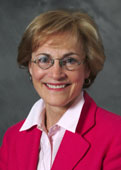 VisionAware's Lylas G. Mogk, MD, a renowned expert on age-related macular degeneration (AMD), founding director of the Visual Rehabilitation and Research Center of Michigan, part of the Henry Ford Health System Eye Care Services, and co-author of Macular Degeneration: The Complete Guide to Saving and Maximizing Your Sight, explains more about the different types of AMD:
"There are two types of AMD: wet (neovascular) and dry (atrophic). It's possible to experience the wet type in one eye and the dry type in the other; in addition, the dry type can progress to wet in approximately 10-15% of cases.

The dry/atrophic type affects approximately 85-90% of individuals with AMD. Its cause is unknown, it tends to progress more slowly than the wet type, and there is not — as of yet — an approved treatment or cure. In dry AMD, small white or yellowish deposits, called drusen, form on the retina, beneath the macula, causing it to deteriorate or degenerate over time.

The wet/neovascular type affects approximately 10-15% of individuals with AMD, but accounts for approximately 90% of all cases of severe vision loss from the disease. In wet AMD, abnormal blood vessels under the retina begin to grow toward the macula. Because these new blood vessels are abnormal, they tend to break, bleed, and leak fluid, damaging the macula and causing it to lift up and pull away from its base. This can result in a rapid and severe loss of central vision."
You can learn more about the full range of clinical trials for dry AMD at the Macular Degeneration Partnership website. VisionAware will provide updates on this important stem cell research as they become available.
Sources: Macular Degeneration Research, Advanced Cell Technology, and Bloomberg News