It's time for some VisionAware blogroll love once again. As I explained in my introductory "blogroll love" post,
…the VisionAware "blind bloggers" collective is a marvelous way to position my favorite bloggers front-and-center for our ever-growing audience. You'll discover great writing there – and not only about blindness. My favorite bloggers are people who happen to be blind – and who have much to say about life's joys, sorrows, and everything else that makes us human.
This week, I'd like you to meet the talented writer and blogger from Jalapeños in the Oatmeal.
Jalapeños in the Oatmeal: Digesting Vision Loss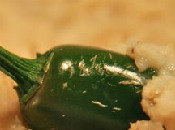 Jalapeños in the Oatmeal is sponsored by Second Sense (formerly the Guild for the Blind) and is authored by the lyrical and perceptive writer Jeff Flodin, who was diagnosed with retinitis pigmentosa at age 35.
Jeff's current writing project is a short story collection (in development) about vision loss. His work has appeared in The Rockford Review and the Chicago Tribune, and he was selected to participate as a writing resident in the Fellowship program at the Vermont Studio Center.
In other words, Jeff Flodin is "the real deal." I've followed his blog since its inception, and I continue to be moved by his ability to speak from the heart in deceptively unadorned language while fearlessly dissecting his all-too-human foibles. Can you tell I'm a fan?
Dissecting "Passing"
Here is Jeff's eloquent explanation, reproduced in its entirety, of the "passing for sighted" phenomenon that many readers likely will recognize:
When will I ever learn? I still pretend I can see better than I can. When I feel discomforted or vulnerable, I act busy and important. I check my cell phone, retie my shoelace, or inspect the dog's teeth for spinach. My goal is to appear independent, to "pass for sighted" in the eyes of the whole, wide world. What I fail to see is that by pretending, I just look weird, act falsely and fool no one.

Pretending comes naturally. We all do it, whether sighted or not. Losing my eyesight just provided new focus for "my-wanna-be" life. As my blind spots grew, I became ashamed of my new deficiency. I wanted to show people there was nothing wrong with me, or, if there was, I could handle it just fine all by myself.

I failed to connect the dots between denial and pretending. And, denying vision loss, I played the ultimate fool. Still, I hate to pathologize my behavior. Denial is a defense mechanism that arises automatically and unconsciously; pretending is how I dress up denial for public display. By passing for sighted, I sought to maintain my eroding self-esteem, and to buttress my faltering confidence.

At the root of my denial was, and is, fear. Fear of failing, of losing face. Yet, in my efforts to protect my image, I deny my real self the chance at honest expression.

My need to save face has decreased as my eyesight has dwindled. The white cane and the big, black dog have blown my cover. Today, I'll ask that one of the core beliefs that hinder progress be removed – the belief that the blind are less than the rest, segregated by diminished ability, competence and value.
The (Very) Human Guide
I was moved by Helping Hand, in which Jeff's encounter with a hospital volunteer blurred the line between "helper" and "helpee":
An old lady volunteers to lead me wherever I need to go. She takes my hand and I'm all set to tell her that's not the way to guide a blind person, that I take her elbow instead. Then the hand she's put in mine starts to flutter. Her hand is like that little bird, that little bird lying there, just bone and trembling, after it hit the window.

So I hold her hand in mine and we walk. She offers small talk about my dog and about her sweet dog from long ago and all the while her hand is fluttering with Parkinson's but she doesn't talk about that.

We find the elevator and she gets right in with me. And she holds her one hand steady with the other so she can press the right button. Then she takes my hand again, like I might get lost in there. And I'm ready to tell her there's no need, but I feel there is. We stand silent as the elevator rises to the top floor. And all the way, her hand trembles inside mine, flutters like a little bird trying to escape.
About Appearances
Another of my favorites is What Do I Look Like?, in which Jeff and his wife Mary engage in the following Cole Porter-worthy banter:
"Fair enough," says my wife. "Now I have a question for you. Does not being able to see people make you less judgmental of them?"

"Absolutely not, sorry to say. I just wait for someone to say something stupid. Then I know."

"That's my guy. And the uninitiated say blind people operate on a higher plane."
I urge you to follow Jeff on Jalapeños in the Oatmeal as he navigates – or, as he prefers to say, "digests" – his ongoing journey into vision loss. You can find Second Sense on Twitter @yoursecondsense and on Facebook at Second Sense. Thank you for sharing your gifts and insights, Jeff. I'm sure it's not always easy, but I know it's always appreciated.
Talk To Me!
If you'd like to be added to the VisionAware blogroll, please leave a note in the comments section. I'm always interested in discovering new blogging friends and family!