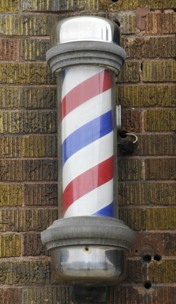 I was preparing to leave my favorite venerable Greenwich Village barbershop this past week (after my monthly "bob-maintenance" appointment), when a murmur rippled through the premises: "You have to see this guy! Don't leave yet – watch what he does."
I looked up, and sure enough – a youngish blind man paused at the front door, getting his bearings and orienting himself, so it seemed. He carried a long white cane and I could see that he also wore two hearing aids. He was deaf-blind. The haircutters – all speaking Italian to one other – lined their chairs against the back wall and settled in to watch "the show."
The shop had installed a textured linoleum stripe on the floor to serve as a guide for new customers. Since it's such a busy place, the receptionist would often say "Follow the yellow line to go downstairs," which – as was apparent – this particular customer had learned to do. The haircutters murmured, "Watch this! Watch what he's gonna do! He's gonna take his stick and follow that line! Watch! He does the same thing every time, yo!"

Now the entire shop was watching this man who could neither see nor hear us in return. With great skill and precision, he moved the tip of his cane back and forth across the textured stripe until he located its position and direction. After orienting himself this way, he used his cane to trace the path of the stripe and adjusted his course when it made several 90-degree turns along the way.
He cocked his head, tapped his cane, and glided untouched through a sea of observers who parted as he passed. His travel skills were exemplary.
I thought he did a marvelous job and tried to explain to the haircutters what they had just witnessed. They listened, but were dubious. "Nah," one spectator said. "It's some kind of skill like a bat has! Fuhgeddaboudit!"
My Professional Takeaway
While I saw a good-looking guy who showed up for his appointment at a hip Village barbershop, the haircutters' brigade saw something freakish and savant-like. I don't fault my barber friends for failing to grasp the nuances of deaf-blind cane travel; however, what I understood with perfect clarity was how much public education and training remains for us (i.e., vision rehabilitation professionals) to do.
Here's a start: At VisionAware, you can find more information on indoor and outdoor travel skills for adults with vision loss, maximizing your other senses, and hearing and vision loss.
Acknowledgments
Traditional Barber Shop Pole photo courtesy of Shutterstock
An unfolded long cane photo is a Wikimedia Commons file, used in accordance with the Creative Commons Attribution 3.0 Unported license.