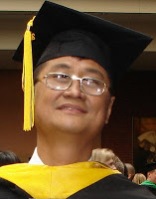 I first published this tribute in January 2011, on the former VisionAware blog. The blog was on hiatus in early 2012, the first anniversary of Bach Viet's death; thus, I'm publishing it now (updated and revised), so that our new readers can learn about this inspired – and inspiring – blindness professional.
A Sorrowful Message from Vietnam
Two weeks ago, I received an email with a sorrowful message that had been forwarded from Dr. Minh Kauffman, Director of the Center for Educational Exchange with Vietnam:
With great sadness, I must tell you that Le Dan Bach Viet passed away in Ho Chi Minh City on January 2 night, 2011. Viet had been to the hospital to get treatment for tumors in his liver in the past 12 months; he did not stop working or taking part in any alumni activities. No one thought his life would end so quickly.

Until the final week, Viet was still teaching music at the Nguyen Dinh Chieu School for the Blind and training teachers who work with visually impaired and blind children on developing their orientation and mobility skills (O&M). He fought to the end to give others what he knew.
A Tribute from Salus University
Viet was my student when I directed a master's program and taught at Salus University. The Salus College of Education and Rehabilitation has published an eloquent tribute to Viet, excerpted below:
The New Year brought the sad news that alumnus Le Dan Bach Viet had passed away on January 2 in his native Ho Chi Minh City, Vietnam.

A Ford Foundation International Fellow, Viet, as faculty and his fellow students knew him, arrived in Philadelphia in 2004. Armed with an undergraduate degree in music, Viet's visual impairments included light-only perception in his left eye and severely diminished visual acuity in his right eye.

Viet was the only United States-credentialed O&M specialist in Vietnam. Interviewed for a piece in [the university's] alumni magazine, he spoke of his hope to change the difficulties facing the 900,000 Vietnamese citizens with blindness and visual impairments. He explained that people with any type of disability were "victims of kindness" in his culture.

The Vietnamese people "will be happy to do everything for a person with disabilities," Viet said. That cultural belief – that someone with a disability is incapable of doing anything – is what Viet wanted to change, and he had made extraordinary progress on behalf of Vietnamese citizens with visual impairments.
A Video Tribute to Bach Viet
On the Ford Foundation International Fellowships website, Dr. Minh Kauffman has also written a moving tribute to Viet's life and work:
In addition to teaching, Bach Viet was an active leader in the disability rights movement. He ran workshops, participated in numerous media events – including a television appearance – and wrote newspaper articles about education for people with disabilities. One of his latest pieces called on educational policy makers to stop waiving academic testing for persons with disabilities, but to instead allow them to compete equally with everyone else.

In the video we produced about Bach Viet, entitled Origin, Journey, and Return, his warm personality and fine sense of humor shine through every frame of footage. He was clearly empowered by the level of self-sufficiency he was able to achieve while earning his master's degree in the United States; he brought that confidence back home with him where, as he described it, "There were many changes in the streets. I was one of them."
My Own Memories of Bach Viet
Viet earned a "B" in the first course he took with me, which seemed to please him. "I know you are a difficult teacher," he said, "so this B is a great compliment from you."
"Why not try for an "A" next time?" I asked. "You could do it." "My English is not good enough," he demurred, "and you are very difficult. The students told me this before I took your class." I smiled internally and said only, "OK. Let us see how you do next semester."
And he did it. He received an "A." When I informed him, however, he asked if we could meet. He arrived at my office and sat facing me, saying, "I do not think I did the work well enough for this A. I do not think some of my papers were very good."
"Why do you say that?" I asked, "And which papers do you mean? Let's talk about it."
We discussed his concerns and I reassured him that his "difficult teacher" had indeed evaluated his work fairly. In the end, he accepted his "A" and said, "This makes me very happy and my father will be pleased as well. He says it is good to have a difficult teacher you respect."
A Father's Death – and Gift
A week later, Viet received an urgent telephone call summoning him from class. His father had been rushed to the hospital in Ho Chi Minh City, felled by a stroke. He was dying, his family said; there was nothing the doctors could do to save him.
Later that day, Viet recounted his father's last hours:
After I left your class, I called Vietnam. My father was still in a coma, but when listening to my voice, he actually reacted. My brothers and sisters asked me to keep talking until he passed away.

I told my Dad that our God has blessed me and my family when I was selected to come to the United States, to this college, to have good friends and professors and even an unexpected Vietnamese classmate. If I did not have this, I would be home in Vietnam, blind, with no way to learn. As a Buddhist and a follower of ancestor worship, I believe that such fortune is a blessing that comes from the good tradition of my family.

My mother and brothers and sisters said I was with him during his last moment on Earth. I gave him up to God at 12:26 PM US time.

For me to stay here is my father's desire. I know this because he waited for me to complete my class to be with him in voice and spirit during his passing moment. We believe that his soul will be with me and will spiritually support me until my completion of school. It is my obligation to stay here.

I believe that my ability to have this last telephone conversation with him was due to our parents' ethical heritage as well as to those who give me warm and emotional friendship in the United States.
Epilogue
Rest in peace, my student and friend: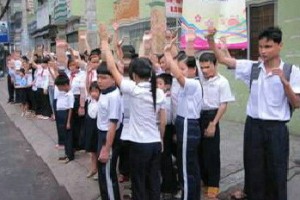 Students at the Nguyen Dinh Chieu School for the Blind
waved a final good-bye as Bach Viet's hearse went past
the school for the last time, on the morning of January 5.
"I once feared I would one day have no employment and would be walking the streets selling lottery tickets or begging. Today, I choose to walk the streets to help others find their way, so that they can strive beyond the hope of survival and reach their dreams." ~ Le Dan Bach Viet: 1961-2011