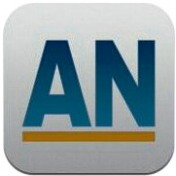 The following article is excerpted, with permission, from the April 2013 issue of AccessWorld®: Technology and People Who Are Blind or Visually Impaired, the monthly online magazine from American Foundation for the Blind (AFB). In Reaching Out: How You Can Help App Developers Improve Accessibility, author Bill Holton offers a number of suggestions for communicating more effectively with app developers, including a helpful list of Dos and Don'ts.
At left is the logo for the AccessNote™ app, a specialized notetaker for the iPhone®, iPad®, and iPod touch® released in January 2013 by AFB Tech, the technology division of AFB.
The App Accessibility Problem
It's happened to nearly every smartphone or tablet user who relies on built-in voice or braille support. You hear about a great new mobile app. You download and install it, and only then do you discover your awesome new app leaves a lot to be desired on the accessibility front.
Below, we'll offer up some suggestions to help you more effectively communicate with developers and help them improve accessibility for you and other screen access users. First, let's step back and take a brief look at where things go wrong.
Determining the Problem
If you encounter an app that appears inaccessible, check with others to make sure they are experiencing the same issues. Friends and colleagues are a great place to start, but for a wider user base, consider subscribing to an Internet news list devoted to mobile accessibility. The Eyes-free and Viphone lists are great resources when you have questions about an iOS or Android app, and signing up is easy. Simply send a blank email to either the Eyes-free group or the Viphone group and reply to the brief confirmation email. Once you've signed up, you're in touch with hundreds of users and more than a few developers who may already have figured out a solution to your accessibility problems.
Twitter is another valuable resource. Tweet your questions with the hash tag "#a11y". Then, use Twitter or your Twitter client to search for "#a11y" and join a worldwide community of users interested in reporting and solving accessibility issues.
First Contact
Still can't get that app working properly with speech or braille? "It's probably time to reach out to the app's developer," suggests Michael Hansen, an AppleVis team member. Your best starting point is usually the support email address listed on an iOS help screen or the Android app's Play Store page.
"In most cases, it's not that developers don't want to add accessibility to their apps. They simply aren't aware of the need and how simple the necessary changes can be to implement," says Hansen.
Dos and Don'ts for Contacting Developers
Do: Be courteous and polite when drafting that first support email.
Don't: Be vague ("Your app doesn't talk") or confrontational ("If you don't fix your app, I'm going to demand a refund and tell everyone I know not to use it!").
Do: Describe your issues clearly and concisely.
Don't: Forget that you are a part of a larger community. Leave a bad impression on a developer, and it will not only affect his willingness to help you but also any number of other vision impaired users who could benefit from accessibility improvements.
Hansen suggests you begin with something like, "Hi, my name is… I am a visually impaired user of a…phone or tablet, and I am trying to use your app with my device's screen reader or braille display. This is how accessibility works, and these are the problems I am experiencing that I believe could easily be fixed…"
Unsure of your communication skills? Click the Advocacy link at AppleVis.com, and you will find a developer feedback template you can cut, paste, and modify to enhance your support request.
But remember, if you do get a response (especially if you get a positive response), your work is far from done. "It needs to be a two-way street," notes Hansen. "We need to encourage friendly developers and meet them halfway with the information and resources they need."
When Companies Don't Respond
In a perfect world, all companies would respond as favorably. Sadly, however, there will be times when your support requests will be denied or even ignored.
"Don't give up," advises Hansen. "Again, your advocacy work is just beginning."
Seek Alternate Contacts
Search the app website for others you can contact directly. "You may get lucky and find an email address for the lead developer or the company's founder," Hansen adds.
Does the company have a Twitter account or Facebook fan page? Reposting your help request via one of these public-facing venues may help focus attention on your accessibility issues.
Don't Get Discouraged
If you have sent in a support request and a new, updated version of the app appears without the needed changes, don't hesitate to send another request. Remind the developer of the issues and ask if fixes are scheduled for a future software release.
There are times when you will not hear back from a company or developer, but action is being taken behind the scenes. "We lobbied hard for Facebook to improve their mobile app," recalls Hansen. "We never heard back from them, but in the next release, several accessibility improvements suddenly appeared."
Facebook has now publically expressed an interest in improving the accessibility of their app even further. They set up and monitor a Twitter account @FBAccess where users can report problems and offer suggestions.
Strength in Numbers
If you find a better contact for an iOS or Android app, don't be shy about sharing it on the appropriate newslists, Twitter accounts, and other accessibility forums. Help others in their quests to coax needed changes from app developers, and advocate for others as you would have them advocate for you.
One easy way to add your voice is to join the AppleVis Campaign of the Month. Each month the site managers select a different app with unresolved accessibility issues and create a form request. Click the button, and an email will automatically be sent to the company on your behalf describing the issues and requesting they be fixed.
Also, don't forget to share your successes. If a developer goes out of his way to address access problems, be sure to alert others and be enthusiastic, both with your praise and your wallet.
Additional Information
You can read Bill Holton's article in its entirety at Reaching Out: How You Can Help App Developers Improve Accessibility in the April 2013 issue of AccessWorld®: Technology and People Who Are Blind or Visually Impaired.