Please note: this is an older post and much has changed since the time of publication. For more current information, see Our Readers Want to Know: What Is the Progress of Stem Cell Research for Eye Disease? Answer: It Has a Very Long Way to Go. Also see the author's updates, below.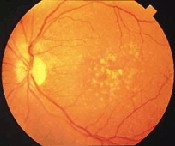 On October 14, 2014, Ocata Therapeutics (formerly Advanced Cell Technology, Inc.) announced positive results from its small (18-patient) early-stage clinical trials of human embryonic stem cells (hESC) for the treatment of dry age-related macular degeneration and Stargardt disease.
Ocata Therapeutics is a Massachusetts-based clinical-stage biotechnology company focused on the development of regenerative medicine and cell therapy technology. Ocata's most advanced products are in clinical trials for the treatment of dry age-related macular degeneration, Stargardt disease, and myopic macular degeneration.
Although the primary goal of this small early-stage clinical trial was to assess the safety of the transplanted stem cells, the treatment also had unexpected positive benefits: Ten out of 18 study participants reported improvements in vision, with some subjects reporting dramatic improvements. In addition, the treatment appears to have halted the progression of the disease in 17 of the 18 subjects.
Please note: Although this stem cell research has produced promising results thus far, it is in its very earliest stages and must be subjected to additional, longer-term, more demanding clinical trials, encompassing many more years of study.
The Research: The Lancet

The research, titled Human embryonic stem cell-derived retinal pigment epithelium in patients with age-related macular degeneration and Stargardt's macular dystrophy: follow-up of two open-label phase 1/2 studies (explained below), has been published online ahead of print in the October 15, 2014 issue of The Lancet.
The Lancet, which has been published continuously for 180 years, is one of the world's leading independent medical journals, without affiliation to a medical or scientific organization. The journal, which is committed to international health concerns, publishes high-quality clinical trials that influence the course of medical practice.
The authors are Steven D. Schwartz, Carl D. Regillo, Byron L. Lam, Dean Eliott, Philip J. Rosenfeld, Ninel Z. Gregori, Jean-Pierre Hubschman, Janet L. Davis, Gad Heilwell, Marc Spirn, Joseph Maguire, Roger Gay, Jane Bateman, Rosaleen M. Ostrick, Debra Morris, Matthew Vincent, Eddy Anglade, Lucian V. Del Priore, and Robert Lanza.
The authors represent the following institutions: Jules Stein Eye Institute and David Geffen School of Medicine, University of California, Los Angeles; Wills Eye Hospital and Thomas Jefferson University, Philadelphia, PA; Bascom Palmer Eye Institute, Miami, FL; Massachusetts Eye and Ear Infirmary and Harvard Medical School, Boston, MA; Advanced Cell Technology, Marlborough, MA; and Storm Eye Institute, Medical University of South Carolina, Charleston, SC.
First, Some Background and History
Since November 2010, VisionAware has followed Ocata's quest to implement successful clinical trials for macular eye disease, using human embryonic stem cells. Ocata's US Phase 1/2 clinical trials for Stargardt disease and dry age-related macular degeneration (AMD) involved a total of 18 patients, in groups of three (also called cohorts in research terminology). The first group/cohort received a dosage of 50,000 cells; the second received 100,000 cells; and the third received 150,000 cells.
To better understand this latest development, here is background information from prior VisionAware blog posts about Ocata's initial stem cell clinical trial for Stargardt disease, its subsequent clinical trial for dry age-related macular degeneration, and a 2013 update about the status of all Ocata ongoing clinical trials:
On November 22, 2010, the U.S. Food and Drug Administration (FDA) lifted a prior clinical hold on stem cell research to clear Advanced Cell Technology's [now called Ocata Therapeutics] Investigational New Drug (IND) application and initiate a Phase 1/2 multicenter study, using retinal cells derived from human embryonic stem cells to treat patients with Stargardt disease. Ocata's product is a human embryonic stem cell trained to become a retinal cell.

On January 3, 2011, Ocata announced that they had received FDA clearance for yet another new clinical trial, this time using embryonic stem cells to treat dry AMD.
Information about Ocata's ongoing clinical trials is available at ClinicalTrials.gov, with the following Identifiers: NCT01345006 (U.S. Stargardt disease) and NCT01344993 (U.S. dry AMD).
More about the Research
From Groundbreaking stem-cell research, via Boston Business Journal:
[Ocata Therapeutics, formerly Advanced Cell Technology] has announced results from an early-stage trial indicating that its treatment helped improve vision in 10 out of 18 patients with two kinds of macular degeneration. Ocata's embryonic stem cell-based treatment was administered at least six months ago in all 18 patients, although the median period was 22 months and two of the patients were treated more than three years ago.

[Editor's note: Called retinal pigment epithelial cells, these cells are created by taking stem cells from a days-old embryo created in a fertility clinic and inducing the embryonic cells to differentiate into more specialized cells. You can read more about Ocata's proprietary single-blastomere stem cell technology in Ocata's February 23, 2011 press release.]

All 18 patients in the Phase 1/2 trial have either Stargardt's macular degeneration, an inherited disorder, or dry age-related macular degeneration, neither of which have any effective treatments on the market today. The patients received a transplant of … retinal pigment epithelium (or RPE) cells, which protect photoreceptors in the eye, using Ocata's cells made from embryonic stem cells.

The main goal of the study was to show that process is safe, but the treatment appeared to have stopped progression of the disease in 17 out of 18 of the patients. In addition, the majority of them performed better on the Early Treatment Diabetic Retinopathy Study (ETDRS) visual acuity exam.

The ETDRS Eye Chart

The trial data not only represents a victory in eye treatments, it's also the first evidence of long-term safety, survival, and biologic activity in humans of stem cells in any disease.
More about the Study from The Lancet
From the research summary:
Background: Since they were first derived more than three decades ago, embryonic stem cells have been proposed as a source of replacement cells in regenerative medicine, but their plasticity and unlimited capacity for self-renewal raises concerns about their safety, including tumor formation ability, potential immune rejection, and the risk of differentiating into unwanted cell types. We report the medium-term to long-term safety of cells derived from human embryonic stem cells (hESC) transplanted into patients.

Methods: In the USA, two prospective phase 1/2 studies were done to assess the … safety and tolerability of subretinal transplantation of hESC-derived retinal pigment epithelium in nine patients with Stargardt's macular dystrophy (age >18 years) and nine with atrophic age-related macular degeneration (age >55 years).

Three dose cohorts (50,000, 100,000, and 150,000 cells) were treated for each eye disorder. Transplanted patients were followed up for a median of 22 months by use of serial systemic, ophthalmic, and imaging examinations.

Findings: There was no evidence of adverse proliferation, rejection, or serious ocular or systemic safety issues related to the transplanted tissue. Adverse events were associated with vitreoretinal surgery and immunosuppression. 13 (72%) of 18 patients had patches of increasing subretinal pigmentation consistent with transplanted retinal pigment epithelium.

Best-corrected visual acuity, monitored as part of the safety protocol, improved in ten eyes, improved or remained the same in seven eyes, and decreased by more than ten letters in one eye, whereas the untreated fellow eyes did not show similar improvements in visual acuity.

Vision-related quality-of-life measures increased for general and peripheral vision, and near and distance activities, improving by 16-25 points 3 to 12 months after transplantation in patients with atrophic age-related macular degeneration and 8-20 points in patients with Stargardt's macular dystrophy.

Interpretation: The results of this study provide the first evidence of the medium-term to long-term safety, graft survival, and possible biological activity of [stem cells] in individuals with any disease. Our results suggest that hESC-derived cells could provide a potentially safe new source of cells for the treatment of various unmet medical disorders requiring tissue repair or replacement.
About Clinical Trials
Most clinical trials are designated as Phase 1, 2, or 3, based on the questions the study is seeking to answer:
In Phase 1 clinical trials, researchers test a new drug or treatment in a small group of people for the first time to evaluate its safety, determine a safe and effective dosage range, and identify possible side effects.
In Phase 2 clinical trials, the study drug or treatment is given to a larger group of people to determine if it is effective and to further evaluate its safety.
In Phase 3 studies, the study drug or treatment is given to even larger groups of people (1,000-3,000) to confirm its effectiveness, monitor side effects, compare it to commonly used treatments, and collect information that will allow the drug or treatment to be used safely.
In Phase 4 studies, after the United States Food and Drug Administration (FDA) has approved the drug, continuing studies will determine additional information, such as the drug's risks, side effects, benefits, and optimal use.
VisionAware will provide updates on this important stem cell research as they become available.
Additional Information about Stem Cell Research