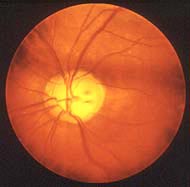 Electronic medical record (EMR) systems, defined by the Department of Health and Human Services as "an electronic record of health-related information on an individual that can be created, gathered, managed, and consulted by authorized clinicians and staff within one health care organization," have the potential to provide substantial benefits to physicians, clinic practices, and health care organizations and improve the quality of patient care and safety.
Nevertheless, despite these myriad benefits, the possibility of medical error or misinformation persists. Most recently, researchers from Boston University School of Medicine have explored the ways in which EMR discrepancies may affect glaucoma medication adherence. According to the research team, patients with glaucoma typically have ever-changing drug therapy regimens involving multiple eye drop products; in addition to these complex regimens, inconsistent documentation in glaucoma patients' electronic medical records (EMRs) can also play a role in their medication adherence.
The authors conclude that "with the growing prevalence and incidence of glaucoma nationwide and the increasing presence of EMRs, inconsistent documentation in the EMR may be a contributing factor in patient [glaucoma] medication adherence. However, when inconsistencies are present, patients are more likely to follow their physician's verbal directions than the EMR handout. Even so, clinicians should be diligent in providing consistent medication documentation throughout the EMR to reduce non-adherence due to clinician error."
The research, entitled Electronic Medical Records and Glaucoma Medications: Connecting the Medication Reconciliation with Adherence, has been published in the Volume 10, 2016 edition of Clinical Ophthalmology, an international, peer-reviewed, open-access journal covering all subspecialties within ophthalmology. The authors are Thomas S. Bacon, Kenneth C. Fan, and Manishi A. Desai from Boston University School of Medicine, Boston, Massachusetts.
More about the Study from Clinical Ophthalmology
Excerpted from the study Introduction:
Appropriate documentation of treatment regimens within the electronic medical record (EMR) system is imperative for medical, legal, and financial purposes. In particular, the medication reconciliation component of the EMR has emerged as an important quality metric for incentive-based payments or penalties under the Affordable Care Act.

In order to fulfill these requirements, the health care provider must engage in the medication reconciliation process of reviewing a patient's most "complete and accurate medication list during each relevant encounter" as outlined by the American Academy of Ophthalmology and Department of Health and Human Services.

Patients requiring ophthalmologic care, and more specifically those with glaucoma, are subject to long-term medical management with frequently changing, multiple daily eye drop regimens. This poses challenges for the busy physician in documenting appropriately as well as for the patient in maintaining correct medication adherence.

At this point in time, it is unclear as to how EMR has impacted medication adherence. Specifically in the glaucoma literature, it is unclear if the medication reconciliation portion of EMR assists patients in adhering to their treatment regimens.

There is, however, a growing body of literature on demographic and social variables that impact medication adherence. Several retrospective studies have claimed that medication adherence is higher in females, elderly, and white patients. Additional prospective and cross-sectional studies have found conflicting results in that older age was associated with non-adherence or that age had no correlation at all.

[Editor's note: A retrospective study – such as this one – has limitations because it collects data from past records and does not follow up with patients in the present. A prospective study measures a group of individuals over time and follows up with study patients in the future. A cross-sectional study analyzes a population of subjects at one specific point in time.]

While the exact role demographics play in medication adherence is unclear, none of these studies have investigated the impact of the EMR medication reconciliation on medication adherence. Therefore, this study aims to establish the impact the medication reconciliation after-visit summary has on medication adherence as well as contribute to the [clarification] of associated demographic factors.
More about the Glaucoma/EMR Study
From the study summary and abstract:
Purpose: To evaluate consistency in documentation of glaucoma medications in the electronic medical record and identify which regimen patients adhere to when inconsistencies exist. Factors contributing to medication non-adherence are also explored.

Methods: Retrospective chart review of medication adherence encompassing 200 patients from three glaucoma physicians at a tertiary referral center over a 1-month period. Adherence was determined by the consistency between a patient's stated medication regimen and either the active medication list in the electronic medical record or the physician's planned medication regimen in the preceding clinic visit. Patient charts were also reviewed for patient sex, age, primary language, race, and total number of medications.

Results: A total of 160 charts showed consistency in documentation between the physician note and electronic medication reconciliation. Of those patients, 83.1% reported adherence with their glaucoma medication schedule. When there was a discrepancy in documentation (40 charts), 72.5% of patients followed the physician-stated regimen vs. 20% who followed neither vs. 7.5% who followed the medical record.

No difference in adherence was observed based on sex or total number of medications taken. Language, both English- and Haitian-speaking populations, as well as race – Caucasian, African-American, and Hispanic – had no impact on medication adherence. Patients over 80 years of age were more non-adherent as compared to other decades.

Conclusion: Inconsistent documentation between the electronic medical record physician note and medication regimen may contribute to patient medication non-adherence. Patients over 80 years of age were associated with higher rates of non-adherence, while sex, total number of medications, race, and language had no interaction with medication adherence.
Tips for Taking Your Glaucoma Eye Drops from VisionAware
One of the reasons people cite for not following through with their prescribed treatment regimen for glaucoma is that it is difficult to put in their eye drops. If you have difficulty with eye drops, here are a few tips for getting them in your eyes instead of on your cheeks: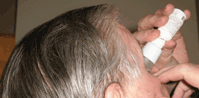 Wash your hands before putting in your eye drops.
Initially, you might want to practice these techniques with artificial tears instead of using your actual glaucoma medication.
Be careful not to let the tip of the dropper touch any part of your eye.
Make sure the dropper stays clean.
If you are putting in more than one drop, wait at least two to five minutes before putting in the next drop. This will keep the first drop from being washed out by the second.
Start by lying down flat. Position the dropper directly over your eye and then close your eyes. Place a drop in the inner corner of your eyelid (the side closest to your nose). By opening your eyes slowly, the drop should fall right into your eye.
Keep your eye drops in the refrigerator. (Note: Most eye drops are fine to store at temperatures between 40 and 60 degrees Fahrenheit once they are opened.) This way, you can feel the cool drop as it falls onto your skin. If you are using a gel-based eye drop, then keeping it cool may make it difficult to squeeze out the drop. These drops are best kept at room temperature.
If the instructions say "Shake well before using," this is the time to do it.
Close your eyes gently and wait a few moments.
Gently blot around your eyes to remove any excess.
Adaptations to Help with Glaucoma Eye Drops
The Autodrop Eye Drop Guide holds the eye open and directs the drop, allowing for an accurate dosage. It is easily attached to any eye drop bottle. The attached cap closes the bottle when not in use. The Autodrop is reusable after cleaning. It is available from Maxiaids.com.
The Autosqueeze Eyedrop Bottle Squeezer adds "levers" around the bottle to make squeezing easier and more controlled for persons with reduced grip strength, arthritis, or injury. The Autosqueeze fits snugly around the neck of most small plastic dispensing bottles, does not interfere with the cap opening and closing, and transfers easily to other bottles when needed. It is available from Maxiaids.com.
Additional Information