Editor's note: During National Disability Employment Awareness Month, VisionAware is highlighting employment resources and strategies for people who are blind or visually impaired. A key piece of getting a job is the application process. Today that means applying online.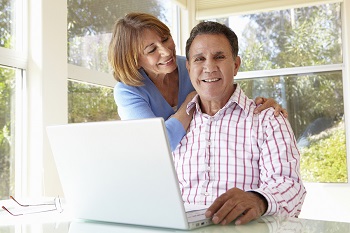 Applying Online: A Major Challenge for Older Workers
One challenge older workers experience when looking for employment is being able to apply for jobs online. Back in the day, you were able to walk into a company, get an application, fill it out, and know before you left if you got the job and when you were going to start. Nowadays, most applications are done online. You have to be able to find the job posting, upload your resume, and fill out application questions. Many job seekers wonder at the end of this process if the employer has actually received the application.
Using the Right Job Board
You can use job boards to find open positions when you are looking for a job online. If you have a good idea of what type of position you're interested in, you can narrow down your search results. For example, you might consider Monster.com if you are interested in a professional career. If you are looking for office, clerical, call center, or labor-based jobs, Indeed or Careerbuilder.com are the best options. If you're not sure of what you would like to do or which industry is best for you, try Indeed first. This site has a larger variety of job postings.
The Difference Between Monster.com and Indeed
The difference between the two sites is that Monster.com is charged per click. Employers are charged for every application they view, so rather than reviewing several applications, the employer might only review a few, find the one that is a good fit, and stop there even though the seventh or eighth application would have been a better fit. Indeed charges the employer a rate of about $250 for each posting, and they don't charge per resume that has been submitted. Therefore, employers who use Indeed are more likely to review a wider variety of applications. However, Monster.com is still a good place to upload your resume. An employer could search by keywords on a resume to find an appropriate applicant. Keywords can also be used as a recruiting technique on Indeed, but it is not as common as it was in the past.
If you're unsure of what position you're interested in, use general terms. For example, instead of "sales," you could use "customer service," or you could use "call center" instead of "collections inbound, outbound."
Checking Company Websites
It is expensive for companies to market job openings so many available positions are not listed on Indeed, Monster.com, or Careerbuilder.com. Spend some time thinking about all the companies that you would want to work for and then go to their websites to check available jobs.
Additional Job Search Tips
If you aren't comfortable using the computer and you don't have anyone to assist you to fill out online applications, there are other ways to find a job.
Career Fairs
Networking with employers at career fairs is an excellent way to find job opportunities. Career or job fairs let you meet the hiring manager face-to-face and be able to have a conversation with them. Let them know exactly what you are looking for and that may give you an opportunity to negotiate any kind of accommodation or get a feel for the company environment and management style. It takes a while to be able to find what kind of management style works for you and even what type of duties you'll be doing. For instance, doing clerical work is going to be different than doing a sales job. Sometimes you don't realize what type of work you like or don't like until after you get into a position.
Social Networking
Social networking is also an important tool to use if you aren't sure of a specific career field. Reach out to your friends, old co-workers, or even use LinkedIn. Someone might know of a position that you were unaware of that would apply your specific skill set.
Volunteering
Volunteering is a great way to meet hiring managers, other employees, and someone down the line who might be able to help you find a job. Just meeting one person who might know somebody else could get you a job, especially now that many of the job postings are on company websites.
Keep Your Resume Updated
Always keep your resume updated. This means making sure that your resume is tailored to the application for which you are applying. If the job posting states that the company is looking for someone with five years of sales experience or two years of customer service, make sure that's reflected on your resume. Volunteer experience will also work. It is critical that employers know if your skills are current.
It is important to keep an open mind and not limit your search when you are looking for a job. Think about the odds. If you apply for ten positions a week your odds are higher than if you only apply for two jobs.
Interviewing Tips in Today's Job Market
Always dress for the interview. Many people think that if it's a low skill job that they can show up in blue jeans and tennis shoes, but it just doesn't make the good impression employers are looking for.
Be aware of the amount of space that you take up during the interview, including the size of any bags or other items you may carry.
Be mindful of all the things that you bring to the interview. All of them need to have usefulness and a purpose and at the same time, you don't want to bring too much in and seem cluttered and disorganized.
Ask questions during the interview, for example, ask what is considered being successful in the position that you are applying for.
It's important to ask about dress code. You want to be able to fit into their company culture. When you ask the question, "what is the dress code," you are showing the employer that you are trying to visualize yourself working for that employer. That is what they want to see.
Ask about expectations. What are characteristics and capabilities of employees they are looking for?
After the Interview
Showing an interest in the job and that you are thankful for the opportunity is always important. Some job seekers have had very positive results from sending out thank you letters.
You may also want to follow-up with a call to make sure the employer has everything he or she needs to make an informed decision.
Additional Resources
The Challenges of Applying for a Job Online
Working As a Senior with Vision Loss
What Do I Need to Know About Today's Job Search?
Useful Links for Job Seekers Who Are Blind or Visually Impaired