The most commonly prescribed medication for the treatment of open-angle glaucoma is a class of eye pressure-lowering drugs called prostaglandin analogues (explained below). Until recently, however, the extent to which these drugs could help preserve the visual field and protect visual function had not been assessed via controlled clinical trials.
The United Kingdom Glaucoma Treatment Study, which examined this question via a randomized, triple-masked, placebo-controlled clinical trial, determined that latanoprost, a specific type of prostaglandin analogue, demonstrated significant preservation of the visual field in study subjects with open-angle glaucoma.
It's important to clarify, however, that latanoprost is not a cure for open-angle glaucoma, nor does it restore vision that has been lost; instead, it is a treatment that has been demonstrated to preserve the visual field for a longer period of time than treatment with an inactive substance [i.e., a placebo].
The Lancet

The research, entitled Latanoprost for open-angle glaucoma (the United Kingdom Glaucoma Treatment Study): a randomised, multicentre, placebo-controlled trial, has been published online ahead of print as an open-access article in the December 18, 2014 issue of The Lancet. The Lancet, which has been published continuously for 180 years, is one of the world's leading independent medical journals, without affiliation to a medical or scientific organization. The journal, which is committed to international health concerns, publishes high-quality clinical trials that influence the course of medical practice.
The authors are David F Garway-Heath, David P Crabb, Catey Bunce, Gerassimos Lascaratos, Francesca Amalfitano, Nitin Anand, Augusto Azuara-Blanco, Rupert R Bourne, David C Broadway, Ian A Cunliffe, Jeremy P Diamond, Scott G Fraser, Tuan A Ho, Keith R Martin, Andrew I McNaught, Anil Negi, Krishna Patel, Richard A Russell, Ameet Shah, Paul G Spry, Katsuyoshi Suzuki, Edward T White, Richard P Wormald, Wen Xing, and Thierry G Zeyen.
The research was conducted at a number of United Kingdom and European hospitals and clinics, headed by the National Institute for Health Research Biomedical Research Centre at Moorfields Eye Hospital NHS Foundation Trust; University College London Institute of Ophthalmology; and City University, London.
About Open-Angle Glaucoma
Glaucoma is a group of eye diseases that damage the optic nerve and is one of the leading causes of vision loss and blindness. Open-angle glaucoma is the most common form of glaucoma.
The eye continuously produces a fluid, called the aqueous (or aqueous humor), that must drain from the eye in order to maintain healthy eye pressure. Aqueous humor is a clear, watery fluid that flows continuously into, and out of, the anterior chamber of the eye, which is the fluid-filled space between the iris and the cornea. It is the aqueous that helps to bring nutrients to the various parts of the eye.
Aqueous fluid drains from the anterior chamber through a filtering meshwork of spongy tissue along the outer edge of the iris (the trabecular meshwork), where the iris and cornea meet, and into a series of "tubes," called Schlemm's canal, that drain the fluid out of the eye. Problems with the flow of aqueous fluid can lead to elevated pressure within the eye.
In primary open-angle glaucoma, the filtering meshwork may become blocked or may drain too slowly. If the aqueous fluid cannot flow out of the eye, or flow out quickly enough, pressure builds inside the eye and can rise to levels that may damage the optic nerve, resulting in vision loss.
Most eye care professionals define the range of normal intraocular [i.e., within the eye] pressure (IOP) as between 10 and 21 mm Hg [i.e., millimeters of mercury, which is a pressure measurement]. Most persons with glaucoma have an IOP measurement of greater than 21 mm Hg.
Latanoprost and Prostaglandin Analogues
Prostaglandin is a naturally-occurring blood protein that can lower intraocular pressure, in addition to having many other therapeutic effects. Analogue, or "analogous," means that the drug is comparable, or similar, to prostaglandin, but has a slightly different chemical composition.
Thus, prostaglandin analogues (PGAs) are drugs that are used in the treatment of open-angle glaucoma or ocular hypertension. At specific dosages, they lower intraocular pressure by increasing the outflow of aqueous humor from the eye. Some of the more common PGAs include latanoprost, travoprost, and bimatoprost.
Vision Loss from Glaucoma
Glaucoma results in peripheral (or side) vision loss initially, and the effect as this field loss progresses is like looking through a tube or into a narrow tunnel. This constricted "tunnel vision" effect makes it difficult to walk without bumping into objects that are off to the side, near the head, or at foot level.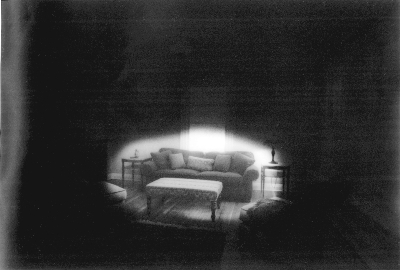 A living room viewed through a constricted visual field.
Source: Making Life More Livable. Used with permission.
Glaucoma is an especially dangerous eye condition because most people do not experience any symptoms or early warning signs at the onset. Glaucoma can be treated, but it is not curable. The damage to the optic nerve from glaucoma cannot be reversed.
About the Research
Excerpted from Most Commonly Prescribed Glaucoma Drug Reduces Risk of Vision Loss by More than 50% Over 2 Years from BioSpace Life Sciences News:
"Medication to lower raised eye pressure has been used for decades as the main treatment for [open-angle glaucoma] (OAG) to delay progressive vision loss. But, until now, the extent to which the most frequently prescribed class of pressure-lowering drugs (prostaglandin analogues) have a protective effect on vision was not known," explains [lead author] David Garway-Heath. "Our findings offer solid proof to patients and practitioners that the visual deterioration caused by glaucoma can be reduced using this treatment."

The United Kingdom Glaucoma Treatment Study (UKGTS) recruited 516 newly diagnosed, previously untreated individuals with OAG from 10 hospitals across the UK. Half were randomly assigned to daily pressure-lowering eye drops (latanoprost 0.005%) and the other half to a matching placebo [i.e., an inactive substance].

Over the course of two years, participants underwent frequent visual field tests to identify glaucoma deterioration to an extent that would not be noticed by the patient.

In the 59 patients in the placebo group and 35 patients in the latanoprost group whose vision deteriorated during the study period, the risk of visual deterioration was over 50% lower in the group treated with daily pressure-lowering eye drops compared to those using placebo drops over two years. Importantly, a significant difference in treatment effects could be seen between the groups after just 12 months.
More about the Research from The Lancet
From the article summary, with the full text also available as an open-source article:
Background: Treatments for open-angle glaucoma aim to prevent vision loss through lowering of intraocular pressure, but to our knowledge no placebo-controlled trials have assessed visual function preservation, and the observation periods of previous (unmasked) trials have typically been at least five years. We assessed vision preservation in patients given latanoprost compared with those given placebo.

Methods: In this randomised, triple-masked, placebo-controlled trial, we enrolled patients with newly diagnosed open-angle glaucoma at ten UK centres (tertiary referral centres, teaching hospitals, and district general hospitals). Eligible patients were randomly allocated (1:1) with a website-generated randomisation schedule … to receive either latanoprost 0.005% (intervention group) or placebo (control group) eye drops.

Drops were administered from identical bottles, once a day, to both eyes. The primary outcome was time to visual field deterioration within 24 months. Analyses were done in all individuals with follow-up data.

The Data and Safety Monitoring Committee (DSMC) recommended stopping the trial on Jan 6, 2011 (last patient visit July, 2011), after an interim analysis, and suggested a change in primary outcome from the difference in proportions of patients with incident progression between groups to time to visual field deterioration within 24 months.

Findings: We enrolled 516 individuals between Dec 1, 2006 and March 16, 2010. Baseline mean intraocular pressure was 19.6 mm Hg in 258 patients in the latanoprost group and 20.1 mm Hg in 258 controls. At 24 months, mean reduction in intraocular pressure was 3.8 mm Hg in 231 patients assessed in the latanoprost group and 0.9 mm Hg in 230 patients assessed in the placebo group.

Visual field preservation was significantly longer in the latanoprost group than in the placebo group. We noted 18 serious adverse events, none attributable to the study drug.

Interpretation: This is the first randomised placebo-controlled trial to show preservation of the visual field with an intraocular-pressure-lowering drug in patients with open-angle glaucoma. The study design enabled significant differences in vision to be assessed in a relatively short observation period.
Additional Information