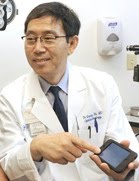 myVisionTrack is a prototype hand-held device currently in development as a potential at-home method for monitoring the progression of degenerative eye diseases, such as macular degeneration and diabetic retinopathy. (Dr. Yu-Guang He, associate professor of ophthalmology at the University of Texas (UT) Southwestern Medical Center and one of the developers of the myVisionTrack device, is pictured at right.)
About myVisionTrack
The prototype device is provided as an app for the iPhone or iPod touch. The myVisionTrack app displays three side-by-side circles on the screen; initially, one circle is significantly different from the others (with a wavy or jagged edge, for example).
To perform a self-check, the patient covers one eye and then selects/touches what he or she determines to be the "differently-shaped" circle. Each time the patient makes a selection, subsequent screens display three additional circles with increasingly subtle differences among the three. The test is then repeated with the other eye.
The self-test results are stored in the device. If a significant vision change is detected, the patient is instructed to make an appointment with his or her eye doctor for additional testing.
Research with myVisionTrack
The myVisionTrack prototype device is produced by Vital Art and Science Incorporated, a Richardson, Texas-based biotechnology firm.
Researchers at the UT Southwestern Medical Center and the Retina Foundation of the Southwest tested the prototype device in an eight-month clinical trial that was funded by the National Eye Institute.
In that trial, 40 subjects who were diagnosed with diabetic retinopathy used the myVisionTrack monitoring device weekly at home. The subjects' test results revealed a significant correlation with an ophthalmologist's reading of their retinal images, which were taken at the beginning, midpoint, and end of the study. The myVisionTrack device must undergo additional clinical testing for approximately two more years before it is available for downloading.
VisionAware will provide updates of this research as they become available.
Sources: WFAA.com; UT Southwestern Medical Center; EurekaAlert!; Newswise, Inc.; Medicalxpress.com