Guest blogger Lenore Dillon, CVRT, has over 30 years of experience in all aspects of Vision Rehabilitation Therapy (VRT). Her experiences include both direct service provision (itinerant and center-based) and administration of VRT programs. She served as a faculty instructor at Northern Illinois University and was an associate professor from 2002-2005 at Korea Nazarene University in Chonan City, South Korea. You can learn more about Lenore's work as a VRT on her VisionAware Peer Advisor page.
The following post, in which Lenore recounts her life in South Korea, is excerpted from the December 2002 and September 2003 issues of the VRT News, the official newsletter of the VRT Division of the Association for Education and Rehabilitation of the Blind and Visually Impaired (AERBVI).
Moving to South Korea and a New Life
In 2001, my husband Dan and I learned that we would soon be moving to South Korea to work at Korea Nazarene University (KNU). Within the past five years, my husband Dan's pastoral work had moved us from Indiana to Illinois and finally to Alabama, where I finally learned to say "y'all" correctly. I had learned to love my Alabama home and the thought of entering a new culture and learning another language terrified me.
I needn't have worried, however. Upon arriving, I learned that most of my preconceived ideas about Korea and Korean culture were short sighted. For example, I had incorrectly assumed that all innovative ideas for adaptive equipment and techniques came from America. Shortly after my arrival, one of my co-workers presented me with a talking alarm clock as a "welcome to Korea" present, saying, "I bet you haven't seen anything like this in America!"
In many ways, I was just like my Korean co-worker who thought I had never seen a talking alarm clock. When I began to work with my first blind and visually impaired students, I became convinced that many of them needed a portable note-taking device and assumed that such a device was not available in "Han-gul" (the Korean language). After calling America to rectify the situation, I learned – to my great surprise – that an excellent note taker using Korean braille had been available for many years.
Korea Nazarene University and Disabilities in Korea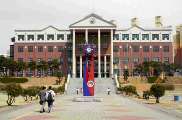 Until five years ago, people with any type of disability were not allowed to attend college here. KNU was the first university in the country to open their doors to students with disabilities. Currently we have 85 disabled students enrolled, 35 of whom are blind or visually impaired. I have had the opportunity to meet and work with many of them. It is a privilege to be involved in shaping the future for such wonderful young people.
Although I have spent approximately 25 years engaged in some aspect of Vision Rehabilitation Therapy (VRT), I quickly realized that I needed a VRT myself after moving to South Korea. The skills that I had always taught to others throughout my career were now difficult for me to perform safely and independently.
For example, the first time I went shopping, I overspent my budget by 2,000 won ($1.80). It's not difficult to identify won tactually, but I had to make several errors before I learned to do so. And I've finally reached the point where I can pick up food using chopsticks, but my technique is not yet correct.
As a VRT, I always promote, whenever possible, using the equipment and supplies that are available locally. The school has provided an electric wheelchair for my husband to use while he is working at KNU. On Sunday afternoons, his is the only electric wheelchair parked in front of the Korean Church we attend. We have always worried about sudden rainstorms and Dan's unprotected chair. We had even considered having some kind of cover made. We didn't have to worry. After the first thunderstorm, we walked out of church to find that a thoughtful churchgoer had placed a large golf umbrella over Dan's wheelchair.
More Wheelchair Problem-Solving
Any good VRT is into problem solving, and so are my Korean friends – the difference is that they see things from an Eastern perspective. When we first arrived, people kept parking in front of the curb cut for wheelchairs that was located in front of our building; this prevented students and faculty members who used wheelchairs from moving about the campus freely. The maintenance department was determined to end this problem. After much on-site observation and discussion, a small sign was placed next to the curb cut. It was ignored.
Next, two small signs were placed in the road on either side of the curb cut. Drivers very politely got out of their cars and moved these, and continued to park in front of the curb cut. Again there was an on-site discussion.
This time, the maintenance department installed heavier signs attached to concrete blocks. Drivers still managed to move these signs and park at the curb.
Finally one morning, we looked out our window and found that the problem had been solved. During the night, the maintenance department had trucked in two three-foot cubes of solid granite, each weighing over 200 pounds. These were placed in the road on either side of the curb cut. We had no further parking problems.
As we VRTs like to say, "Whatever works."
More Information from VisionAware
On the VisionAware website, you can find more information to help you cope with a variety of everyday tasks, such as reading, shopping, preparing meals, signing your name, sewing, home repair. VisionAware also provides a Directory of Services to help you locate low vision and vision rehabilitation services available in your state and local area.