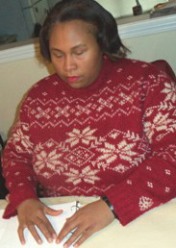 Guest blogger Empish J. Thomas is the public educator for the Center for the Visually Impaired (CVI) in Atlanta, where she organizes tours, exhibits, presentations and speaking engagements. She also posts on CVI's SightSeeing Blog and the CVI community bulletin board. In addition, she talks with potential clients, medical professionals, social service representatives, family members and others about the services that CVI can offer.
In her spare time, she is a career columnist for Dialogue Magazine and career mentor for CareerConnect® at the American Foundation for the Blind (AFB). She has written the following tribute to honor Louis Braille (born January 4, 1809) during National Braille Literacy Month.
My New Year's Resolution
Everyone makes some kind of New Year's resolution: lose weight, exercise more, get out of debt, spend more time with friends and family. But my New Year's resolution is a bit different from most. My goal for this New Year is to become proficient in my braille reading. Braille is a code created by Louis Braille (1809-1852), whose birthday we celebrate on January 4th. He created the code to help blind people like himself learn how to read, write, and have literacy skills.
My Braille Potential
Even though this code has opened the doors of reading and writing for me, I have to say that I have not used it to its fullest potential in my life. I learned to read braille some ten years ago, but have only maintained alphabetic braille, formerly known as Grade One.
Here is a good explanation of the different types of braille from the VisionAware website:

Alphabetic Braille, formerly called Grade One, writes out each letter and word exactly as it is spelled out in print. For example, in alphabetic braille the word "can" is written by using three separate braille cells—one cell for each of the three letters in the word "can." If you're interested primarily in writing shopping lists, keeping telephone numbers, or writing labels or brief notes, alphabetic braille may meet your needs.
Literary Braille, formerly called Grade Two, is also called "contracted" braille. For example, in literary (or contracted) braille, the word "can" is written in a highly condensed or contracted form, using only one braille cell to represent the entire word. The majority of books and magazines are written in literary braille because it requires much less space than does alphabetic braille. If you want to read novels, magazines, or newspapers in braille, it is recommended that you learn to read and write literary braille.
Therefore, if you were to put a braille document, book, or magazine in front of me and ask me to read it, I would be hard-pressed to read it with any kind of skill; hence my journey back to braille.
My Braille Game Plan
I realized too late that when I first learned braille, I did not have a solid game plan in place on how to implement it beyond the alphabetic code. I learned braille because that is what I was supposed to do and I did experience some immediate benefits, such as labeling my music CDs, cooking spices, and clothing. I was not thinking about reading books or magazines in braille.
Outside of those uses, however, braille was just a vague thought in the back of my mind. As a result, my braille reading and writing skills have remained at a rudimentary level, much like a kindergartner at school. My ability to read literary braille is difficult at best and nearly impossible at worst – and literary braille is where the real reading and writing of braille takes shape.
My Increasing Need for Braille
Now, you might say, "What is wrong with that, Empish? You know braille for its basic functions for your life. You have gotten along okay all this time."
Well, the problem is that the need to know braille has increased in my life. When I get a braille document at work or a greeting card in the mail, I am struggling to read it. When I am asked to do a presentation, I am not proficient enough in braille to carry notes to the podium.
I receive materials in audio and electronic formats, which is good but not sufficient because I miss sentence structure, correct spelling of words, and grammar usage. Basically, I am lacking important literacy skills. I now realize how important braille is to my life and how it can benefit me by providing more than just labels.
My Journey Back to Braille Begins
Now my journey back to braille is beginning with the following steps and strategies in mind:
First: I let friends and family know about my new game plan so that I can be held accountable.
Second: I submitted an application to take a braille course with Hadley School for the Blind.
Third: I cleared off a place at my dining room table for my braille work.
Fourth: I signed up for my employer's braille mentoring program that will allow more accountability and a partner for moral support.
Fifth: I am looking at additional ways I can incorporate braille into my life.
My First Braille Opportunity
Just as I was putting these steps together, an excellent opportunity to use braille arose. A friend asked me to speak at a local community college for their celebration of women's history month, which is coming up in March. In the past, I would just memorize portions of my speech or use my laptop, but this time I decided I will create my notes in braille and use this to deliver my presentation. I am excited and nervous about this opportunity, but as I work on reading and writing braille more and more, this journey will become easier and will be a natural part of my life.
It will be more than just a New Year's resolution. It will be a lifetime resolution.
Additional Information
For additional information about Louis Braille and braille reading and writing, you can visit American Foundation for the Blind's Louis Braille Online Museum and Braille Bug Site. You can also learn about the New Perkins SMART Brailler® at the VisionAware blog.