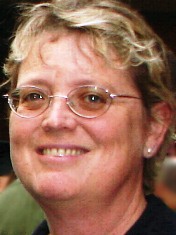 Laurel Leigh is a certified Orientation and Mobility Specialist (COMS) with the New Jersey Commission for the Blind and Visually Impaired. Orientation and Mobility (O&M) is a profession specific to blindness and low vision that teaches safe, efficient, and effective travel skills to people of all ages.
Laurel's article, entitled "Personal Reflections on AER Membership: A Commitment to Personal Growth," appears in the Winter 2013 edition of the Newsletter of the New Jersey Chapter of the Association for Education and Rehabilitation of the Blind and Visually Impaired (AER). It is reprinted with permission. AER is an international membership organization for vision rehabilitation professionals, providing continuing education, publications, and regional, national, and international conferences.
The Blindness Professions: We're Accessible People!
Many of you have probably heard someone describe our profession as one of the most accessible and friendly professions out there. At least that's how I heard it. Of course the fact that we are a very small profession is part of the reason, but no matter how large we may ever grow, what holds us together is a genuine commitment to our chosen profession.
I believe those of us who are members of the Association for Education and Rehabilitation of the Blind and Visually Impaired (AER) demonstrate this commitment even more by continuing to participate and support our professional organization, especially as employer support for dues and conference attendance continues to decrease.
My Introduction to Professionalism
I was first introduced to AER as a graduate student at Florida State University. What I have always appreciated about AER is that it has provided me with the knowledge that there was an organized community of professionals who were dedicated to furthering our profession. This was particularly helpful when faced with agencies and administrations that did not understand the needs of blind and visually impaired students and clients, especially in the days before social media.
Over the years, my professional participation has waxed and waned as my life has taken on various challenges and changes, but through it all, I have been able to return to AER and find that "lift" I always enjoy when I attend a conference, get on the Listserv, read the Journal of Visual Impairment & Blindness, and otherwise network with colleagues around the world.
Meeting a Legend: Dr. Natalie Barraga
I am still amazed at how accessible the leaders of our profession are to each and every one of us who reaches out for information and support when faced with the day-to-day challenges of providing the best services we can to our students and clients.
My first-hand experience with this was when I ran into Dr. Natalie Barraga at my first AER International conference in Washington, D.C. I was trying to orient myself to this new world when Natalie approached me and asked if I needed assistance, which led to her asking my name and where I was from. When she learned I was a new graduate, she was delighted and welcomed me to the field right then and there.
During my stay at the conference, she always seemed to be present with a kind and reassuring word, including encouragement that I, too, could someday attain one of the lifetime achievement awards. Of course, for those of you who know Natalie, you might be tempted to dismiss this as "just" Natalie, but ask some of your friends in the professions of medicine, law, or even social work if they would have the same opportunity at their international conferences.
Although Dr. Barraga may represent an earlier (and gentler) era in our profession's history, I believe the same opportunities exist for every student and recent graduate out there today. My point is that our strength as professionals comes not only from our commitment to do our best every day we work with our students and clients, but also from our commitment to keep our skills up-to-date and to adapt to our rapidly changing world.
An AER Conference Opportunity: Critical Employment Issues Remain
This year's New Jersey AER conference, Employment = Empowerment: Preparing All Clients and Students for Lifelong Success, addresses employment, a topic that has been frustratingly difficult for students, clients, and professionals in our field. This is not to say that individuals who are blind or have visual impairment are not employable, but the data are clear that chronic underemployment has plagued our clients and student for decades.
The recent global economic downturn has presented employment challenges throughout the world, and the impact on individuals with disabilities has been devastating, especially for those who are blind or have visual impairment.
The Explosive Growth of Information Technology
I once heard an education administrator explain that we as teachers will be preparing the entering kindergarten class for a future we cannot begin to fathom as the rate of technological development is moving so quickly. Although the information technology that has exploded over the past several decades offers rich opportunities for our students and clients like never before, it is only helpful if people have access to it.
School-aged students and adults need access to technology and our operating budget constraints often limit what we have to offer. For this reason alone, the blindness field needs each of us to keep our skills up to date, attend conferences, and maintain professional certification.
Preparing our Field to Move Forward
We need to be prepared to go forward with the ideas presented at professional conferences, share them, build upon them, and inspire change because, as Buckminster Fuller has been credited with saying, "If you want to teach people a new way of thinking, don't bother trying to teach them. Instead, give them a tool, the use of which will lead to new ways of thinking."
I hope every blindness professional reading this essay will consider inviting a colleague, friend, parent, or other stakeholders in this field to join them for a professional conference. I believe the ideas and knowledge presented at conferences can provide fertile ground for future development and planning of services and programs as we look forward into this century.