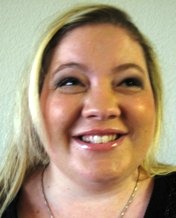 Guest blogger Michelle Miller, LCSW, is a licensed psychotherapist and professional grant writer who also serves as Director of Client Services for Columbia Lighthouse for the Blind in Washington, D.C.
Michelle has advocated on behalf of clients with disabilities as an expert witness for legal matters and serves as a consultant to "vision awareness" events and documentaries. She is a board member with Guide Dogs for the Blind and the New Hope Development Corporation, a non-profit organization for underserved children and families she co-founded in 2006. You can learn more about Michelle's life and work at her VisionAware Peer Advisor page.
My Amazon Adventure
During 2010-2011, my husband and I were searching for a trip that would give us the opportunity to see parts of the world in a creative and innovative way. With two employed professionals, time off is always a challenge when planning a trip, so we were committed to planning something spectacular to maximize our vacation time.
Via an online travel site, we learned about Enrichment Voyages that take place twice a year through Semester at Sea, sponsored by the University of Virginia. The voyage we chose would last for three weeks and cover more than 3,000 miles – from the Bahamas all the way up the Amazon River, and back to Florida. The countries to visit along the way included the Bahamas, St. Kitts, Puerto Rico, Barbados, Granada, Dominica, Trinidad, Venezuela, and Brazil.
Planning for the Cruise: The First Blind Voyager
This was our first trip over the holidays as a married couple so we knew there was a lot we needed to do to make it a memorable one.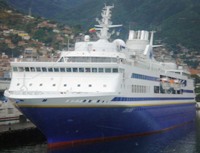 Prior to our trip, individuals who were blind or who used a guide dog had never participated in an Enrichment Voyage with the MV Explorer Cruise Company. A considerable amount of our time was spent educating the staff about what accommodations we needed, including options for a dog relief area. With some education and persistence on our part, all of their concerns and worries were addressed.
We knew the trip would require advocacy and education in order to dispel some of the misconceptions the ship's staff had expressed, but we were up for the challenge. My guide dog Tango has visited many countries, but because many of our ports were islands, we had to complete extensive paperwork to ensure he could visit all of the stops along our journey up the Amazon River.
The Enrichment Voyage Begins
I have been on many cruises and traveled extensively throughout my life, but the itinerary made it apparent that this adventure would be much different. This cruise was not focused on food, entertainment, or relaxation; rather, it was about education and a new platform for learning.
I was a little nervous about joining the classes that were scheduled on the ship, but all relevant materials were sent prior to the journey, which helped considerably. We had unlimited WiFi, and this accommodation allowed us to access all printed materials, including schedules, announcements, and educational information.
Two endearing individuals oriented us to the ship and familiarized Tango with his designated relief area. The small box of sand they provided was not too accommodating at first, so during our first stop the crew left the ship to find leaves, twigs, and other natural debris to make his area more familiar. This was the first act of many that demonstrated the excellent service we received from the onboard staff. Climbing trees and carrying bags of leaves on to the ship was pretty thoughtful! It became quite a story throughout the trip, and helped us bond with other passengers and the crew.
Educational Enrichment
Once the staff got to know us, they were proactive about ensuring we could participate in every aspect of the enrichment voyage. A majority of the staff members were visiting professors who represented an array of disciplines, including astronomy, literature, and several languages, including Portuguese.
It was amazing to have a world-renowned scientist describe the stars, meteor showers, and star alignments to us. He showed me Star Walk, an iPhone app that displays the sky and star constellations and allowed me to view the stars once again! What a thrill it was to recapture that gift with technology after losing my vision!
Our two guest lecturers were poet Rita Dove and civil rights leader Julian Bond. Never before had I imagined being able to share quality time and meals with such profound presenters! They were so open to sharing their wealth of knowledge with all of us. They answered questions, engaged in lengthy conversations, and even shared a dance with us to welcome the 2012 New Year.
Exploring New Countries and Cultures
Our ship continued up the Amazon, stopping every few days to explore a new country. Each port included options for day trips to learn more about each port's history, culture, and nature, and often included vigorous rainforest hikes. One of the most memorable highlights for me was learning about how rubber is made, including watching it actually flow from a tree.
We observed giant bullet ants crawling around trees, visited local plantations, and tried new spices and herbs in Granada, all the while absorbing some of the most unusual smells I have ever experienced! We met an indigenous tribe in Brazil and spent the day with a native family, where we participated in traditional dances, shared their food, and learned more about the Rio Negro (Black River).
There is an amazing phenomenon in the Amazon River, in which the Amazon and the Rio Negro flow side-by-side for many miles without crossing. Observing the two rivers flowing separately with their individual distinctive colors was incredible to see firsthand.
Swimming with the Pink Dolphins
The best part of the shore experiences for me was swimming with the pink dolphins in Manaus, Brazil. I've always had a fascination with dolphins and I have done dolphin swims before; however, this part of the world is one of the only places that have pink dolphins. The experience is one I will treasure forever. Feeling them in the water with their playful spirits and bodies is amazing to witness – and they are PINK!
Living on a ship with 500 other people was a unique experience as well. Some of the long-lasting friendships I developed are priceless. The entire experience is one that changed my outlook on life. It encompassed so many elements of growth, both personal and professional! I will recommend this voyage to every fellow traveler I meet throughout all of my remaining life journeys.
Semester at Sea Explorer 2005 photo is a Wikimedia Commons file, used in accordance with the GNU Free Documentation License.