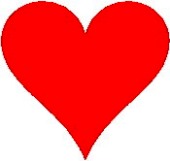 It's time for some VisionAware blogroll love once again. As I explained in my introductory "blogroll love" post,
… the VisionAware "blind bloggers" collective has migrated from the former VisionAware.org website to the sidebar of the new VisionAware blog. It's a marvelous way to position my favorite bloggers front-and-center for our ever-growing audience. You'll discover great writing there – and not only about blindness. My favorite bloggers are people who happen to be blind – and who have much to say about life's joys, sorrows, and everything else that makes us human.
This week, I'd like you to meet two talented and thought-provoking bloggers whose subject matter ranges from art appreciation to living with Norrie disease, which causes combined vision and hearing impairment:
Professor Whitestick's Blog
Professor Whitestick is the voice (and considerable intellect) that informs the deeply felt cultural and artistic observations on Professor Whitestick's Blog. The Professor describes himself and his reasons for blogging as follows:
I am blind and live in London. I get about with my white stick and with the help of Transport for London and the general public… I'm a normal blind person and find joy in the kindness of strangers and some sadness at the inability of acquaintances to refrain from aspects of non-verbal communication. A nod is as good as a wink to a blind man. Languages: Deutsch, Français, bagan Gaidhlig [beginning Gaelic] and some Khaleeji Arabic!
I'm always intrigued with the Professor's travels through London's museums, and I particularly enjoyed his latest guided tour through the Sterling and Francine Clark Art Institute's collection of Impressionists at the Royal Academy of Arts, which he narrated beautifully in Royal Academy: From Paris – A Taste for Impressionism. In this passage, he describes the quality of the audio description that accompanied the exhibit:
I listened to … a description of some roses in a glass vase by Manet. I mentioned to Stephen that there was not a wasted adjective in the description and that I knew that the leaves had not been cut from the rose stems in the transparent vase. I could not see this detail, though [I] could make out the vase and roses themselves. There are many still life compositions and some of them were quite clearly lined, for example a dish of apples forming a pyramid above a horizontal line formed by a table.

On the evening of the 20 July I had another chance to visit the exhibition. On this occasion it was at 9 pm with subdued lighting in the galleries. It's amazing the difference lighting makes. There was much less definition of the colour, but greater definition of the lines and shapes of some of the art works, especially the sculpture.
It seems that the Professor and I have much in common. I grew up near the Sterling and Francine Clark Art Institute, and I, too, enjoy art; in fact, on the VisionAware website, I explored the lives of a number of well-known painters, including Monet and Degas, who experienced adult-onset vision loss, yet persevered with their art. I guess you could say that the Professor and I are kindred spirits, in a sense. You can also find Professor Whitestick on Twitter @profwhitestick. Thank you, Professor!
Hearing Change, Seeing Promise
John Miller is a writer, sports enthusiast, former graduate student, and author of the blog Hearing Change, Seeing Promise, whom we first met – and profiled – in Meet John Miller on the VisionAware website. John's blog describes his long and not-yet-finished journey, beginning with his early childhood and diagnosis with Norrie disease, which causes blindness and hearing impairment, to his current life as a former graduate student and seeker of gainful and fulfilling employment.
In Always Reflecting, John reviews his eventful past year and, as always, expresses hope and optimism about his future:
Life continues pattering along for me, as I watch others move towards their goals and wonder if my train hasn't jumped the tracks entirely. I know that's an unreasonable thing to think, and yet I can't really help having that creep into my thoughts and dreams at night. It's had me feeling a little dispirited lately.

Also, this past Saturday saw the graduation of another class of students from the Rehabilitation Counseling and Psychology Master's program at UNC, of which I used to be a part seemingly an eternity ago. I'd attended last year's ceremony, but wasn't able to get transportation to this one. Of course I am very happy for them, especially knowing how difficult it is to make it through that program, while in many cases juggling work commitments as well.

As my apartment's lease runs out on September 23rd and I speed toward the beginning of my 34th year of life, I wonder where I'll be by the beginning of October. Might I have to go home for a couple weeks? Or will I have managed to land a job by then. Still twiddling my thumbs as I try to patiently await news regarding that position to which I have referred many times, while also working on drawing up possible alternatives.
And be sure to read John's moving and thought-provoking Fourth of July post on The Meaning of Independence. It's a good one. You can also find John on Twitter @blindtravel and on Facebook at johnmill79. Prepare to be inspired!
Talk To Me!
If you'd like to be added to the VisionAware blogroll, please leave a note in the comments section. I'm always interested in discovering new blogging friends and family!