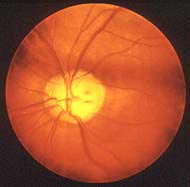 Here's more good news about glaucoma that builds upon, and enhances, quality of life issues.
I was interested to read Influence of Visual Field Testing Frequency on Detection of Glaucoma Progression with Trend Analyses, an exploration of whether an increased frequency of visual field testing leads to earlier detection of glaucoma progression, in the August 8, 2011 edition of Archives of Ophthalmology. (Short answer: Yes, it seems to.)
The authors are Kouros Nouri-Mahdavi, MD, MSc; Reza Zarei, MD; and Joseph Caprioli, MD, all with the Glaucoma Division of the Jules Stein Eye Institute at the University of California, Los Angeles (UCLA).
The Archives of Ophthalmology is a monthly professional medical journal, sponsored by the American Medical Association, that publishes peer-reviewed, original articles on all aspects of ophthalmology and visual science.
U.S. News & World Report Health provides an excellent summary of the research findings:
Frequent visual field testing may help doctors detect progression of the eye disease glaucoma at an earlier stage. It's important to identify patients whose disease is progressing faster so that they can receive more aggressive treatment or more frequent follow-up, the researchers explained.

Their study … included 381 glaucoma patients [from the Advanced Glaucoma Intervention Study], aged 35 to 80, who were followed for anywhere from about 3 to 13 years. Glaucoma progression was more likely to be detected in patients who had more visual field tests (a median of 20) than in those with fewer tests (a median of 12).

"In summary, we found that a twice-yearly schedule of visual field testing resulted in earlier detection of glaucoma progression compared with a yearly schedule …," wrote Dr. Kouros Nouri-Mahdavi and colleagues. "Our results have significant health care policy implications with regard to determining the frequency of visual field testing in patients with glaucoma," they added.
This research will likely have a significant impact on patient care in the years to come. VisionAware will provide updates on this significant glaucoma research as they become available.
Sources: Archives of Ophthalmology; U.S. News & World Report Health; Science Codex