This week, during National Age-Related Macular Degeneration (AMD) and Low Vision Awareness Month, VisionAware is pleased to feature the definitive resource for patients and families who must grapple with the sometimes-shocking – and always difficult – diagnosis of AMD: Macular Degeneration: The Complete Guide to Saving and Maximizing Your Sight by Lylas G. Mogk, M.D. and Marja Mogk, Ph.D.
About the Authors
Lylas G. Mogk, M.D.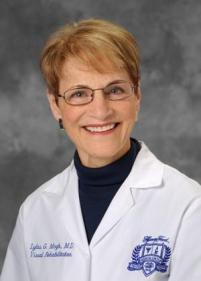 Dr. Mogk is the is the author of Age-Related Macular Degeneration on the VisionAware website and founding director of the Center for Vision Rehabilitation and Research, part of the Department of Ophthalmology at the Henry Ford Health System in Michigan.
She is the former chair of the American Academy of Ophthalmology (AAO) Vision Rehabilitation Committee; current chair of the Michigan Commission for the Blind, the advisory body for the Michigan Bureau of Services for Blind Persons; and Board member of the National Accreditation Council for Blind and Low Vision Services. She speaks regularly to physicians, vision rehabilitation specialists, occupational therapists, and community organizations nationwide about AMD and vision rehabilitation.
Marja Mogk, Ph.D.
Dr. Marja Mogk received her Ph.D. from the University of California, Berkeley with an interdisciplinary dissertation in disability studies. She is an associate professor and chair in the Department of English at California Lutheran University, where she teaches film, Shakespeare, drama, and playwriting.
Most recently, she is the editor of Different Bodies: Essays on Disability in Film and Television. Her work has also appeared in the Journal of the Midwest Modern Language Association and the Journal of Visual Impairment & Blindness.
An Excerpt from the Book
The following, quite insightful, passage is written directly to the person with AMD and explains medical and ophthalmological care from the doctor's point of view. It is excerpted from Macular Degeneration: The Complete Guide to Saving and Maximizing Your Sight, pages 169-174:
Why Doctors Can Be Abrupt
In most medical programs, doctors are trained under very stressful work conditions with long hours and little consideration for their own physical, emotional, or personal lives. They must learn to ignore these things for themselves, focus on problem solving, and move quickly.
Their achievements are measured by how well they fix the physical problem they were trained to fix, not by how well they related to their patients or by how well they understood the implications of the problem for their patients' lives.
When doctors are faced with a problem that they cannot really fix, like macular degeneration, they are faced with their own limitations. And they don't always know how to handle it sensitively.
As a matter of fact, doctors are by far my worst patients at our low vision rehabilitation program. Although this information may not be particularly comforting, you can rest assured that the more abrupt doctors are, the less likely they are to handle vision loss well if it happens to them. Doctors' take-charge attitude often runs them right into the ground when they get macular degeneration.
They have feared vision loss and fought it all their lives by seeking to control it. As you know better than anyone, if there's one thing that macular degeneration takes away from us, it's the ability to conquer by controlling.
The people who handle AMD successfully are not the hard-charging executives or the General Patton types. They're the folks with a sense of humor, an abiding faith, and an ability to see the humanity in themselves and others regardless of their vision. They're the folks with a willingness to be flexible, to find other ways to direct their lives rather than by demanding precision and efficiency from everyone and everything around them.
How Shock Interrupts Understanding
Often, when doctors do talk, we can't hear them … it's often difficult for anyone to assimilate anything said after a shock. Our minds protect us emotionally by tuning out information that overwhelms us. Sometimes we don't even realize we've tuned out. We just don't remember anything that was said.
I often find myself repeating information upon request, knowing that it's natural for people to have difficulty digesting it all at once. It's also easy to forget questions while you're at your doctor's office. Try the following five tips for talking with your doctor and getting the most out of your appointment:
Brainstorm your questions before your appointment, write them down with a black felt-tipped pen, and take them with you.
Take a friend or family member along so that there are two sets of ears listening in the room.
If your doctor's explanations aren't easily understandable, ask for an assistant in the office who can explain in clear detail and answer questions.
Ask your doctor for a referral to a vision rehabilitation program and support group in your area.
Don't take it personally if your doctor isn't supportive or seems rushed. It is not a reflection of your condition or your potential.
Additional Information