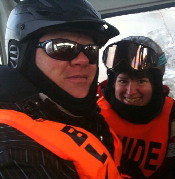 Scott Anderson is a friend of VisionAware, an avid (and skilled) blind skier, and is deeply involved in planning the second New England Blind and Visually Impaired Alpine Ski Festival, to be held February 10-14, 2013 at Sugarloaf Mountain Resort in Carrabassett Valley, Maine.
Scott (at left in photo with guide Fran Mullin) is a legally blind alpine, or downhill, skier who is active with Maine Adaptive Sports and Recreation, a non-profit organization and sponsor of the annual Festival.
How It All Began
Here's more from Scott about his experiences as a blind skier and his involvement with Maine Adaptive Sports and Recreation:
The idea for the New England Blind and Visually Impaired Alpine Ski Festival grew out of my experience with diminishing eyesight and my love of skiing. I was about to hang up my skis five years ago, thinking blind people don't ski, but my wife insisted I try to find a "Blind Skier" vest that we once saw on a ski trip. I guess it was meant to be, because we were able to find a vest online.

While wearing my new high-visibility orange vest while skiing, we happened to meet Toby Burdet, who is the Sugarloaf Program Coordinator for Maine Adaptive Sports and Recreation.

Meeting Toby and the other Maine Adaptive volunteers has literally changed my life. I was on the verge of hanging up my skis and calling the sport I love a memory, but after becoming an every-weekend participant with Maine Adaptive, my love of skiing has multiplied a thousand times.

My wife Kristine has been trained as a blind skier guide, using the techniques taught by Maine Adaptive, and my youngest son Mike (with Scott in photo at right) is also a guide and a junior volunteer for Maine Adaptive.
About the New England Blind and Visually Impaired Alpine Ski Festival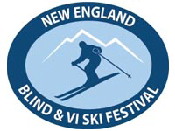 The Festival is designed to create a unique educational skiing and guiding experience for all levels of skiers with visual impairments, along with their guides. Beginner, intermediate, and advanced skiers will have the opportunity to learn to ski or enhance their skiing abilities.
Guide instruction will also be provided by Professional Ski Instructors' Association (PSIA) Adaptive Certified instructors and trained volunteers. The Festival creates the opportunity for visually impaired skiers and guides to meet, learn new skills, and share experiences. In addition to skiing, there are a number of planned activities, including a banquet night, pizza party, tubing, and ski racing events.
Additional Information
For more information, you can visit the New England Blind and Visually Impaired Alpine Ski Festival website and Facebook page. You can also contact Scott Anderson by email at info@nevifest.org or phone at 603-479-3668.
The VisionAware website offers information, adaptations, and a wide range of resources for blind/visually impaired alpine and cross-country skiing.
One More Thing about Scott
Scott is also an avid tandem cyclist and is featured, along with his cycling partner (and ski guide) Alissa Towle, in our tandem cycling feature story on the VisionAware website. Please do contact Scott if you have questions or concerns about participating in outdoor sports after vision loss. He is an enthusiastic and inclusive ambassador for the restorative and therapeutic powers of "the great outdoors." Thank you, Scott!