Paul and Jan Rachow, founders of the Frog Town Low Vision Support Group in Holland, Ohio, are longtime and faithful supporters of VisionAware; thus, it gives me great pleasure to report that their low vision support group is thriving.
About the Frog Town Low Vision Support Group
Frog Town is an independent, not-for-profit support group, started in June 2005, that provides information and support to adults who are blind, visually impaired, or have low vision. Thanks to Paul and Jan's hard work and "vision," Frog Town is now supported by Vision Associates, the Sight Center of Northwest Ohio, the Ability Center of Greater Toledo, and the local area agency on aging.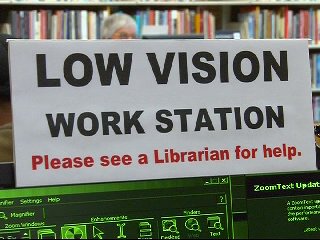 In March, Paul was also featured in a story from WTOL.com that highlighted a new low vision assistive technology computer program at the Holland, Ohio library.
As Paul said in that interview, the ZoomText computer program is "… invaluable, because it keeps me occupied and engaged, instead of looking at four walls and dreaming about things I used to do."
Contact Information
The Frog Town Low Vision Support Group meets regularly at the Holland Library, 1032 South McCord Road, Holland, Ohio. For more information about the Frog Town Low Vision Support Group, visit the Frog Town website or contact Paul or Jan Rachow at 419-867-1940, email frogtowngroup2020@sbcglobal.net. I know they will be happy to hear from you!