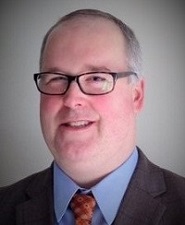 Doug Anzlovar is the Vice President of Education and Training at The Hadley School for the Blind, where he serves as a member of the administrative team, oversees a 31-member faculty, is involved in curriculum decisions and policy development, and oversees the Low Vision Focus @ Hadley program.
Prior to joining Hadley, Doug worked as a teacher of the visually impaired in the Chicago Public Schools for nearly 10 years. While at Walter Payton College Preparatory High School in Chicago, Doug developed a resource program for students with visual impairments and later became chair of the special education department.
Doug holds a Master of Science degree in adult rehabilitation of the blind and a Bachelor of Science in special education with an emphasis in teaching the visually impaired, both from Northern Illinois University. In addition, Doug is a Certified Vision Rehabilitation Therapist. He is currently a member of, and serves on the Board of Directors for, the Association of Vision Rehabilitation Therapists (AVRT) and the Illinois Chapter of the Association for Education and Rehabilitation of the Blind and Visually Impaired (IAER).
Maureen Duffy: Hello Doug – it's always great to speak with you! A lot has changed since we first featured the Low Vision Focus @ Hadley Program just about a year ago. At that time, the core component of the program was 10 audio lessons on CD. They were mailed directly to an interested person with low vision after speaking with a Hadley intake coordinator to determine which lesson(s) best met his or her needs. I understand the program has been expanded and updated since then. Can you tell our readers what is new at Low Vision Focus @ Hadley?
Doug Anzlovar: Thank you, Maureen. The Low Vision Focus program continues to grow! In addition to the 10 recordings that are available in CD format, they are now available on a single Library of Congress National Library Service (NLS) cartridge. The CDs and cartridge are available free of charge by calling the Low Vision Focus @ Hadley. You can find the contact information at the end of our interview.
The audio lessons include the following topics of interest:
Making the Kitchen User-Friendly
Getting Around in the House
Basic Tactile Marking
Going Out with a Friend
Doing Simple Kitchen Tasks
Keeping Prescriptions in Order
Low Vision Cooking
Looking Your Best
Going Out for a Meal
Simple Home Modifications
We relaunched the website in early August 2015 with major upgrades. The website has been completely redesigned to be more contemporary, visually appealing, user-friendly, and functional. The 10 audio recordings are now available as free downloads directly from the Low Vision Focus @ Hadley website, following the completion of a short registration form. We have also bundled existing Hadley programming that has a low vision focus, making it available through the website. This programming includes archived webinars, courses, and our popular iFocus instructional videos, which provide the latest information on how to take advantage of the vision accessibility features built into the iPhone, iPad, and iPod Touch.
Qualified staffers are available to consult with individuals who have questions about their low vision, as well as answer questions from family members, caregivers, or other professionals. We no longer have a lengthy intake process to identify which audio recording to send to our participants. We feel individuals know the kinds of activities of daily living they struggle to perform as a result of their vision loss and can identify which audio recordings they feel will best meet their goals. Should they have questions, individuals could always speak to a qualified staff member. Our goal is always to encourage independence.
MD: Can you tell our readers more about the philosophy that underlies Low Vision Focus @ Hadley Program? I assume that hasn't changed, right?
DA: The overall philosophy of the program has not changed. As vision loss progresses, it often becomes necessary to learn new methods to perform daily activities. The resources of the Low Vision Focus @ Hadley have been developed to help those with low vision maintain independence in their home and community.
MD: Can you give us an idea of what a typical adaptive daily living skill lesson contains?
DA: The audio recordings follow a "radio show" format, in which two hosts discuss a variety of tips and techniques for managing several daily living tasks for someone with low vision. The recordings are meant to be – first and foremost – informative, but also easy and fun to listen to. The average run-time for a recording is about 30 minutes. As an example, the recording "Making the Kitchen User Friendly" offers insight into lighting and contrasting colors for kitchen work areas, the use of magnifiers for completing kitchen tasks, and a variety of safety tips for working in the kitchen.
MD: I'm interested to know more about the audience for the program. I know it is designed for older adult learners with low vision, but are there other audiences it can also apply to?
DA: While the Low Vision Focus @ Hadley program is geared toward older adults, the program is open to any individual who is experiencing vision loss or caring for someone who may be losing his or her vision. This includes, but is not limited to, adult children of seniors living with low vision, caregivers, and professionals.
MD: And finally, what are your future plans for Low Vision Focus @ Hadley?
DA: There has been much enthusiasm over the past several months from our advisory committee and program participants to grow the Low Vision Focus @ Hadley. Short videos are extremely popular in today's culture and we have had dozens of requests to develop videos geared toward those living with low vision. This summer, we began production on 15 short videos that model the tips and techniques discussed in the 10 audio recordings. A total of 25 videos is planned to round out the series. The first 15 videos should be available on the website in the spring of 2016.
In the coming year, we will offer a monthly webinar series that will focus on relevant and timely topics in low vision. Although low vision support groups can be difficult to access due to geographic location and transportation issues, they can provide invaluable information and resources to their members. Therefore, the Low Vision Focus @ Hadley program plans to begin a virtual low vision support group by phone for those who live in rural areas or otherwise cannot access a local support group. Through a partnership with the National Eye Institute's National Eye Health Education Program, we plan to make available additional educational resources and programming.
For More Information
We thank Doug Anzlovar for his longtime support of VisionAware and for his tireless (and talented) work on behalf of older adults with low vision throughout the country. For more information, or to begin taking advantage of the Low Vision Focus @ Hadley, you can visit www.lowvisionfocus.org or call toll-free: 1-855-830-5355.
More about Hadley School for the Blind from VisionAware