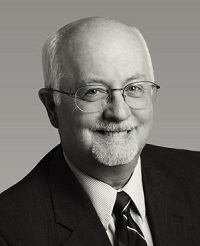 Dan Roberts, M.M.E., is the Founding Director of MD Support, Inc. and the International Low Vision Support Group. He is the editor-in-chief of Living Well with Low Vision, an extensive online resource center affiliated with Prevent Blindness.
In addition to heading MD Support and the International Low Vision Support Group, Dan is a resource consultant for the Macular Degeneration Foundation and AMD Alliance International. He is also a member of the Working Group on Pharmaceutical Safety.
Dan is the author of The First Year—Age-Related Macular Degeneration: An Essential Guide for the Newly Diagnosed and a contributing author to Occupational Therapy Interventions for Adults with Low Vision. He has also written over 100 articles about low vision and several books specifically designed to bring the resources of the Internet to thousands of otherwise unconnected people with visual impairment.
Dan is the recipient of the 2004 Distinguished Service Award presented by the American Optometric Association, and his organization was awarded the National Eye Institute's 2006 Healthy Vision Community Award for innovative approaches to vision-related health education.
Most recently, Dan is the developer of LowViz Guide, an indoor wayfinding application (or app) that enables users who are blind or have low vision to navigate large meeting spaces, via a smart phone with voice activation. LowViz Guide is a guided assistance program, created specifically for visually impaired attendees at state and national conferences.
Maureen Duffy: Hello Dan. It's an honor to have you with us. To begin, can you tell us more about the LowViz Guide app? What are the features that make it specific to blind and low vision users?
Dan Roberts: LowViz Guide is similar to a portable GPS, but it is useable indoors, where access to satellites, Internet, and cell service may not be available. Using a smart phone or tablet with VoiceOver, the user can audibly "look around" the venue, no matter where he or she is standing, and then call up directions and routing assistance to any point of interest.
The user can also:
personalize when, how, and how much information is given,
search points of interest and get directions directly to them,
choose metric or imperial measurement settings,
choose cardinal or clock face direction settings.
MD: Can you tell us more about the development process? And what was your role as the LowViz Guide developer?
DR: Liz Trauernicht, director of MD Foundation, saw a need for a guided assistance program at low vision conferences, so she asked me if I could research the possibilities. I accepted the challenge and, after several weeks of research, decided that the new Bluetooth low energy wayfinding technology was the answer. I contracted with Indoo.rs, a wayfinding technology company based in Vienna, Austria, to design an app that would not only audibly describe the unique indoor environments of low vision conferences, but would also help the attendees navigate to each point of interest with ease and accuracy.
Our concept required a setup that would not be based in any one given location, since the events would be in different places each time. Location information is transmitted by small electronic beacons that we install about 60 to 120 feet apart throughout the entire venue. Concession areas, exhibit areas, meeting rooms, registration tables, restrooms, escalators, and elevators are all customized to the host's specifications and mapped out by me in advance.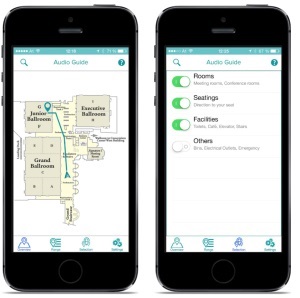 Photos of the LowViz Guide displayed on an iPhone screen. Source: MD Support
The app identifies the locations both visually and vocally through the user's Apple iPhone or iPad bundled with Bluetooth 4 capability. Anybody with a current Apple iDevice will now be able to navigate these large and often-confusing venues independently, and we are hoping that LowViz Guide will provide a safer and more enjoyable experience for all who attend these functions.
The app and our on-location service and support are free of charge to qualifying organizations. And that's why it's very important for me to say that none of this would have been possible without the vision, enthusiasm, and very generous financial investment of Liz and her MD Foundation.
MD: How is LowViz Guide specifically applicable to conference attendees? Does the app have other uses, too?
DR: LowViz Guide is unique, so you won't find it duplicated anywhere else. We have refined the technology of indoor mapping specifically to assist blind and low vision users at temporary events like seminars and conferences.
In addition to visual mapping, it uses VoiceOver and audible tone routing, and it is customized to the particular layout, features, and time frame of each event. These functions are too precise and short-term to be useful in more general environments, so, in its current embodiment, it is useful only at – and during – the event for which it is customized.
You will, however, continue to see indoor wayfinding technology on a broader scale in venues like hospitals, transportation hubs, amusement parks, museums, and shopping centers. My hope is that most of them will include audible descriptions and routing, because that would definitely level the playing field for people who are visually impaired.
MD: What are your plans for further development of the LowViz Guide?
DR: After this summer's pilot program, we will assess the areas where improvements might be made. This would include more refined routing, like directions to, and descriptions of, specific vendors' booths. We are also surveying the public demand for Android capability.
My biggest concern right now is how to satisfy the demand for this service. Right now, I am personally providing it for six state and national conventions through October. If the service continues to be as successful as our recent launch at the National ADA Symposium, I will not be able to handle the demand on my own. It's a problem I don't mind having, but it is obviously going to require a larger infrastructure.
MD: Where can our readers get more information about LowViz Guide?
DR: You can find everything on the MD Support website at www.mdsupport.org/audioguide. My contact information is there for any organizations interested in making LowViz Guide part of their event. If anyone would like to see it in action, we will be at this year's conventions of the American Council of the Blind, Blinded Veterans Association, California Council of the Blind, Guide Dogs for the Blind, and Pennsylvania Council of the Blind.
We thank Dan Roberts for his support of VisionAware, as well as for his unceasing and longstanding support for quality services for blind and visually persons throughout the United States.
For More Information
Read LowViz Guide: Indoor Navigation for Blind and Visually Impaired People at AccessWorld Magazine.