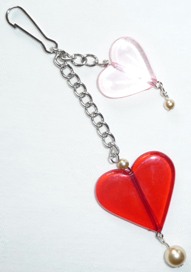 It gives me immense pleasure to introduce you to the work of the talented artist and designer Alice Woodside Lynch, who hails from Jonesboro, Arkansas. Alice describes herself as "Navy veteran, cat lover, comics reader, textile artist, jewelry designer, braille enthusiast, and champion of the downtrodden." She is the proprietor of, and creative force behind, Braille Design: Custom Braille Jewelry and Gifts and Brailletshirts.com: Custom-Made Braille T-Shirts.
Initially, I met "Alice the cat lover" via Twitter @Darediva; over time, and as I became more attentive, I also discovered the multifaceted "Alice the artist" @brailledesign and @brailletshirts. It was when we began to correspond via email that I learned much more about "Alice the person" and creative force behind her design companies (all good!). As our conversations progressed, I told Alice about my everlasting love of great design and unusual jewelry, especially bohemian-ish earrings and bracelets.
Imagine my surprise when Alice offered to custom design a Gothic, semi-Steampunk braille bracelet for me! But more about that later – first I'd like you to meet Alice Lynch, designer and craftsperson extraordinaire.
Alice Lynch: Artist and Designer
From an interview with Alice by feature writer Alena Roberts in Matilda Ziegler Magazine:
Q: What inspired you to start your business?

A: It was really the support and response from attendees at the annual Kentucky Council of the Blind convention in 2010 that helped me realize Braille Design resonated with people. I had started out several years before, making jewelry for myself and friends, finding my style and trying different methods and materials. I set up a store on Etsy, the social commerce website for handmade and vintage items. At the same time, I was studying for the literary braille transcription course, and really found a passion for braille.

I began to experiment with trying to emboss braille on to metal. I thought it would be great to be able to customize jewelry pieces with actual-scale tactile braille. What little braille I saw for sale online was either not full-scale, or was poorly embossed with incorrect spacing.

I set up the online shop, www.BrailleDesign.com, to be able to offer custom products to a people all over the United States and even internationally. The website and shopping cart are accessible, and sales have been very strong. I receive a lot of positive feedback from my clients and have a great deal of repeat business for holidays and special occasions.

I have a degree in interior design, and have worked as a designer in several fields, so jewelry was another branch of interest. Form follows function, it's said, and putting a tactile spin on something that is normally a visually appealing item has a lot of meaning for me, as a person with macular degeneration.
You can read the complete interview with Alice Lynch in the February 2013 issue of Matilda Ziegler Magazine.
My Custom-Designed Bracelet
The design process was an interesting one. Via email, Alice asked about my likes and dislikes, my personal style, and my color preferences. (That last one is easy: black, black, and … black!) I asked her for something a little bit punky, and in no way formal.
The bracelet Alice produced was pure me and pure genius! It's composed of three dark-chocolate – almost black – brass chains; two thin, one chunky, fastened with an incredible Goth-y, Steampunk-y clasp.
The pièce de résistance, however, is the seven silver charms/discs, each containing a brailled letter of my first name, that are attached to seven consecutive links along the chunky chain. It is beautiful and is utterly me: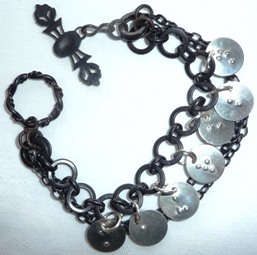 The chain bracelet with braille letter charms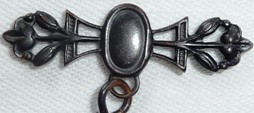 A close-up of the bracelet clasp
Alice also included two lovely cane charms with my custom order: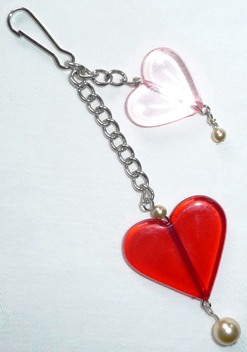 A cane charm with red and pink hearts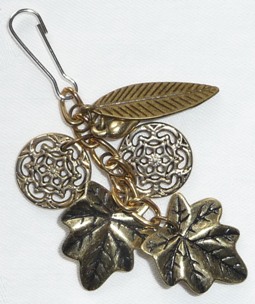 A cane charm with brass leaves
Additional Information
You can find Alice's braille jewelry and t-shirts at Braille Design: Custom Braille Jewelry and Gifts and Brailletshirts.com: Custom-Made Braille T-Shirts. You can also find her on Facebook at Braille Design. Some of my favorite jewelry designs on her site include the reptile pattern braille leather bracelet (love!) and the Determination Necklace (must have!). You can read additional articles by feature writer Alena Roberts at Matilda Ziegler Magazine and @blindperspectiv on Twitter.
Thank you, Alice! (I'm wearing my bracelet – for inspiration – as I write this story, by the way.)