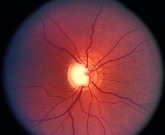 A critical component of glaucoma care, and one that physicians continuously stress, is the importance of adhering to a therapeutic eye drop regimen for glaucoma. In order for the medication to lower intraocular pressure effectively, consistent adherence to the prescribed eye drop regimen is essential.
Yet, by most accounts, non-adherence – both intentional and unintentional – remains problematic. Barriers to adherence include the asymptomatic nature [i.e., exhibiting no symptoms] of most types of glaucoma and the perception by some (but not all) patients that eye drops are somehow less "real" than oral medications. Whatever the reasons may be, consistent medication compliance remains an ongoing challenge – for physicians and patients alike – in glaucoma management.
A New Adherence Study from the United Kingdom
A new glaucoma medication adherence study, entitled Improving adherence to glaucoma medication: a randomised controlled trial of a patient-centred intervention (The Norwich Adherence Glaucoma Study), was published online on March 24, 2014, in BMC Ophthalmology. BMC Ophthalmology is an open-access journal that publishes original peer-reviewed research in all aspects of the prevention, diagnosis, and management of eye disorders, as well as public health research and genetics.
The study concludes that the provision of information specifically tailored to an individual's needs received high patient satisfaction ratings with respect to glaucoma medication information. The authors also note, however, that an accurate measurement of adherence to a glaucoma medication regimen remains problematic, since "awareness of study participation may cause a change in participant behavior."
The authors are Heidi Cate, Debi Bhattacharya, Allan Clark, Richard Fordham, Richard Holland, and David C, Broadway, who represent the following United Kingdom-based institutions: Norfolk and Norwich University Hospital and the University of East Anglia, Norwich.
About the Research
The authors introduce their study with the following statements:
Sub-optimal adherence to prescribed glaucoma therapy is associated with progressive visual field loss and unnecessary additional prescribing or surgery. A cross-sectional glaucoma study has found that participants with adherence rates less than 80% have worse visual field defects than those with greater adherence rates.

(Editor's note: A cross-sectional study involves an analysis of a population of subjects at one specific point in time, rather than studied over a more extended period of time. A prospective study, on the other hand, studies and measures a group of individuals over time and follows up with study subjects in the future.)

Patients who have a stronger belief in the necessity for eye drops are more adherent and studies that have targeted patient beliefs have been effective in improving adherence.

Conversely, whilst poor glaucoma education has been cited as an explanation for nonadherence to therapy, interventions that purely focus on providing education have failed to achieve significant improvement in adherence.

However, studies using multifaceted intervention components, including education and tailoring of information, and encouraging patients to discuss strategies for incorporating the medication administration into their daily activities, have detected a significant improvement in adherence.

Thus, the aim of the present study was to determine whether an intervention designed to both target beliefs and provide tailored education about glaucoma and its management by using a behaviour change counselling (BCC) technique, could be beneficial and cost-effective in improving adherence with topical therapy. The intervention was designed to address the [numerous factors involved in] unintentional and intentional non-adherence.
More about the Glaucoma Adherence Study
Here is additional information about the study participants, study design, and results from the article pre-publication abstract:
Background: Improving adherence to ocular hypertension/glaucoma therapy is highly likely to prevent or reduce progression of optic nerve damage. The present study used a behaviour change counselling intervention to determine whether education and support was beneficial and cost-effective in improving adherence with glaucoma therapy.

Methods: Patients with glaucoma/ocular hypertension attending a glaucoma clinic and starting treatment with travoprost were approached. Two hundred and eight patients were recruited (102 intervention, 106 control).

Participants were randomised into two groups and adherence was measured over 8 months, using an electronic monitoring device called the Travalert™ Dosing Aid.

(Editor's note: The Travalert™ Dosing Aid from Alcon, for use with travoprost, allows precise recording of the date and time at which the bottle of medication is squeezed to dispense a drop. This also allows measurement of adherence when the medication is prescribed for different dosing schedules within the day.

The control group received standard clinical care, and the intervention group received a novel glaucoma education and motivational support package using behaviour change counselling.

Results: No significant difference in mean [i.e., average] adherence over the monitoring period was identified for the control group and for the intervention group.

Similarly, there was no significant difference in percentage of intraocular pressure reduction for the control group and for the intervention group.

Participants in the intervention group were more satisfied with information about glaucoma medication, compared with the control group.

Conclusions: Adherence with travoprost was high and not further increased by the intervention. Nevertheless, the study demonstrated that provision of information, tailored to the individual, was inexpensive and able to achieve high patient satisfaction with respect to information about glaucoma medication. Measurement of adherence remains problematic, since awareness of study participation may cause a change in participant behaviour..
Thus, scientific and medical research to determine the causes of glaucoma medication non-adherence will continue. You can find a detailed list of helpful tips for taking glaucoma eye drops, including adaptations to help with eye drop administration with vision loss, at the VisionAware website.
Additional Information