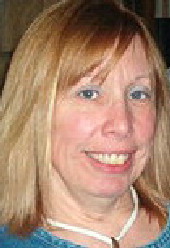 Guest blogger Stephanie Stephens Van has lectured nationally on adapted crafts and leisure activities; adjustment to blindness and low vision; functional vision skills; and activities of daily living. Stephanie is a Vision Rehabilitation Therapist, a Low Vision Therapist, and an adjunct instructor at the Salus University College of Education and Rehabilitation.
She is the author of A Day on the Road with Vision Rehabilitation Therapist Stephanie Stephens Van and Finding and Hiring a Driver When You're Blind or Visually Impaired. Stephanie has a Master's degree in Blind Rehabilitation from Western Michigan University.
Why I'm Impatient
Recently, I went to an outpatient medical facility for routine testing. Since this was the seventh hospital or outpatient facility I've endured this year, this particular process exhausted my last shred of patience. I'm no longer patient when I'm a patient!
Most of the time I'll simply go with the flow. When I don't feel well, I don't want to create a "teachable moment" just because I'm not on my A-game. However, since I have low vision and thus have become an ever-visible advocate for the needs of persons with low vision and blindness, I felt there needed to be some way to address my growing impatience with the medical system's "status quo" regarding patients with disabilities.
After my latest encounter with the health care system, I decided that something had to be done for all of us with vision loss across this great land. I felt confident that I wasn't the only person who has been the recipient of child-like treatment by medical and hospital personnel.
Here's the Problem
In my experience, health care providers range from (a) being overly solicitous to a long-cane-using, sunglass-wearing patient with low vision to (b) appearing not to notice the long-cane-using, sunglass-wearing patient at all. Thus, more often than not, the patient (me, in this case) must resort to yelling, "Wait! Where are you? Where are we going?" as the health care provider sprints down the hall, expecting the patient (me) to follow – and keep up!
My Recent Experience
Usually, I am a patient patient, self-assured and proud of my independence, but my most recent experience truly left me feeling "out of my element."
From the moment I arrived at the medical facility, I was pushed ahead through doors, left in the dust while trying to follow someone down a hall, and – worst of all – had my identity taken away as the nurses and the doctor refused me the chance to sign my own "permission to treat" form prior to the procedure. I even suffered the humiliation of a nurse offering to undress me – which I did not allow, by the way!
I know that medical facilities need to meet their daily quota of patients in order to receive insurance reimbursement. I also understand the significant turnover rates of aides and per-diem staff, along with the long hours required of registered nurses and physicians.
I understand that training all staff in every in-patient and out-patient facility throughout this country may be a bigger-than-possible undertaking. There will always be someone who misses the training provided in hospitals, rehabilitation facilities, and surgery centers because patient coverage is required at all times.
My Potential Solution
All of this got me thinking: What if I could hand a simple form to my health care provider to help him or her understand that patients with vision loss are not deaf, illiterate, or unable to dress/undress or sign our own names? What if I could hand my health care provider a commonsense form that was to the point, not overly wordy or time-consuming, and could provide the blind or visually impaired patient with a modicum of dignity?
Here is what I propose. It may not be perfect, but I believe it's a step in the right direction:
FOR YOU: My Health Care Provider
I have a VISION IMPAIRMENT
I can:
HEAR
THINK
SPEAK
SIGN MY NAME
ASK FOR HELP
I do not like to:
BE GRABBED
LEFT IN UNFAMILIAR SPACES
HAVE PERSONAL TASKS DONE FOR ME
I need you to:
IDENTIFY YOURSELF WHEN ENTERING MY PRESENCE
INFORM ME WHEN YOU ARE LEAVING MY PRESENCE
I am a HUMAN BEING WHO DESERVES DIGNITY.
How To Use It
This sheet can be copied as many times as needed. Take it to your personal care physician's or specialist's office for placement in your medical chart. Hand it to the admissions office when you enter a health facility or hospital. When you're admitted to a hospital, keep it near your bed for the culinary and custodial staff, technicians, and therapists.
After all, sometimes you just get plain tired of explaining everything all the time to everyone.