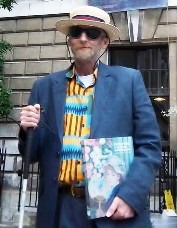 I have always been an avid follower of blind bloggers – and of arts bloggers who are blind, in particular. My favorite has always been Professor Whitestick, whom I featured in a VisionAware Blogroll Love post last year:
Professor Whitestick's Blog
Professor Whitestick is the voice (and considerable intellect) that informs the deeply felt cultural and artistic observations on Professor Whitestick's Blog. The Professor describes himself and his reasons for blogging as follows:
I am blind and live in London. I get about with my white stick and with the help of Transport for London and the general public… I'm a normal blind person and find joy in the kindness of strangers and some sadness at the inability of acquaintances to refrain from aspects of non-verbal communication. A nod is as good as a wink to a blind man. Languages: Deutsch, Français, bagan Gaidhlig [beginning Gaelic] and some Khaleeji Arabic!
I'm always intrigued with the Professor's travels through London's museums, and I particularly enjoyed his latest guided tour through the Sterling and Francine Clark Art Institute's collection of Impressionists at the Royal Academy of Arts, which he narrated beautifully in Royal Academy: From Paris – A Taste for Impressionism. In this passage, he describes the quality of the audio description that accompanied the exhibit:
I listened to … a description of some roses in a glass vase by Manet. I mentioned to Stephen that there was not a wasted adjective in the description and that I knew that the leaves had not been cut from the rose stems in the transparent vase. I could not see this detail, though [I] could make out the vase and roses themselves. There are many still life compositions and some of them were quite clearly lined, for example a dish of apples forming a pyramid above a horizontal line formed by a table.

On the evening of the 20 July I had another chance to visit the exhibition. On this occasion it was at 9 pm with subdued lighting in the galleries. It's amazing the difference lighting makes. There was much less definition of the colour, but greater definition of the lines and shapes of some of the art works, especially the sculpture.
It seems the Professor and I have much in common. I grew up near the Sterling and Francine Clark Art Institute, and I, too, enjoy art; in fact, on the VisionAware website, I explored the lives of a number of well-known painters, including Monet and Degas, who experienced adult-onset vision loss, yet continued on with the creative process. I guess you could say that the Professor and I are kindred spirits, in a sense. You can also find Professor Whitestick on Twitter @profwhitestick. Thank you, Professor!
Professor Whitestick's Last Post
I took note, however, when the prolific Professor's most recent blog post, dated November 28, 2012, and Twitter updates, dated November 29, 2012, remained unchanged.
Last week, my fears were confirmed when I read the following story in the Hampstead and Highgate Express about a blind man who died after an assault on his doorstep in West Hampstead. It was Douglas Hutchison, also known as Professor Whitestick:
Tributes have been paid to a man – affectionately known as "Professor Whitestick" – who died two weeks after he was allegedly attacked on his doorstep in West Hampstead.

Partially sighted Douglas Hutchison, who walked with a white cane, was on his way home on the evening of November 29, 2012 when he was involved in an incident outside his front door in Goldhurst Terrace.

He died in hospital from head injuries last Thursday, two weeks after an 18-year-old man appeared in court charged with his attempted murder.

Known to many in the community by his witty moniker, Mr. Hutchison was a prolific arts blogger. His passion was making art more accessible to the blind and his cultural knowledge was unmatched, as well as his love of colourful hats.

"He always had a hat of some sort," said Toby Davey, deputy director of VocalEyes, who came to know Mr. Hutchison through their events. "He was always so approachable and just a really nice guy. He came to everything. A lot of people knew him through tweeting and his blog posts."

Neighbour Jo Gold, 51, who saw Mr. Hutchison moments before the alleged assault, said he was wearing his trademark white Panama hat that day.

Mr. Hutchison offered all kinds of helpful advice on Twitter @profwhitestick, from philosophical musings on the Dutch masters to practical advice for people with eyesight problems.

Six days before his fatal injury as heavy rain fell around the country, Mr. Hutchison wrote: "Take care out there today – in the streets. Lots of mushy leaves and detached recycling bags to add to your journey."

He also joked on his blog he liked old TV programmes but preferred the radio because "the pictures are better."
Farewell, Professor Whitestick
Life changes in an instant. Farewell, Professor Whitestick and rest in peace. You will be missed. Thank you for making the arts world – and my world – more hopeful, accessible, and utterly, deeply human.