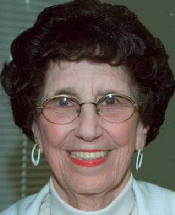 "We don't consider anyone blind who has usable vision. Ninety percent of the people who are considered blind aren't completely blind; they are hard-of-seeing." ~ Dr. Lorraine Marchi
Excerpted from Dr. Marchi's obituaries in The New York Times and the San Francisco Chronicle:
Dr. Lorraine June Fastie Marchi died in San Francisco on February 20, 2011, surrounded by family. Dr. Marchi was a fourth-generation San Franciscan whose great-grandmother crossed the plains in a covered wagon from New York City. She was an Alumna of Lowell (California) High School, Stanford University, and the University of California at Berkeley. To Rest is to Rust is the title of her upcoming memoirs as Founder and CEO of National Association for Visually Handicapped (NAVH).

In 1948, Dr. Marchi discovered the need to address the gap in services for people who were not classified as blind but did not have "normal" vision. For over 55 years, Dr. Marchi tirelessly dedicated herself to ensure that a wide variety of services would be available to people with low vision, whom she trademarked "hard of seeing." Her mission in life was to help the "hard of seeing" overcome the challenge of vision impairment through educational materials; support groups; and counseling individuals, family members, and doctors.

Recognized by 3M as an award-winning master printer, she used her acquired expertise to educate major publishers on the standards required to meet the needs of the "hard of seeing." In many large print books printed today, publishers proudly display the NAVH Seal of Approval. Dr. Marchi has been the recipient of numerous awards and honors. In 1957, she was awarded the San Francisco Examiner's Phoebe Hearst Award. In 2006, she received the Special Recognition Award from the American Academy of Ophthalmology. She is also the recipient of the 2009 Jefferson Award for public service.

In 2010, Lighthouse International, located in New York City, acquired NAVH and expanded their social services program with the addition of the Dr. Lorraine Marchi/NAVH Client Assistance Program. On January 11, 2011, Dr. Marchi made her final public appearance at a Lighthouse International event honoring her and dedicating the opening of the new program to her legacy.
Despite her many awards and achievements, however, the true spirit of Dr. Marchi's life of service was captured perfectly by Suzannah Lessard in this February 26, 1979 Talk of Town profile in The New Yorker (subscription required), entitled simply Lorraine Marchi:
Mrs. Lorraine Marchi has the air of a person whose powers are engaged without reservation. She wears bright, simple clothes. Sitting with resolute calm amid the energetic disorder of her office, which is above a furniture reupholsterer in a workaday neighborhood, … she looks like a tropical bird. This is partly because of the brightness of her clothes, but it is also because of her manifestly strong personality. There is nothing deflected or ambiguous about Mrs. Marchi. Nor is there about the course of her lifework. It is ambiguous, hidden, and slyly complex: it is the condition of people who have partial vision.

Lorraine Marchi got into all this through her eldest son, Gene, Jr., who, because of a pigment deficiency called albinism, has only peripheral vision. When Gene was in the first grade, in San Francisco in 1951, his parents discovered that he was considered "legally blind." On the recommendation of an expert, the Marchis sent Gene to a school for the blind, but after a month, they realized that, since he wasn't blind, this made no sense and could be disastrous psychologically. The alternative was something called a "sight-saving class," but the condition it was intended to deal with was so little understood – except by the special teachers – that the school board didn't even supply books in large type.

Here, Mrs. Marchi diverged sharply from the ranks of [parents of children with partial sight]. She called a meeting of San Francisco health officials, ophthalmologists, members of civic organizations, and educators, to which about 50 people came. Out of the meeting a committee was formed to print books in large type and distribute them. Mrs. Marchi herself printed the books, on a press that the local hospital helped her use. Two and a half years later, she persuaded a local organization to buy her a press, which she installed in the basement of her home. By then, she had attracted enough volunteers … to expand the operation considerably, and thus what is today the National Association for Visually Handicapped was born.
Susan Olivo, Executive Director of the Reader's Digest Partners for Sight Foundation, remembers Dr. Marchi's professionalism and kindness:
I first met Lorraine in 1994, when I was very new to the field of low vision. In 2000 she helped my mother, who has low vision from diabetic retinopathy. When I was trying to figure out where to take my mother for some services, NAVH came to mind right away. I knew it was the perfect "atmosphere" for her. My mother just wanted to be able to read and use email. She felt right at home in the welcoming environment of NAVH's "Fun Room," where she got to try out all kinds of optical and non-optical low vision devices. What my mother most appreciated was that Lorraine probably spent about an hour with her, explaining what was going on with her vision in terms that mom could understand and digest.

When we left NAVH offices that day with a new pair of magnifying reading glasses, mom was the happiest I had seen her in a long time. She even went back to NAVH on other occasions and made sure to introduce my father to Lorraine. My father and Lorraine hit it off big time. I admired Lorraine's energy. She always reminded me of her motto: "To rest is to rust." And she practiced what she preached. I am proud to say that our large print publication, Reader's Digest Select Editions Large Type, carries the NAVH Seal of Approval.
You can also listen to A Conversation with Lorraine Marchi (audio file) from June 14, 2007 at MD Support. Thank you, Dr. Marchi, for all you've done – and for what your tireless good works will undoubtedly continue to do.