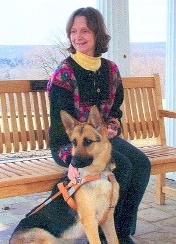 Novice at Public Speaking
When I began speaking publicly about my life and my book, Out of the Whirlpool, a Memoir of Remorse and Reconciliation, I really didn't have a clue what I was doing. My first time out was before a very small audience, most of whom I knew. I had planned it this way. My book begins with the account of my suicide attempt at the age of twenty-six which is the cause of my blindness. It's a pretty heavy topic and I wanted to start small. That first talk was before twelve or fifteen people. Since then I've spoken to audiences as large as 100 people. And I've learned a lot.
Easy Speaking to the Blind
I was a professional in the field of vision rehabilitation services for over twenty years. I've been blind for over thirty years. Getting before audiences of blind rehab professionals and blind consumers has been relatively easy for me. Without a doubt, the most fun I've had as a public speaker has been before audiences of people who are blind or visually impaired. In July of last year I was the banquet speaker at the Guide Dog Users, Inc. annual convention. That was probably the first time I "performed" my talk rather than just delivering it. The audience was very responsive and it felt like I played them, sort of like playing an instrument. I got them to laugh, I got them to cry, it was an experience unlike anything I've ever done before.
In October I was the banquet speaker at the American Council of the Blind of Maine's annual convention. That talk didn't go as well as the one in July. I'm pretty sure it was because I knew almost everybody in the room. Lesson? When you're friends with just about everybody in the room, don't perform as much but have an intimate conversation as with friends.
Speaking Challenges
The next time out was before clinical staff, blind veterans and blind rehab professionals at the Augusta Veterans Affairs medical center. Man, was that a difficult audience! I got very little feedback as I spoke and I didn't have a clue, really, how my talk was being received. After my formal presentation I was answering questions and I got pretty passionate about being open about talking about depression and suicidal thinking. That talk was in conjunction with a VA suicide prevention coordinator. The person who had invited me interrupted my passionate discussion on being open about talking about suicide and asked the suicide prevention coordinator to take over. When I sat down next to my husband he whispered, "Think you might have been getting a little carried away?" I nearly panicked. Then the suicide prevention coordinator said, "Anything I have to say to you pales in comparison to what you have just heard," Whew.
Branching Out Beyond Blind Audiences
I'm continuing to branch out to other kinds of audiences. In April I spoke to a suicide prevention organization that got started recently in the suburb where I grew up. I have to admit that it was pretty terrifying to stand up in front of people that I had grown up with for the first time. I did okay though.
Last week I spoke to staff at an eating disorder treatment facility. It was a very small group. Thank goodness, I had learned from earlier experiences to take a more intimate, less flashy, less "performance" type of approach. Although it might have been the smallest group yet, I loved the audience. And it was a very different experience from speaking to blind rehab professionals or blind consumer groups. Almost nobody knew anything about blindness or how blind people do stuff. They had tons of questions about "skills of blindness" and my Seeing Eye dog, Kismet.
Beginning My Speech
Just to give you an idea of what it's like to branch out to these different audiences, here's how I began that talk. "Blindness is a frightening thing. In a recent survey, people said they feared blindness less than only two other things, cancer and AIDS. In March, The New York Times ran a piece under the headline, 'Suicide Prevention Sheds Long Standing Taboo, Talking About Attempts.' I'm not sure what it's like now but when I was bulimic nobody was talking about eating disorders. It just wasn't done. So here I am, a blind woman who survived a suicide attempt and was bulimic for thirteen years. What the heck, let's cram as many frightening, taboo topics as possible into one talk!"
Speaking and Loving It
I'm sure my talks could have been more polished had I taken the time to learn more about public speaking before I just got out there and had a go of it. I've learned a lot and I've had some disappointing experiences. But I'm out there doing it and having fun. I'll close with two reactions from members of my audiences. After speaking at the Birmingham Veterans Affairs medical center, a veteran told me he called his son who he knew was struggling with depression. The upshot of the discussion is that his son saw a therapist that very day. After my talk at the Americas Guide Dog conference in March, a member of the audience told me that, for the first time since his brother took his life fourty years ago, he had peace. He told me that he now knew that he wasn't responsible for his brother's death, that he could not have prevented it, and he was finally able to be at peace.
Transcript and Audio of Part of Recent Talk
Here's a transcript from the end of my talk at the America's Guide Dog conference in March. "In those early days I didn't see how I could go on. Blindness seemed an insurmountable obstacle. But I did go on. Sometimes ploddingly, just putting one foot in front of the other, each step a struggle, yet each step taking me closer to being a whole person. And today, with a man who loves and believes in me walking beside me, with a dog that I love and believe in guiding every step of the way, I once again climb mountains. Thank you."
Share Your Thoughts
Do you feel comfortable talking before groups of people? Have you given presentations where you talked openly about your visual impairment? Would you like to strengthen your public speaking skills? Share your thoughts about public speaking in the section below.