Guest blogger Jeremiah Taylor is a dynamic sales professional, motivational speaker, and serious movie buff. Life has not always been easy for Jeremiah, however.
In 1999, he became suddenly and totally blind as a result of complications during routine back surgery. You can read more about Jeremiah's (and his wife Jo-Ann's) long, steady journey – from sudden blindness through rehabilitation to full employment – at the VisionAware website.
"Going to the movies," Jeremiah says, "is not just the movie! It's a night out with friends and family, hanging out together, enjoying conversations in the car or on the train as you travel to the theater. Movie night is pure Americana! Just because I can't experience the entire event visually doesn't mean I can't be a part of it!"
Descriptive Audio and the Sony Entertainment Access System
During the past year, Jeremiah and Jo-Ann have been "test driving" the new Sony Entertainment Access System, which provides descriptive video service (or descriptive audio narration) for blind and visually impaired film-goers, as well as closed-captioning and volume control for deaf and hearing impaired audiences.
Descriptive video service (DVS) provides audio narration of key visual elements inserted into natural pauses in the film dialogue. Key visual elements are those cinematic features that viewers with vision loss would ordinarily miss and include actions, costumes, gestures, facial expressions, scene changes, and onscreen text.
The Sony Entertainment Access System (explained and demonstrated in this YouTube video) is available at approximately 6,000 Regal Cinemas since mid-2013. The service can be accessed on any film for which captions and descriptive text have been included with the digital print. You can check online at the Regal Cinema website for the availability of the system in your local area.
For deaf patrons, the system includes lightweight glasses that project holographic subtitles on the lens, keeping the captions within the wearer's direct line of sight. The system also provides volume control for patrons with hearing impairments. For patrons who are blind or have low vision, the system includes headphones that provide descriptive audio narration.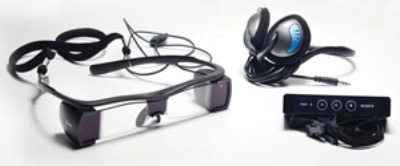 The Sony Entertainment Access System
Jeremiah, Sony, and "Unbroken"
Following is Jeremiah's first-person experience using the Sony system at a showing of the award-winning film Unbroken, directed by Angelina Jolie and starring Jack O'Connell and Takamasa Ishihara.
Unbroken, which is based upon Laura Hillenbrand's 2010 novel, tells the story of 1936 Olympian Louis Zamperini, who also served as an Army Air Corps bombardier during WWII. After a surviving a near-fatal plane crash during a bombing mission in 1943, Zamperini spent 47 days in a life raft with two fellow crewmen. He was captured by the Japanese Navy and sent to a prisoner-of-war camp, where he suffered unceasing torture until his liberation by Allied forces in 1945.
(Please note that VisionAware advises viewer discretion. Unbroken has been rated "PG-13" by the Motion Picture Association of America (MPAA) for scenes that portray war violence, including intense sequences of brutality. It is not recommended for viewers under the age of 15.)
Since I enjoyed reading Unbroken last year, I was looking forward to the movie. Based on the book, I knew most of the story would be visual with little dialogue. Parts of the story take place in a raft, stranded on the ocean, or being brutalized in the Japanese prison camps.

Over the years, I've seen hundreds of movies in theaters and on TV. Usually, I am able to follow the story and enjoy the movie; however, I avoid going to the theater if the reviews suggest the movie has little dialogue and relies on action or visual scenes to support the story. I've learned that these types of movies cause my companions to become uncomfortable because they are concerned that either I can't follow the story or I'm bored.

Well, Unbroken was well-described! Yes, I was correct that there was little dialogue, but the narration was terrific! I have no doubt that I enjoyed the movie just as much as my sighted companions.

Through the excellent narration, I was able to appreciate the action scenes of the characters being stranded in a raft, flying bombing missions, surviving a crash in the ocean, and feeling the pain experienced by the prisoners due to the brutal treatment they received in the Japanese prison camps.

The Regal Theaters are doing an amazing job of bringing described movies to our local theaters. If you haven't yet experienced a described movie or haven't had the pleasure of a dinner and movie night out with your friends, get to a Regal Theater and support this great program!
Additional Information