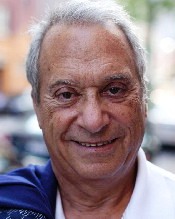 Going Blind: Coming out of the Dark about Vision Loss is a documentary film in which producer/director Joseph Lovett documents his own experience of gradual vision loss from glaucoma and his sometimes-difficult journey through the "secret world," as he calls it, of vision rehabilitation.
Going Blind also tells the personal stories of everyday people who are living, coping, and ultimately thriving with blindness and low vision.
In VisionAware's interview with Joe when Going Blind debuted, he had this to say about the damning phrase "There's nothing more than can be done," which – unfortunately – adults with vision loss continue to hear all too frequently from their physicians and eye care professionals:
It seems to me that the needs of so many people living on the spectrum of vision loss are not being met. Ophthalmologists are generally not sending people with vision loss to vision rehabilitation services, because they seem to see it as a professional failure.

You know, prior to producing Going Blind, the world of blindness and vision rehabilitation was a secret world to me – one I knew nothing about. Even after making the film, I don't pretend to be an expert, but my understanding about this area is that information about it is woefully inadequate. The biggest concern I have is that not enough people are being referred for vision rehabilitation services.
Going Blind and Facebook: There is Hope and Help "Out There"
Several weeks ago, Joe posed the following question to his Facebook friends and followers: "Can you please share your own tips on dealing with low vision and vision loss?"
Here are the responses Joe received, which illustrate the wide range of coping strategies that people use as they struggle with the early stages of adult-onset vision loss:
More Hope: The VisionAware "Getting Started" Kit for People New to Vision Loss
Over 20 million Americans report trouble seeing, and that number is on the rise. Coping with vision loss can feel overwhelming and stressful, but when armed with the right information, it's possible to face the future with confidence.
The VisionAware™ Getting Started Kit was created to provide hope and help with handling the challenges of vision loss, while connecting you and your family members with specialized products and services to assist with everyday life:
The "Getting Started" kit is also available in a plain text version to print out in your preferred font size.
As always, we welcome your feedback and suggestions. Please email us at visionaware@afb.net.