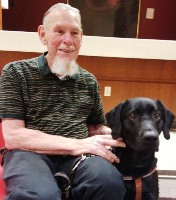 Gil Johnson is a talented woodworker and the author of Gil's Guide to Woodworking, Gil's Guide to Home Repairs and Parenting or Grandparenting with Vision Loss on the VisionAware website.
Earlier this year, Gil kept a diary during his time at The Seeing Eye, Inc., in Morristown, New Jersey, where he learned to work with his new guide dog, a black Labrador named Harley (pictured with Gil at left).
In this week's update, Gil (and Harley!) talk about their joint follow-up training, conducted by The Seeing Eye's Lukas Franck at Gil's home in California.
Harley Speaks: Learning to Be a Better Guide Dog
To Dad (Gil) from Harley: I hardly know where to begin! Lukas, the trainer who came to visit us last week, worked both of us pretty hard! He taught me – and you, I hope – some good ways to help me be an even a better guide dog than I already am.
My Food
I like the new food you give me – but I still think you should let me have more. I've noticed that you give me more food in the morning than you did before, but less in the evening. I think they should be the same. I know Lukas suggested this so that I would relieve myself less often when we're traveling, but still – I'm always hungry!
(And by the way, I did catch up a bit yesterday on food when I snagged those delicious buns that Mom put on the washing machine downstairs. They were easy to get to and I ate them really fast so you wouldn't take them away from me. Mom found the empty bag they were in; otherwise, I might have gotten away with it. I also notice you put less water in my bowl, but if I need more, I know where I can find some.)
Our Training with Lukas
I also want to talk about the training we had for two days last week. I know you have been trying to help me learn something special about walking with you. I think it has to do with how fast I naturally walk, which seems to be a bit faster than you want to go, although you walk along at a pretty good rate.
When I'm walking faster than you, I also pull harder on the harness, which stretches your arm out further than you like. You use the command "settle" a lot and I try to slow down, but then I forget. So Lukas showed you a few ways to help me remember.
One way is to rhythmically slide the handle for my harness back and forth where it attaches to my collar. This does remind me to go at a slightly slower pace, but when I see other people – and dogs, of course – I speed up because I want to go say hello to them. When I do that, you remind me not to, by saying "leave it" and tugging lightly on my leash.
Lukas also told you to use the "Gentle Leader" head collar more than you have and to connect one end of my leash (or sometimes both ends) to a ring just under my chin. When you put that on, I "know" you really mean business. I am trying very hard to do what you want and I hear you telling Mom and other people that I am doing much better. When you praise me, that makes me happy.
Learning to Be Consistent
Lukas also went with us into a couple of stores with narrow aisles and I think I now know what you mean when you say "follow." I really remember better when you have that strap device [i.e., the Gentle Leader head collar] across the bridge of my nose and hooked behind my ears, but I don't like it much and I am happy when you take it off.
Another thing Lukas told you to be more consistent about is making sure I stop at every street corner, even when I know we usually turn there. Now, if I forget to stop at a street crossing, you make me turn around, go back a short distance, and walk up to the corner again. I hate that, but it does remind me that I am supposed to stop at every street.
We spent lots of time using that "clicker" thing you have attached to my harness. I think the game is for me to find a pole with a button on it [i.e., a street crossing signal]. When I do, you click that thing and give me a treat. We practiced that a lot at a couple of places and when we went back the next day, I took you right to that pole. You petted and praised me a lot, and gave me a treat. (Ever since Lukas left, however, you haven't had the treats with you, so you don't give me anything but praise.)
Editor's note: Clicker training is a method for training the dog to find a specific target, such as a door knob, signal light button, elevator button, or chair, for example. It is based on the Pavlovian experiments of stimulus/response. During training, the dog is asked to touch a target with his or her nose. This is followed by making a clicking sound with a small device designed for that purpose and immediately rewarding the dog with a small food treat.
Gil's Turn: Training Was a Confidence-Booster
To Harley from Dad (Gil): You did a good job of describing the two days of training we got from Lukas. It certainly helped me and I know you learned some things, too. But you still have trouble remembering what you learned sometimes, and that is why I have to occasionally put on the Gentle Leader.
I have to admit that before Lukas came, I wasn't sure you and I could learn to be a safe and graceful team, but now I have a lot more confidence that we can. And as you mature, I think you will not always react on your instincts as much as you do now.
All of us very much like having you live with us, Harley. You're a lovable, playful, and gentle member of our family.
A Last Word from Harley
PS: Just to remind you, my second birthday is coming up on October 31. Shouldn't you give me a birthday present? I think some extra food would be good, like some juicy meat or delicious cake!