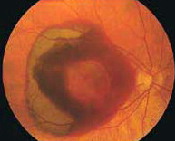 Anatomy of the EYLEA™ Drug Approval Process
In February 2011, Regeneron Pharmaceuticals, Inc. announced that the company had submitted a Biologics License Application (BLA) to the United States Food and Drug Administration (FDA) for Regeneron's VEGF Trap-Eye (now called EYLEA™), a potential injectable drug treatment for wet age-related macular degeneration (AMD).
The FDA next announced that its Advisory Committee met on June 17, 2011 to review Regeneron's VEGF Trap-Eye application. The goal for a standard review time from submission to FDA action is ten months.
Regeneron's submission included a request for Priority Review, which shortened the FDA's targeted goal for review time to six months. FDA Priority Review status is granted to therapies that offer major advances in treatment or provide a treatment where no adequate therapy exists.
The VEGF Trap-Eye/EYLEA™ Clinical Trial History
Regeneron's VEGF Trap-Eye application to the FDA was based on positive results from two Phase III clinical trials: the North American VIEW 1 trial and the global VIEW 2 trial.
The VIEW (VEGF Trap-Eye: Investigation of Efficacy and Safety in Wet AMD) program consists of two randomized, double-blind, Phase III clinical trials.
The VIEW 1 study, conducted in the United States and Canada, included 1,217 patients. The VIEW 2 study, conducted in Europe, Asia Pacific, Japan, and Latin America, included 1,240 patients.
At the conclusion of those clinical trials, VEGF Trap-Eye performed as well as Lucentis (the current standard of FDA-approved care for wet AMD), even when VEGF Trap-Eye was administered every two months versus every month for Lucentis.
The Result: FDA Approves EYLEA™ (Formerly VEGF Trap-Eye) on November 18, 2011
EYLEA™ (generic name aflibercept) is regarded as an important new competitor to Lucentis in several important ways:
EYLEA is administered once every two months after three initial once-a-month injections. Lucentis is administered once every month, although some patients may require treatment only once every three months.
EYLEA will cost $1,850 per treatment, while the price of Lucentis is approximately $2,000.
(Note: Avastin is a drug that is FDA-approved since 2004 for intravenous use in colorectal cancer. It is also used on an "off-label" basis (i.e., via eye injection) to treat wet AMD. The cost per treatment with Avastin is approximately $50.
At present, all of these drugs are administered by injection directly into the eye after the surface has been numbed. The needle is very small and is inserted near the corner of the eye — not the center. During the injection procedure, the doctor will ask the patient to look in the opposite direction to expose the injection site, which also allows the patient to avoid seeing the needle.
Cost-Effectiveness
WebMD has noted that a number of health insurers, including Medicare, may prefer EYLEA's cost-effectiveness. The drug's reduced dosage schedule will require less frequent follow-up treatments, which can range from $250 to $300 per office visit, in addition to the cost of the drug.
EYLEA Side Effects
Although the FDA has ruled that EYLEA's benefits outweigh its risks, the drug can cause a number of side effects, including bleeding at the injection site, eye pain, cataracts, floaters, and elevated eye pressure. VisionAware will provide updates on EYLEA™ as they become available.