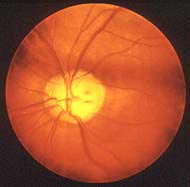 I was pleased to read The direction of research into visual disability and quality of life in glaucoma, an insightful article that addresses quality of life (QoL) and visual impairment, in the online edition of BMC Ophthalmology.
The authors are Fiona C. Glen, David P. Crabb, and David F. Garway-Heath, affiliated with the Department of Optometry and Visual Science, City University London; Moorfields Eye Hospital, London; and the University College London (UCL) Institute of Ophthalmology.
BMC Ophthalmology is an open access journal that publishes original peer-reviewed research in all aspects of the prevention, diagnosis, and management of eye disorders, as well as public health research and genetics.
About the Study
The authors open with the following statement:
Why study quality of life and disability in glaucoma? Definitions of visual impairment centre [sic] largely on the application of numerical values to classify disease state and pay less attention to what this means in terms of the individual and the types of disability they may face as a result of visual loss.

For instance, whilst clinical measures of visual function, such as visual fields, facilitate the monitoring of disease severity in glaucoma, they offer less insight into the perceived or actual impact of the disease on the individual as they go about everyday tasks.

Yet, this information will be highly valued by the patient: How will the disease impact on their quality of life? How will their visual loss affect them psychologically? Will they still be able to read or drive? Will they be able to recognise [sic] their loved ones?
Glaucoma and Quality of Life
Here is additional information about this new quality-of-life study from the article abstract:
The purpose of this study is to investigate the amount of published knowledge in quality of life and visual disability studies for glaucoma, and make comparisons with similar research in other chronic conditions.

[The research method involved] a systematic literature search of [several major medical databases]. Title searches for glaucoma and six other … chronic diseases were entered alongside a selection of keywords chosen to capture studies focusing on QoL and everyday task ability.

Results: Fifteen years ago, there were no published studies relating to the impact of glaucoma on QoL but by 2009 this had risen to 1.2% of all glaucoma articles. The number of papers relating to QoL as a proportion of all papers in glaucoma in the past 10 years (0.6%) is smaller than for age-related macular degeneration (AMD) and some other disabling chronic diseases.

Conclusion: QoL studies in glaucoma are increasing in number but represent a tiny minority of the total publications in glaucoma research. There are fewer QoL articles in glaucoma compared to some other disabling chronic conditions. The majority of QoL articles in glaucoma research use questionnaires; performance-based measures of visual disability may offer an additional method of determining how the disease impacts on QoL.
As some readers may know, in addition to my work at VisionAware, I am also an associate editor of the Journal of Visual Impairment & Blindness (JVIB), "the premier international, interdisciplinary journal of record on blindness and visual impairment."
As a JVIB editor, I am acutely aware of the importance of quality-of-life research, both for the field and for individuals/families who are affected by blindness and visual impairment. I applaud the authors and urge you to read their insightful and important research article in its entirety.