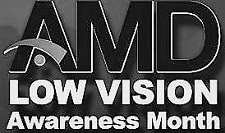 As we age, our eyes change too. In most cases, regular eyeglasses or contact lenses can correct many of these vision changes.
However, if your eye doctor tells you that your vision cannot be fully corrected with ordinary prescription glasses, medication, or surgery and you still have some usable vision, you have what is called "low vision."
What Is Low Vision?
Having low vision means that even with regular glasses, contact lenses, medication, or surgery, you may find it difficult to perform everyday tasks, such as reading your mail, shopping, preparing meals, and signing your name.
One way to address low vision is through the use of low vision optical devices, such as magnifiers and magnifying reading glasses and small telescopes, and electronic magnifiers and magnifying systems, including electronic desktop and portable digital magnifiers. All of these devices should be prescribed by an ophthalmologist or optometrist who specializes in low vision.
But there is yet another category of low vision devices, called non-optical devices, that can also be helpful for people who have low vision.
What Are Low Vision Non-Optical Devices?
Low vision non-optical devices can include a number of adaptations, such as reading stands, supplemental lighting, absorptive sunglasses, typoscopes, and tactile locator dots (all explained below). They are often recommended as part of a low vision examination, and can be used in combination with magnifiers and other low vision optical devices that can help with reading and a variety of tasks.
Flexible-Arm Task Lamps
Proper lighting is critical for good vision. A person age 65 or older may need much more light to read than does a 10-year-old – by some estimates, between four and fifteen times more light. And importantly, a person with low vision may need three times as much light to read as a person their age who does not have a vision loss. Therefore, flexible-arm desk or floor task lamps are perhaps the most helpful and important non-optical devices for many people.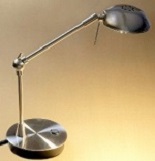 Some advantages of flexible-arm task lamps are:
They are obtained easily at a variety of stores, catalogs, or online.
They can be relatively inexpensive.
They can be adjusted to a variety of settings and tasks.
Some disadvantages of flexible-arm task lamps are:
Some lamps may become very hot, so be careful not to touch them.
It's important to position the light so that it is not shining directly into your eyes and creating glare.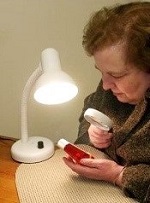 There are many types of lamps: incandescent, halogen, fluorescent, LED, and full spectrum. Try different lamps to see what you prefer. Try to choose one that is a low "Kelvin" rating – under 5,000 Kelvin (K) – so that it does not emit ultraviolet or blue light. You can read more about the different types of light at Lighting for Reading at VisionAware.org.
Perhaps even more important than the type of light is the position of the light—particularly the distance from the lamp to the task you are doing or to your eye. Bring the lamp closer to help maximize the light delivered to the task and your eye.
For more information about helpful lighting for reading, you can view Positioning a Light Source and Minimizing Glare in the VisionAware Better Lighting for Better Sight video series.
Reading Stands
Reading stands can help with both reading and writing, by allowing you to position your reading and writing materials more effectively. Using a reading stand when you read or write with a flexible-arm task lamp and your stand magnifier or other optical devices will increase your success dramatically.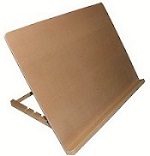 Some advantages of reading stands are:
They bring reading and writing materials closer to your eye, thus helping to achieve "relative distance" magnification: enlarging letters and words by bringing them closer.
They help you see a wider field of view, or more lines and text at a time, because the image is closer to your eye.
They allow better illumination, because you are not bending over to read, which can block out the light.
They provide better posture and ergonomics, which leads to less fatigue and strain on your neck and back.
Absorptive Sunglasses
Glare is a major problem and concern for many persons with low vision. Absorptive sunglasses help filter out bothersome glare and harmful light rays. Most sunglasses now block out ultraviolet light. However, to block out "blue" light, which causes concern for macular degeneration and other eye conditions, sunglasses need to have some amount of yellow in them.
The colors of sunglasses that contain some yellow and block out blue light are: amber, orange, amber/orange combination, plum, and yellow. Grey and green-grey colored sunglasses do not block out any blue light. Grey and green-grey sunglasses also do not provide as good contrast as do amber, orange, plum, and yellow.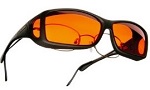 Some advantages of absorptive sunglasses are:
They can reduce bothersome glare, enhance or clarify vision in the sunlight, ease eye fatigue, and protect the eyes from injuries, such as walking into a low-hanging branch.
They block out harmful light rays. Most block out ultraviolet (UV) light, while amber, orange, plum, and yellow-colored sunglasses also block out blue light.
Amber, orange, plum, and yellow-colored sunglasses also help enhance or increase contrast.
Yellow-colored sunglasses are helpful for use indoors (reading, writing, doing handicrafts, using a computer) to reduce glare and enhance contrast.
They are generally inexpensive and easy to obtain.
They can be fitted over regular glasses, and they are available in clip-on or insert styles.
Please note: Clip-ons and inserts are usually not as effective as fit-over or wrap-around styles, since they do not block light from the top and sides.
It is recommended that you try on a range of colors and styles during the low vision examination to determine which color or colors work best for you.
Typoscopes
A typoscope is an inexpensive piece of durable black plastic with a cutout opening that can help you focus on the line you are reading.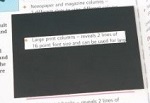 Some advantages of typoscopes are:
They can help you follow, or track, along the reading line; keep your place on the line; and track back to the beginning of the next line.
A person who has had a stroke and resultant hemianopia (loss of half of the visual field) can benefit from a typoscope when reading.
They can help draw your attention to where to look on the page.
They provide excellent contrast with the reading page.
A typoscope can also be used as a signature guide, especially for people with longer names. For more information about typoscopes, handwriting, and other types of signature guides, see Signing Your Name and Handwriting If You are Blind or Have Low Vision at VisionAware.org. You can find typoscopes, along with a variety of rigid and flexible signature guides in Sources of Products for Independent Living at VisionAware.org.
Locator or Bump Dots
Locator or bump dots are black, red, orange, and yellow raised foam or plastic dots with adhesive backing that are used to mark appliances, dials, computers, and keyboards.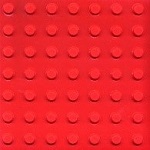 Some advantages of locator or bump dots are:
They are highly visible for people with low vision.
They are also highly tactile.
Because they come in various sizes and shapes (usually round or square), touch dots can help locate a specific setting on a dial, control, or device.
They can be used on ovens and stoves, washer and dryer dials, thermostats, microwaves, phones, calculators, and countless other applications.
For more information about additional labeling and marking techniques, see Labeling and Marking at VisionAware.org. You can find locator dots, along with a variety of other helpful marking materials, at Find Labeling Products and Sources of Products for Independent Living on this website.
Colored Acetate Sheets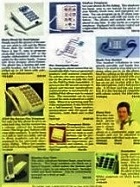 When placed on the page, a translucent acetate sheet—especially yellow—can enhance the contrast between the print and background, making words and letters appear darker and easier to read.
A yellow acetate sheet can make newsprint easier to read by increasing the contrast and making the print "stand out" from the background.
The yellow acetate sheet fits directly over a letter-sized sheet of paper and can also reduce glare on the reading page.
They are generally inexpensive and are readily available at stationery, office supply, and "big box" stores.
Related Information