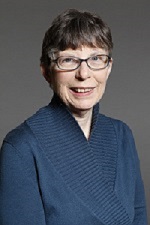 Guest blogger Priscilla Rogers, Ph.D. is the Program Manager for VisionAware and co-author of Aging and Vision Loss: A Handbook for Families.
Her other works include Self-Advocacy Skills Training for Older Individuals Who Are Visually Impaired and Solutions for Success: A Training Manual for Working with Older People Who Are Visually Impaired. She has an M.A. degree in gerontology and a Ph.D. in special education with an emphasis in vision and aging.
About the New VisionConnect™ App
The American Foundation for the Blind (AFB) has just released a free, accessible iOS app: VisionConnect™, available for download. VisionConnect™ provides a searchable directory of services available in the US and Canada for children and adults who are blind or visually impaired. You can use the app to find services such as computer and technology training, daily living skills training, braille and reading instruction, dog guide training, employment services, low vision services, and more.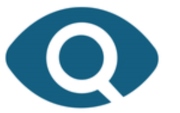 Individuals who are blind or have low vision can use this accessible app themselves to find resources and tips for living independently with visual impairment, including information on products and technology, personal stories about how people live everyday with macular degeneration or glaucoma, and advice on maintaining employment. The resources on VisionAware are used heavily in the app.
Health care providers can use the app to create customized lists of rehabilitation service providers that they can email to their clients, and provide their patients with home survey checklists, ideas for managing their medications, and more.
Key Features of the VisionConnect™ App
Search
Select an age group: all ages, children, or adults, including seniors.
Select a service category: advocacy, assistive products, braille and reading instruction, etc.
Select a state, zip code, or distance from service, or
Select an organization by name.
Customization
Save your search results as lists; for example, "Low Vision Services in Florida."
E-mail your lists to family members, patients or consumers, or health care providers.
Resources
Select an audience: information for doctors, children, adults, or seniors.
Drill down into resources such as tips for modifying your home, accessible products, medication management, a Getting Started Kit, information for veterans, stories about people living and working with visual impairment, and more.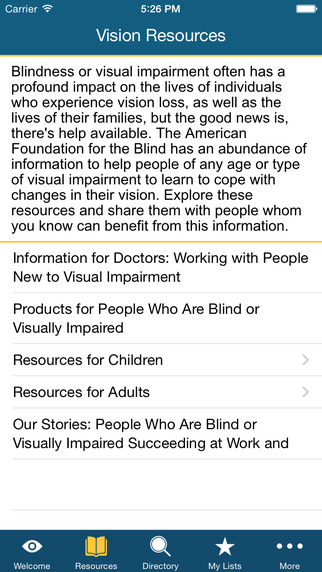 A screenshot of the VisionConnect™ app
Why Did AFB Launch This App?
According to the 2012 National Health Interview Survey, 20.6 million adults in the United States have trouble seeing even with corrective lenses, or have low vision, or are totally blind. A very high percentage of these individuals are older, and this number is growing as a result of an aging population experiencing age-related eye conditions such as macular degeneration. Far too frequently, individuals who lose vision and their families are unaware that there are a variety of beneficial technologies and services, as well as an entire array of resources that can help them continue to live independent and active lives.
Medical providers, and especially eye care specialists, provide a natural gateway to information about the technologies, services, and resources that people with vision loss need access to. Often, however, eye care specialists and other health care professionals are not aware of these options. Consequently, they do not provide crucial information to their patients experiencing vision problems. As a result, people with low vision are unlikely to hear about low vision rehabilitation services from their ophthalmologists or other medical providers, according to a 2010 study published by the Centers for Medicare and Medicaid Services Studies.
In November 2011, AFB conducted a focus group with consumers with vision loss and family members. These challenges in finding help were identified:
Lack of follow-up support and referrals by eye care specialists
Gaining access to resource information, and
Help and hope through a range of information about vision loss that reflects an optimistic spirit about living with vision loss
An App Is Conceived and Born
AFB began to search for a solution that addressed two major issues: 1) health care providers' lack of knowledge about helpful technologies and resources, and 2) severely limited time to counsel patients as a result of the increased demand for medical services.
Through a series of focus groups and interviews, AFB determined that both patients and health professionals will be helped by the VisionConnect app. The app gives providers information about and access to resources, enables them to show patients how to access the information themselves, and makes it possible to share information about services to patients and/or family members by email. This technology will hopefully mitigate the three primary challenges faced by patients and caregivers alike: lack of follow-up support and referrals, gaining access to resource information, and help and hope.
Take the VisionAware Challenge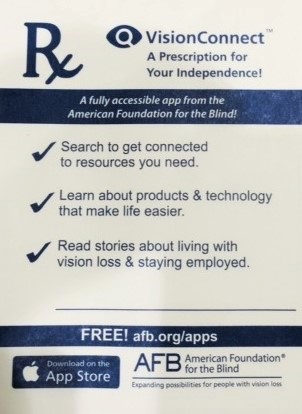 The VisionConnect™ prescription pad
How do we get the message out to health care providers and the eye medical community? We need your help to educate your doctor and health care providers about the VisionConnect app. Please order one of our mock prescription pads and take it to your doctor or health care professional. Ask him/her to download the app and "prescribe" VisionConnect to patients who need information about services and living with vision loss.
To order the prescription pad, send an email to visionaware@afb.net with your contact information.
Download VisionConnect™ for the iPhone or the iPad.