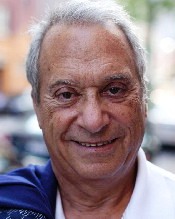 Meet filmmaker Joe Lovett, friend of VisionAware and producer/director of Going Blind: Coming out of the Dark about Vision Loss, a stunning and moving documentary film created to increase public awareness of blindness, vision loss, and the vision rehabilitation system. Going Blind is also Joe's personal story of his ongoing struggle with glaucoma and his sometimes-difficult journey through the "secret world," as he calls it, of vision rehabilitation.
Our VisionAware Interview with Joe
In our interview with Joe when Going Blind debuted, he had this to say about the damning phrase "There's nothing more than can be done," which – unfortunately – adults with vision loss continue to hear all too frequently from their primary care physicians and eye care professionals:
It seems to me that the needs of so many people living on the spectrum of vision loss are not being met. Ophthalmologists are generally not sending people with vision loss to vision rehabilitation services, because they seem to see it as a professional failure.

You know, prior to producing Going Blind, the world of blindness and vision rehabilitation was a secret world to me – one I knew nothing about. Even after making the film, I don't pretend to be an expert, but my understanding about this area is that information about it is woefully inadequate. The biggest concern I have is that not enough people are being referred for vision rehabilitation.

It was fifteen years before I heard of the existence of a vision rehabilitation therapist. I asked a young ophthalmic resident, "At what point were you going to talk to me about how I function on a day-to-day basis with my vision loss?" The response was, "That's something we are really not trained in, but usually that is not discussed until there is about 95% vision loss." Well, if that is true, it's really criminal!
And Now Mr. Lovett Is Going To Washington!
Going Blind will have a Capitol Hill preview screening on Wednesday, September 19, 2012 at 5:30pm in Room 2218 of the Rayburn House Office Building in Washington, DC. You can read more about the Capitol Hill screening (and view an enlarged version of the poster at left) at the Going Blind website.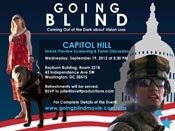 The Capitol Hill screening will present a condensed version of Going Blind, and a post-film panel discussion will include two characters from the film: Steve Baskis, an Iraq War veteran and Paralympian who lost his eyesight in a roadside bomb attack, and Jessica Jones, an art teacher who lost her vision from diabetic retinopathy. Suleiman Alibhai, OD, an optometrist and low vision specialist, and Robert Murphy, MD, an ophthalmologist and retinal specialist, will also be on the panel. Director Joe Lovett will moderate and refreshments will be served.
The purpose of the evening is to create a greater awareness among US legislators of the rarely-discussed issues that have an impact on the daily lives of people who are blind and visually impaired, including the availability of vision rehabilitation services and developing technologies.
If you would like to attend, please RSVP to Julie Gaynin, Outreach Coordinator, at julie@lovettproductions.com.
More News and Information About Going Blind
The National Eye Health Education Program of the National Eye Institute is sponsoring a free Going Blind webinar on Wednesday, September 5, 2012, at 2:00pm EDT. Participants will discuss how to use Going Blind as a tool to (a) open the lines of communication among eye care providers, low vision specialists, and the general public; (b) raise awareness about low vision services and devices; and (c) inspire the visually impaired community to obtain low vision and rehabilitation services.
The Going Blind Outreach Toolkit provides detailed information about the ways that service organizations, physicians, advocacy groups, and others can use Going Blind to raise awareness for funding; educate students or patients; or promote their own blindness- and vision-related services.
Going Blind will begin airing on public television stations in early October. You can view the public television trailer at the Going Blind website.
Where You Can Find Going Blind
I will be live blogging and tweeting at the Capitol Hill preview screening, so I hope to see you there!